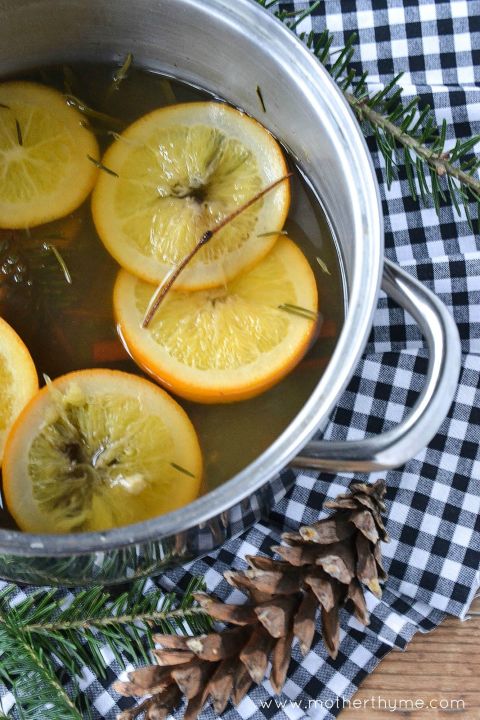 ORANGE AND BALSAM SIMMERING POTPOURRI
The combination of fresh orange slices, balsam, rosemary, cinnamon and cloves create a beautiful natural aroma for the holidays.
INGREDIENTS
4-5 cups water
1 large orange
6-7 sprigs of fresh balsam
1-2 sprigs of fresh rosemary
2 cinnamon sticks
6-8 whole cloves
1-2 teaspoons pure vanilla extract
INSTRUCTIONS
Fill a medium saucepan with 4-5 cups of water.
Cut 6 slices (about half) and put in water along with sprigs of balsam, rosemary, cinnamon sticks, cloves and vanilla. Take the other half the orange and squeeze the juice into the pot then place in saucpan.
Bring to a boil over medium-high heat. Reduce to simmer. And continue to simmer, adding water if necessary.
NOTES
You can also add in orange slices and sprigs as the day goes on. By the end of the day my pot usually has almost 2 oranges simmering and 10 sprigs of balsam. I let the water level go down so the balsam sits on top the oranges that are emerged in the water.
You should be able to get a few days of use out of this before you will need to replace it.
OLD FASHIONED HOLIDAY GARLAND
Supplies Needed:
Directions:
1. Thinly slice the apples and oranges. Place the fruit slices onto a cooling rack and set the rack into a warm oven (180 degrees F.). Crack the oven door so the moisture from the fruits can escape. Leave the fruit slices in the oven until they have dried completely.
2. While the fruit is drying, prepare the Cinnamon Clay by mixing the cinnamon, cloves, applesauce and glue together with a metal spoon or your hands. Cover the dough and allow it to rest for one hour before use.
3. Roll out the clay. (If the clay is too stiff, an extra tablespoon of applesauce will make it more pliable. If the dough is too wet, add cinnamon to absorb some of the moisture.)
4. Invite your child to cut out the gingerbread men with the cookie cutter. Use a straw to punch holes on both hands of every gingerbread man. Allow the gingerbread men to rest on a baking sheet sprinkled with cinnamon. When the sheet is full, place it in the oven with the fruit slices.
5. When the fruit slices and gingerbread men are dry, invite your child to string them along twine in a pattern of their choosing.
Glue, applesauce, and cinnamon.
1/2 cup of glue- 2 cups of applesauce, and 2 cups of cinnamon. I like the little cups of applesauce, each one is a premeasured 1/2 cup serving.
mix the wet glue and applesauce together, then add the cinnamon. until you have most of the ingredients mixed into a dough.
I rolled my dough onto a sheet of parchment paper, less mess to clean up and not as sticky as a table. If you find your dough is sticky, add a little more cinnamon on top, to help roll it out. Now get your cookie cutters and place them so as to use as much space up as you can.
Use a straw to punch a hanging hole out of the top of the ornament.
Add in more cutters so you get as many cutouts as possible. Remove the dough around the cutouts, then use a spatula or flat tool to lift the cutouts off the parchment. I left the jagged edges, and once they were about 50% dry, I used a finger to smooth the edges. Allow to dry.
You can tell when the ornaments are dry because they have a uniform color, and are dry to the touch.
Add decor to them, with simple designs painted on using fabric paint. Now you are ready to use them. They are lovely hanging from the tree.
First – Collect your pine cones. I like to give them a good spray with the hose to rinse off any dirt & whatever that might be on them if I collected them from the yard. Some people say to bake them to get them to open up. As a wife to a fire chief – I highly discourage this. Pine cones are great fire starters & effective kindling. I do not recommend putting them into a hot oven as any hidden pitch could become combustible & cause a problem.
– Make sure they are dry – then place them in a large zip top bag.
– Using a small spray bottle (mine was 2 ounces) Fill 1 ounce Cinnamon scented oil & 1 ounce water
– Spray the pine cones – in the bag – until they are quite wet with your oil mixture.
– Close the bag & give a good shake to help disburse the liquid.
– Open & re-spray – close & shake again.
– Keep the bag closed & set aside for a couple weeks to allow the pine cones to soak it all in.
– After that they are ready to be displayed in your home & let all that wonderful cinnamon scent be enjoyed.
Ingredients
1 1/2 cups fresh cranberries
3 tangerines, halved
3 whole cinnamon sticks
2 star anise (optional) gives a strong black licorice smell.
1 teaspoon whole cloves
1 inch piece fresh ginger
1 vanilla bean + 1 tablespoon vanilla extract
1 small branch fresh pine
1 cup apple cider, pomegranate or cranberry juice
water
Instructions
Combine all the ingredients in a medium size sauce pot. Fill the pot with water until it reaches 3/4 the way full. Place the pot on the stove and bring to a gentle boil. Reduce the heat to a simmer, adding more water as needed. I let mine simmer for close to 4 hours and then let it cool over night and simmer again the next day. Just be sure to keep adding more water.
What you need:
soy or beeswax, bay leaves, cinnamon sticks, whole cloves, mini pine cones, dried rosemary, cotton wicks, paper muffin liners, muffin pan
STEP 1
Fill the papers with bay leaves, cones, spices and herbs.
STEP 2
Nestle a 1 and 1/2 inch piece of cotton wick into the center of each well.
STEP 3
Melt the wax and pour it into each well, making sure the items are partially submerged in the hot wax. (They don't have to be completely covered.)
STEP 4
Let cool completely, then remove from the muffin tin. Store in a tin or jar until ready to use!
To use the fire starter, place in the bottom of a fireplace between the logs. Light the wick.
IMPORTANT: These are only for use in traditional fireplaces. Do not use for gas fireplaces or wood-burning stoves. Can be used outside for campfires. Exercise safety precautions when using.
Ingredients
1 cup Baking Soda
1/2 cup Corn Starch
1/2 cup + 4 Tablespoons of water
15 drops of Young Living Essential Oil
Optional: glitter, food coloring
Instructions
Heat all ingredients, mine Essential Oil, in small sauce pan over medium heat. Stir continuously. In a few minutes it will begin to boil and then, within 5 minutes it will thicken and form a ball of dough. Remove from heat and stir in Young Living Essential Oil and glitter, if desired. If adding food coloring, add just as it begins to boil.
Once cool (not longer hot at all), roll out, using extra cornstarch to prevent sticking and use cookie cutters to create ornaments. For extra sparkle, add glitter on top when rolling out dough. You can also use stamps to put impressions into the dough, like the snowflake pictured.
Move to cookie sheet with spatula, then puncture ornament hole using a large toothpick or skewer. Allow to harden 24 hours, flipping after 12 hours.
Store extra in ziplock baggie.
Notes
My favorite scent to use is Christmas Spirit or Cinnamon & Nutmeg Young Living Essential Oils.
DIY Applesauce Cinnamon Spice Pomanders & Acorns
I LOVE cinnamon applesauce dough and use it for both Winter and Summer Solstice. This year, we made a spicier dough to make acorns and pomanders.
You need:
1 cup cinnamon
1 tablespoon cloves
1 tablespoon nutmeg
1 teaspoon allspice
1 cup applesauce
2 tablespoons white glue
acorn caps
whole cloves
thin paintbrush
large bowl and small bowl
*If you don't have the cloves, nutmeg, and allspice you can use THIS cinnamon applesauce recipe.
1. Combine cinnamon, nutmeg, cloves, and allspice in a small bowl. 2. In a large bowl combine and stir together the glue and applesauce. 3. Add spices to the applesauce-glue mixture. 4. Stir and use hands to make a "cookie dough" consistency (add more applesauce if too dry, cinnamon if too wet). Form the dough into a large ball.
5. Pinch off enough dough to form into small balls, use a paintbrush to form a hole through the center, add the cloves while on the paintbrush, this helps keep the ball's form.
6. Again, pinch small amounts of dough to form acorn shapes, shape them into their chosen caps.
7. Put pomanders and acorns (with their caps on so you know which acorn goes to which cap) in a dehydrator at 215 degrees for about 2 hours. I haven't put them in the oven to dry but I'm sure this is possible at a low temperature. 8. When completely dry, glue the cap onto the spiced acorn.
Place acorns and pomanders in a pretty wooden bowl with small cones for a lovely dry potpourri or string them to hang on the Yule tree.
String them with orange slices or pinecones to make a lovely garland for hanging.
They say our sense of smell is deeply tied to memory. Just think of when someone walks by wearing the same cologne as your high school boyfriend- you know what I'm talking about. Some of my favorite scents are alfalfa and hay which remind me of my grandparents horse ranch, the salty air at the ocean, woodsmoke, and coffee. I also love the smell of pine sap, and baking from the kitchen which remind me of Christmas. One way you can bring up that aroma this time of year is to slowly simmer dry whole spices, like cinnamon sticks. We have a nice gas fireplace stove in our living room with a ledge deep enough to hold a small enamel pot, and I've been keeping cinnamon simmering throughout our recent cold snap. All you need is your pick of dry whole spices like cinnamon sticks, whole nutmeg berries, cloves, rosemary, pine needles. Add to a pot with water and a little oil (I used jojoba), bring to a simmer on a stove top and cozy up with a warm blanket...
DIY ESSENTIAL OIL ORNAMENT
Materials:
70 mm Glass Ball Ornament
Grapeseed Oil
Essential Oils – orange, cinnamon and fir (or others if these aren't scents you enjoy)
Whole Cloves
Cinnamon Sticks
Pour 1/2-1 Tablespoon of grapeseed oil into the ornament. Then add 5 drops of each scent into the ornament (or more if you really like it).
Add in 1/2 Tablespoon of whole cloves and 2 cinnamon sticks. I had to break mine in order to make them fit in the ornament.
Use an X-ACTO knife or razor blade to cut a couple small holes in the top of the ornament so that the smell can escape. If the ornament seems to be loosing scent over time, add a few more drops of each scent.
Tie some ribbon or twine to the top to hang it from the tree.
Christmas Stovetop Potpourri Recipe
1 apple, quartered
The peel of one orange
10-15 whole cloves
2 cinnamon sticks

Put these ingredients in a medium sized pot and cover with water. Simmer on low on the stove. Just be sure to not let it go unattended for too long or the water could burn off and you're left with a ruined pot or worse (coming from someone who's learned the lesson the hard way!).
Don't feel like you have to stick closely with this mix of ingredients - add any fruit or spice that reminds you of Christmas. Try it out and let me know what you think!
First the materials:
Mason jar with lid
1/8 couplings
1/8 nipples (found in the lighting dept of hardware store)
3/8 inch washer (need 2 per lamp)
a brass nut
and a 100% cotton "wick"
pinecones, pine sprigs, berries, cinnamon sticks
Oil
After punching or drilling a hole in the mason jar lid (we found using a center hole punchworked best), assemble the wick holder in the order shown in the photo (coupler, washer, lid, washer, nut, nipple, wick). I tied a knot at the end of the wick to keep it from falling through and tugged on it a bit so it went up into the nipple and stuck. Fill the jars with all things holiday. We chose pinecones, cranberries, cinnamon sticks, pine sprigs and berry sprigs. Fill the jars with water until you reach the last 1/6 of the jar and then top it off with oil (lamp oil, olive oil, citronella oil, almost any type of burn-able oil will do, we tried canola). Place the lid on and allow the oil to travel up the wick, then light and enjoy!