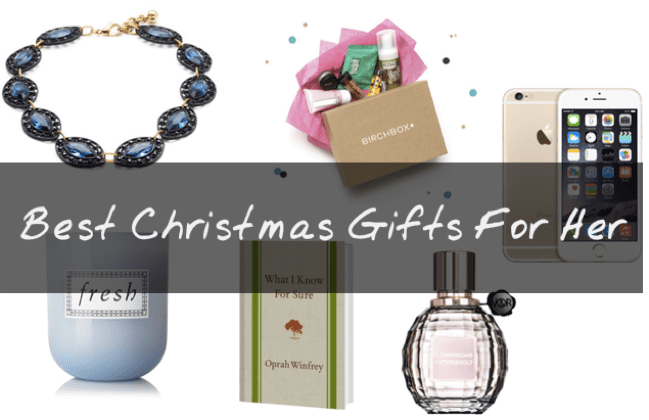 …because we've all learned our lesson with the vacuum…and the pots & pans…and that time we totally thought she'd appreciate the snow blower. So, let's face it we can all use a little holiday gift giving inspiration when it's time to buy for the person who's always been there for you. Whether you're buying for your wife, mom, girlfriend, sister, grandmother or aunt who holds that special place in your life we've got you covered. Shop our picks for top Christmas gifts for her in the 2015 – 2016 holiday season.

Perfect scents of sensual citrus that'll keep you thinking it's spring all year 'round.
---
2. For the Beauty Sampler: Birchbox of the Month – Buy It Here For $10/month

Best Seller: Deluxe beauty product samples delivered to your door every month. Let her test out new things each and every month. She'll love it!
---
3. For the Tech Athlete: Wireless Fitbit Charge HR Activity Band – Buy It Here For $147.99
---
4. For the On-Trend iPhone Lover: Rose Gold Karat iPhone 6 & 6S Case – Buy It Here For $50
One of the chicest iPhone 6/6S cases we've seen that women love. It really becomes a conversation piece/perfect ice-breaker.
---
5. For the Chic Scented: Flowerbomb by Viktor & Rolf – Buy It Here For $50
Perfect perfume with light notes of jasmine, rose, cattleya orchid and fragrant floral scents.
---
6. For the Chic Money Saver: Rebecca Minkoff Black Leather Glitter Zip Wallet – Buy It Here For $145
Must Buy: For real, this is the wallet she'll love this season. It's small enough to look chic and sleek, but big enough for her to carry her cash, cards and even fit her iPhone.
---
7. For the Fashion Forward: UGG Australia Black Leather Smart Fur-Trim Gloves – Buy It Here For $120
She'll look great, stay warm and still be able to text thanks to the smart-glove touchscreen finger technology.
---
8. For the Reader: What I Know for Sure by Oprah – Buy It Here For $18

Life long lessons from Oprah herself that'll help guide you along your journey and land you in the attitude of gratitude.
---
And how about flowers that are grown in South America on the border of a volcano 10,000 feet about sea level?
---
10. For the Chic Drinker: BKR Glass Water Bottle, Rose Heart – Buy It Here For $35
She'll stay on trend with this glass water bottle that, literally, almost every celebrity has been photographed with. Plus, she'll love the soft silicone sleeve with the pink heart.
---
11. For the Tech Reader: The Nook Glowlight – Buy It Here for $99
Reading on the go has never been easier, especially at night because it's easy on the eyes.
---
12. For the Texter: The iPhone 6s in Rose Gold (pink!) – Buy It Here Starting at $199

Because you know she deserves an upgrade. Plus even you think the gold option is kinda cool.
Buy Now On Sale: $199 (Starting)
---
13. For the Trendster: Wayfarer Wooden Sunglasses – Buy It Here For $189
Classic, yet trendy, Wayfarer style make Shwood's flagship sunglasses the perfect gift for any gal in your life.
---
14. For the Yogi: The Non-Slip Long Yoga Mat – Buy It Here For $98
Perfect for maximum no-slip stretching and comes in two-tone purple and green or pink.
---
These aren't your grandmother's pearls. Enjoy these pearls with a modern twist.
---

1 Cabernet, 1 Chardonnay and 1 Pinot Noir are perfectly balanced with intense fruit flavors and nuanced complexity that keeps you wanting more.
---
17. For the Spa-Goer: Simple Sugars Scrub Gift Set – Buy It Here For $45
Great natural body scrubs in awesome smelling scents like coconut, strawberry and vanilla.
---
18. For the Selfie Addict: Your FACE on a Marshmallow – Buy It Here For $25
A custom made selfie marshmallow? Yes please! Send her 9 with your face on them, you know, for sport.
---
19. For the Perfume Fanatic: Tory Burch Perfume Spray – Buy It Here For $68.00
The first perfume from Tory Burch, enjoy this extremely feminine scent of floral peony, citrus and blended with earthy tones.
---
20. For the Tech Who Needs Answers: The Amazon Echo – Buy It Here For $180
Hands-free, ask Alexa anything and she'll answer. For real, she has 1M answers. Plus listen to music because, music!
---
21. For the Pop of Bling: Swarovski Silver-Tone Multi-Crystal Brooch- Buy It Here For $99
Something she can add to any outfit to grab a little extra attention.
---
22. For the Eyeglasses Wearer: Warby Parker Tortoise Fames – Buy It Here For $95
Not only will she be on trend, but when you buy a pair, a pair is donated by Warby Parker to someone in need.
---
23. The Boot Lover: Billie Black Leather High Boots – Buy It Here For $425
The boots she'll actually want to wear this season. Soft leather, high zipper and double cross-over-buckle hits all three trends heading into 2016. Plus, you'll love to see her in them.
---
24. New Polaroid Socialmatic Instant Digital Camera – Buy It Here For $400
This new Polaroid has a retro look and feel, but with all the current camera technology like 4.5″ touchscreen, GPS, Wi-Fi, Bluetooth, 4GB internal storage, and a built-in printer for color prints. She's perfected her selfie-game so you know she's ready for print.
---
25. For the Beauty Lover: Murad 'Beautiful Smooth Skin' Gift Set – Buy It Here For $75
A beauty regime she'll love. An AHA/BHA exfoliating cleanser, rapid Collagen infusion, and an SPF 30 protecting cream (plus silver bag) complete this best-selling gift set.
---
26. For the Music Lover: Red Beats by Dr. Dre Beats Solo2 Wireless Headphones – Buy It Here For $300

---