Perfect Turkey Gravy Recipe with instructions to make it with or without drippings. All you need is butter, flour, black pepper, chicken or turkey stock and/or drippings! Perfect for Thanksgiving!
When it comes to Thanksgiving, dinner would not be complete without the turkey gravy! Years ago I used to be extremely intimidated of making gravy because for whatever reason, it seemed too complicated to make. I'm here to tell you that this Perfect Turkey Gravy is one of the easiest recipes you'll make for Thanksgiving dinner! Of course, Thanksgiving isn't the only time when this turkey gravy will come in handy! You can use this any time of year!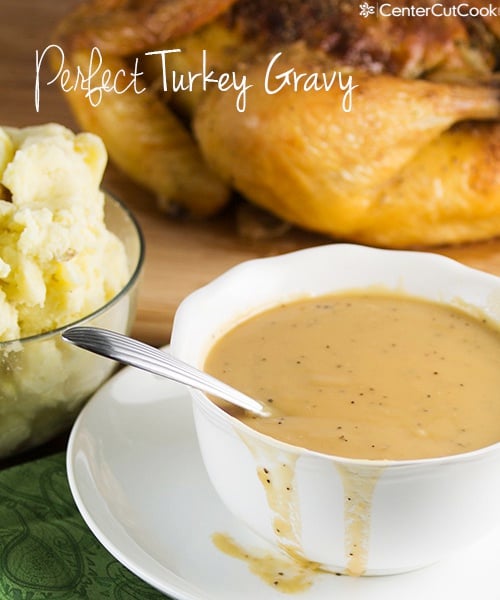 This Perfect Turkey Gravy recipe can be made with our without drippings from a chicken or turkey, which is one of the reasons I love it. And to thicken it, I use flour versus some recipes that call for cornstarch which is just a personal preference. The method is so simple and will take only about 10 minutes from start to finish.
I typically like to make the gravy shortly before we eat dinner, but you can always make it ahead of time and warm it up right before dinner. Is there anything better than warm, delicious gravy from scratch? Serve it atop your mashed potatoes, turkey stuffing, and whatever else you put gravy on!
This Turkey Gravy recipe yields about 4 cups which is plenty of gravy to feed a crowd. Below you'll find instructions on how to make it with or without drippings.
INGREDIENTS
DIRECTIONS
*If using drippings from a chicken or turkey: Pour drippings into a fine mesh strainer then allow the drippings to cool a bit so that the fat rises to the top and starts to solidify. Use a spoon to remove the fat. If you don't have enough drippings to equal 4 cups, add enough chicken or turkey stock until you have 4 cups of drippings.
*If you're not using turkey or chicken drippings, use 4 cups chicken or turkey stock.
In a large saucepan, melt 1/2 cup butter over medium-low heat.
Sprinkle in 1 teaspoon coarse black pepper
Slowly add in 1/2 cup all-purpose flour, constantly whisking to combine.
After a few minutes, the flour will be well incorporated into the butter. Slowly begin to pour in drippings and/or chicken brothinto the pan, constantly whisking.
Allow the gravy to cook for several minutes, so that it can thicken up. Serve immediately, or keep on very low heat until you're ready to serve.
Don't forget to check out our other great Thanksgiving Recipes:
Thanksgiving Side Dishes You Can Make Ahead