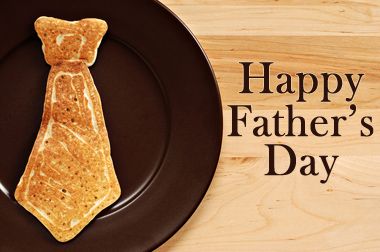 The clock's ticking.
Father's Day is Sunday, and you have to come up with a gift that isn't a tie. Really. He has enough.
So what's left if the tie option is out the window? All kinds of stuff. What does dad like to do? How would he spend his off time if he had any? Is he the BBQ master of his home? The options really are endless.
Some gift ideas for dad
Here are a few suggestions to help you in your Father's day shopping quest.
Amazon -- Amazon Fire TV Stick ($34) — Get dad into this century with a gadget that plugs into his TV's HDMI port and lets him stream video from Netflix, Hulu, HBO Go and other services. Of course, you're gonna have to explain what a HDMI port is. Ditto for Netlix, Hulu, etc.
Apple -- Is dad a techie? Get him an Apple Watch. The Sport model will set you back about $350.
Best Buy -- Get dad a drone for $79.99 if you're not afraid of what he may spy on.
Barnes and Noble-- "The Death of Santini," ($12.01) a memoir from Pat Conroy about life with his father. The book was the inspiration for the movie, "The Great Santini."
Fanatics -- For the dad that lives for the call of "Roll Tide," how about a Jack Mason brand Alabama Crimson Tide watch. It's on sale for $71.99.
Fanatics -- Not to leave out the Auburn fan, try a Toomer's Corner framed collage that includes a piece of one of the oak trees poisoned by an Alabama fan a few years ago. It's $148.99.
Kegerator -- Would dad love a Mini Kegerator & Conversion Kit? Go for the deluxe version for $179.99. Dad's worth it.
Home Depot -- You can get a free tool organizer with purchase of a RIGID pro gear cart and tool box.
Lowe's -- Look for 10 to 40 percent off select tools like a Bosch cordless drill
or a Kobalt mechanic's tool set.
Macy's -- They sell ties, if you're going that route, but why not give dad something different -- a wallet. You can get a Tommy Hilfiger Oxford Slim Bifold Wallet for $30.99. Tell him how nice it looks when you are asking him for a few bucks.
Sears -- For the dad who is crafty, a Craftsman C3 19.2-Volt 4-Piece Lithium Combo Kit is on sale for $159.99.
Sharper Image -- If you have some dough to spend, consider getting day a Pac Man arcade machine. It's pricey, $2,895. If you want to go with something a little less grand, but still nice, how about a wireless key finder. It's $49.99.
T-Mobile -- Look for up to $100 off select 4G tablets for Father's Day.
Target – If your dad likes chocolates, here's a suggestion -- a basket full of Godiva chocolates for $55.96. It doesn't have to be complicated.
US News and World Report -- Check out this story about eight clothing subscription services for men in case dad needs a little sartorial help.
Verizon -- If you are looking to hook dad up with a smart phone, Verizon may have a deal for you. The Samsung Galaxy S-6 is being offered for $199.99 (after a $50 mail-in rebate) with 2-year contract.
Walmart -- For the golfing dad, how about 96 golf balls -- a mix of brands -- in an onion bag. It will set you back $17.39. Heck, get him two.
Williams Sonoma -- For the grilling dad, a Wilton Armetale Grillware potato grilling rack & vegetable tray for $27.96.