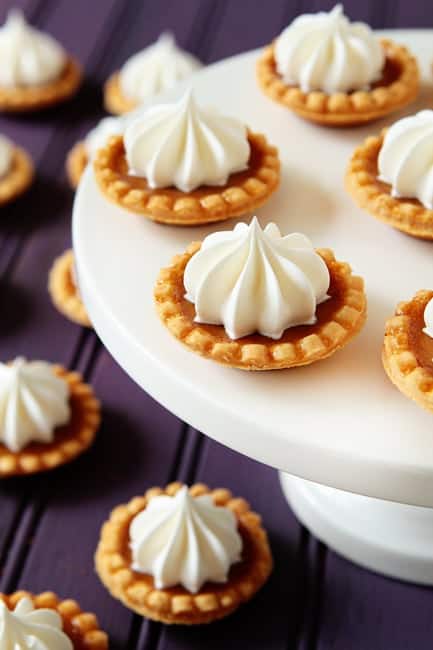 What's better than pumpkin pie? An entire pumpkin pie in ONE bite! And what's better than a bite-size pumpkin pie? A baby shower – of course!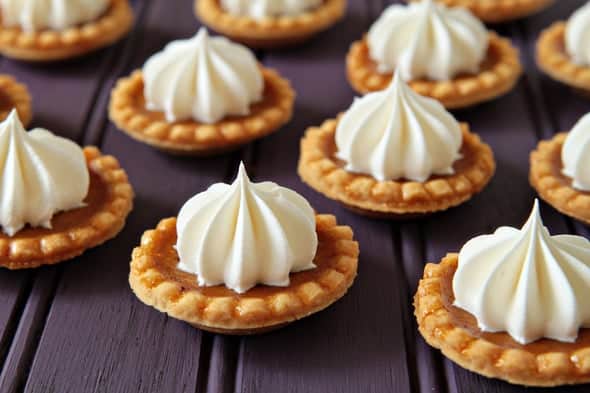 Not long ago I posted a last blast for Summer – Mini Lemon Meringue Pies using these same mini shortbread pie crusts. I swear, I think it caused a rush on them at my local grocery store (lookin' at you, Lori!).
Pumpkin Pie in these little guys is no less awesome. Brian had to hold me back from popping them into my mouth repeatedly (what can I say, I was trying to dull my senses with pumpkin goodness while the first football game of the season droned on in my living room).
Serve them at a party for a unique appetizer or dessert. I say appetizer because, a) pumpkin is a squash, which I tend to consider a vegetable and b) if having a baby isn't an excuse to eat treats whenever you'd like, then what hope is there for humanity?
Mini Pumpkin Pies
yield: 48 MINI PIES
prep time: 15 MINUTES
cook time: 15-17 MINUTES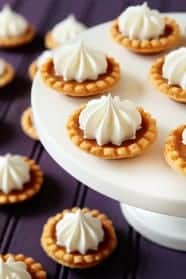 Ingredients:
48 1.75-inch premade miniature tart shells
1/3 cup granulated sugar
1/4 teaspoon salt
1 1/2 teaspoons homemade pumpkin pie spice
1 large egg
1 cup pure pumpkin puree
1 teaspoon pure vanilla extract
1 5-ounce can evaporated milk (this is the small can)
whipped cream or Cool Whip, optional garnish
Directions:
Preheat oven to 350°F. Line a baking sheet with parchment paper.

In a medium bowl with an electric hand mixer, combine sugar, salt, pumpkin pie spice, egg, pumpkin, vanilla,and evaporated milk. Beat until well combined and smooth.

Line mini tart shells on prepared baking sheet. Using a small cookie scoop (2 teaspoons), fill each mini tart shell with pumpkin pie filling

Carefully transfer pan to preheated oven and bake for 15-17 minutes or until shells are golden and the filling appears to be set. Carefully remove mini pumpkin pies to a cooling rack.

If desired, top with freshly whipped cream or Cool Whip.
Notes:
I purchased my tart shells from my local market for $5.99, so definitely check a store near you before purchasing from Amazon as the price seems a bit high.
Different brands of mini tart shells will vary. Pay close attention to the shell color during the baking process. I found mine were perfectly golden after 15 minutes.