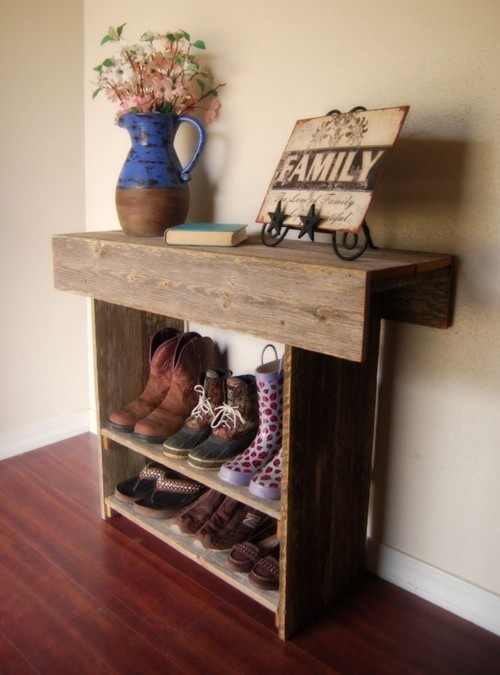 Modern-style storage coffee tables sold in home decor or specialty furniture shops can be rather expensive, especially if you enjoy pieces with a distinctive, custom vibe. Rather than paying top dollar at a high-end store, create your own coffee table, complete with storage space, from reclaimed items and hardware readily available at home improvement stores. The result will be a piece unique to your home, and custom built to your specifications.
Storage Cubes
An open-sided storage cube -- the type that looks like a square "O" -- can turn into a modern coffee table with a fresh coat of paint. Paint the outsides of four storage cubes white or silver. Paint the inside of each a fresh modern color, such as bright orange or apple green, or paint the inside of each one a separate bright color, if desired. Push the four cubes together along the floor, two cubes by two cubes as a square, arranged so the opening shows on one of the two cubes visible on any side. The "hidden" area serves as storage space, while the open spots store magazines, books or small decorative accents. A glass square or round tabletop, fitted with rubber spacers as feet, sits atop the cubes.
Tool Chests
A tool chest -- the iconic red metal storage piece with numerous drawers -- can double as a coffee table and conversation piece in a living room. Arrange two or four of the short, narrow chests in a rectangular grouping, either side by side or back to back. Set a glass rectangular tabletop or glass storm door atop the chests, as a place to set drinks, magazines or a vase. Use one chest and a smaller tabletop for a smaller coffee table. The tool chests can be left in their original color or painted a modern color such as cobalt blue or apple green. Stash magazines, books and drink coasters in the chest drawers.
Shoe Rack
Several styles of shoe racks convert into coffee tables with just a few tweaks. The shoe rack style that looks a bit like a short bookcase works well as a table. Place two back to back for the main part of the table. Attach metal coffee table legs to the bottom corners; use a support board spanning the undersides of both racks to create a more stable base for the legs. Store things in the inner shoe areas of the racks, or add small colorful storage bins for style and storage. You can also turn the cubbyhole style of shoe rack, set on its side if tall, into a coffee table. Use one or two cubbies for the table, depending on the shape. Add short metal feet to give it the appearance of a coffee table. Add a glass top, if desired.
Shipping Pallets
Old shipping pallets are often available for free from businesses that no longer need them. Select a few pallets that are clean and nicely made. Sand away rough edges. Cut one pallet down to make four side posts for the table. Place one pallet on the floor, attach the side posts with screws or nails, and add a second pallet on top. Paint the entire piece your desired modern color, such as white with bright colors on the inner areas of the table, or silver and black. Add locking rubber swivel wheels on the bottom to give the table an industrial vibe. Add a glass top, if desired, or wrap the top in a piece of sheet copper or aluminum. Tuck narrow metal office paper trays into the openings of each level of the pallet table to serve as storage for magazines, drink coasters and remote controls for home electronics.