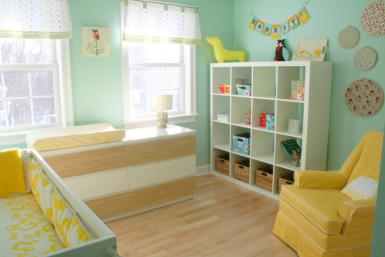 Designing the perfect nursery for your little baby-to-be can be a fun and rewarding experience, but it can also seem a little daunting, especially if you don't know where to begin. Feeling a little overwhelmed? Take a moment to arm yourself with these helpful nursery dos and don'ts, and you'll be ready to hit the stores in no time.
Nursery Do's:
Do choose a specific style or theme. Although it's not absolutely necessary to limit yourself to a single concept, settling on a specific idea will help you to narrow your focus and create a more cohesive design.
Do identify a focal point. Most nurseries are centered on the crib, but there are many other options to choose from. A large window or alcove or even a signature piece, such as an over-sized toy or a painted dresser, can also draw focus.
Do choose textiles before paint. There is nothing worse than finally finding the perfect curtains or the baby bedding of your dreams only to discover the color scheme clashes with your paint job. Given the astounding array of available paint colors and the prevalence of color-match technology, it's definitely easier to choose your textiles first and then buy paint to match.
Do use a low-odor, VOC-free, interior paint to prevent exposing baby to dangerous fumes.
Do decorate the ceiling. Babies spend much of their time on their backs. Why not give your little one something to contemplate? Consider painting the ceiling a soothing color or enhancing your nursery's theme with a mural or decals. Here are a few more ideas for ceilings.
Do leave room to grow. When choosing your nursery furniture, think long term.
Baby's small, bassinet-style crib may look darling now, but have you left enough room to exchange it for a toddler-sized bed later? Do you have room for both a stand-alone changing table and a dresser? You'll get more use out of the dresser in the long run. Thinking ahead will ensure you get the most out of your money and your space.
Do create a nursing station. Nursing is a tricky business, and it can quickly turn into a juggling act if you are unprepared. Check out these tips for keeping everything you need close at hand.
Do create a sanitation station. Keep your nursery germ free by having sanitation supplies ready. Set up a tray on or near your changing table with antibacterial gel and paper towels to prevent contamination. You should also have a plan for dirty diapers and heavily soiled clothing, such as a diaper disposal system and a separate hamper.
Do develop a system for sorting clothes. Keeping up with baby's changing wardrobe is a never-ending challenge. Organize clothes by size, and put them away until your baby needs them. It also helps to keep an easily accessible box for clothes that you have officially deemed too small. When the box is full, wash the clothes and store them away. Keeping outgrown items separate prevents them from creeping back into baby's closet, saving you the hassle of an extra trying-on session. Here are a few more tips for keeping baby clothes organized.
Do get creative with storage. Baby clothes take up less room than adult clothes, leaving lots of room for extra shelving or a second rail. Create additional storage by adding a decorative bed skirt to your crib and storing toys and clothing in boxes underneath.
Do install a ceiling fan. A study published in The Archives of Pediatrics and Adolescent Medicine reported that infants who sleep under a ceiling fan reduce their risk of SIDS by 72%. For more tips on reducing the risk of SIDS in your nursery, read this.
Do install blackout curtains or heavy blinds. This will prevent the room from becoming too hot during the day, decreasing the risk of SIDS, and allowing baby to sleep longer and more comfortably.
Don't use harsh lighting. Install a dimmer on any intense overhead lighting fixtures, especially if they are located directly over the crib. It's also a good idea to purchase a small accent lamp for a cozy, story-time glow. For more tips on lighting your nursery, read this.
Don't forget a nightlight. Nightlights provide both safety and comfort, especially during late-night feedings. They can also be downright adorable! Check out these cute options.
Don't forget to stock necessities. Purchase all necessary diapers, wipes, lotions and ointments well ahead of baby's arrival and put them away, ensuring that everything you need remains in arm's reach, so you are never tempted to take a hand off baby.
Don't forget to make safety a priority. Take care to cover electrical outlets and tuck away cords. Anchor down any furniture that could pose a threat, and secure rugs to the floor to prevent slips. You should also be wary of potential choking hazards, and be sure that all medicines, ointments, etc. are securely stowed out of baby's reach.
Need help staying one step ahead of baby? Try our safety checklist!
Don't make these potentially dangerous nursery-decorating mistakes.
Don't wait until the last minute. Be sure to get your nursery underway early, so there will be plenty of time to air out new furniture and freshly painted spaces. Getting a head start will also prevent stress and ensure that you will have enough energy to finish the job.