Here's how to make your Halloween party one that guests will never forget.
Spooky Entryway
The Halloween conundrum: You want to host a party that's more chilling than cutesy, but you also don't want to scare pint-size party guests half to death. The solution: Throw some shade. This shadow-themed get-together features just-creepy-enough cutouts of everything from birds and bats to witches and candelabras. Of course, all of that tracing and snipping doesn't leave a lot of time for food prep, so you'll want a menu that is so simple it's almost…eerie. As guests enter, give 'em something to crow about by dressing up a mirror with birds and branches adhered with Glue Dots. Creepy craft paper critters hanging from yarn add an element of surprise underneath the buffet, which is painted a somber black matte.
Silhouette Pumpkins
Photograph your subject from the side. Scale photo as needed, then cut out profile. Trace and cut profile from black craft paper. Using Mod Podge, adhere cutout to a white paper circle cut to fit interior of a black doily. Secure unit to pumpkin. Glue trim to edge of white paper.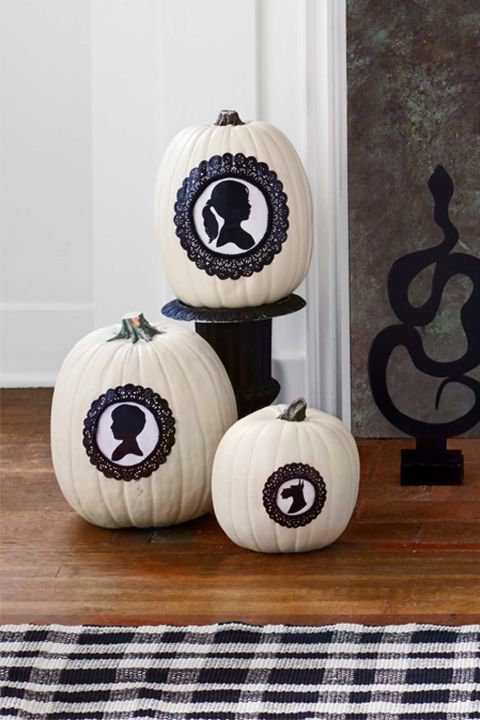 Saving Face
Cameo cookies make for a spooky-sweet party favor. Use a silhouette-shaped cookie cutter (fancyflours.com) to cut the cameo outline from slice-and-bake sugar cookie dough; bake as directed. Once cool, apply white royal icing to the portrait and "frame," then coat with sparkling black sanding sugar (shopbakersnook.com), shaking off any excess.
Tricked Out Mantel
Adorn old portraits and silhouettes with witch hats, pitchforks and scythes, fangs, and devil horns. Detailed cutouts of candelabras and sticks, "lit" with gold flames, give a mantel faux glow. Trick out the perfect mantel decor with paper bats attached to swoops of black sewing trimming with black upholstery tacks. Finally, line the opening of your fireplace with paper or painted wood, and attach a roaring red paper glow. Cut snake andirons from black foam core and glue to painted craft blocks.
Tart Cherry Eyeball Punch
Drain 2 (15-oz.) cans lychees, reserving 1 ½ cups of syrup. Carefully stuff blackberries (from a 6-oz. container) in each lychee; chill. Stir together reserved syrup, 4 cups tart cherry juice, and 1 cup fresh orange juice in a large pitcher; chill. Add stuffed lychees and 3 (12-oz.) cans chilled sparkling water to punch. Serve over ice. Makes 12 servings
*For a sweeter drink, substitute ginger ale for sparkling water. Adults only: Stir 1 ½ cups vodka or light rum into punch.
"Help Me!" Cake and Raven Feather Cupcakes
The eye-catching "Help Me!" cake is simply a store-bought white cake with a few dark twists. (Talk about hands-off!) Start with a store-bought frosted layer cake. Cut out a pair of arms and hands in black craft paper and tape to skewers to help them stand upright. Pile on a mound of "dirt"— crumbled chocolate cookies—to give it that "buried alive" vibe. Top vanilla-frosted cupcakes with edible fondant raven feathers (piratedessert.etsy.com). For an extra hair-raising element, add plastic critters around the cake.
Dangerous Libations
The question "What's your poison?" takes on an air of knowing humor, when decanters sport these lethal labels. Even your sweetener can be sinister, thanks to these French absinthe sugar cubes, seen on the tray ($8 for 40; ebay.com).
Serve a few bone-chilling cocktails with the help of our apothecary-inspired labels and red poison stickers. Download the free PDFs, then print on sticker paper ($10.45 for 100 sheets; worldlabel.com). Give the apothecary labels a glossy look by covering that page with clear laminate ($9 for an eight-yard roll; staples.com). Then, cut out all the designs, and stick them onto bottles (for similar, $41.70 for six; grainger.com) decanted with the beverage of your choice.
Spooky Crystal Ball Candlesticks
This craft makes it look like eyes, skulls, and spiders are floating—and it's magically easy to make.
Get the tutorial atFlamingo Toes.
Halloween Ghosts
These easy-to-create ghosts will make the perfect addition to your Halloween mantle.
Get the tutorial at The Idea Room.
Potions Book
Spook your guests by hiding this potions book in plain sight!
Get the tutorial at The Idea Room.
Spooky Elizabethan Crows
These creepy crows will add a haunted feel to your house this Halloween.
Get the tutorial atEighteen 25.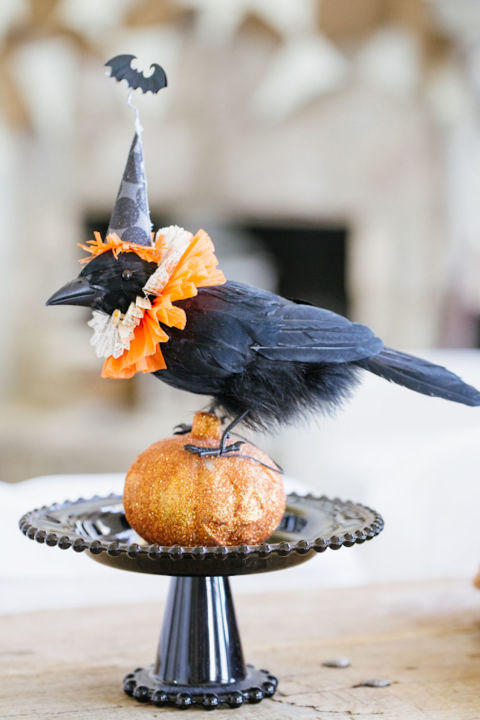 \
Chevron Spider Art
Put a spooky twist on a classic pattern.
Get the tutorial at The Happy Housie.
Wicked Witch Legs
Ding dong, the trick-or-treaters are here!
Get the tutorial at Grillo Designs.
Spooky Bats and Boo Buckets
Bring your kitchen table to life—Halloween style! This simple craft is the perfect finishing touch for your party decor.
Get the tutorial at The DIY Village.
Magnetic Spiders
Decorate your walls with lots of eight-legged arachnids. You'll need some plastic dollar store spider rings, magnet sheets, scissors, and a hot glue gun.
Get the tutorial at Delia Creates.
"Poison" Cocktails & Lace Stamped Coasters
The secret to this inviting witch's brew? Gin, vermouth, and a couple drops of green food coloring. Glasses can rest in lovely peace on these coasters.
Pumpkin Punch Bowl
Transform a hollowed-out peach pumpkin into an organic punch bowl for your fall bash. Four water-jug gourds act as "feet."
Halloween Entrance
Make your front door season-appropriate, framing it with dried corn husks and a garland of oak leaves. Ghostly bottle-gourd scarecrows were painted white, with features added in black felt tip, and then speared on sticks and "planted" in Styrofoam blocks inside urns.
Halloween Wonderland
Use branches of autumn leaves, bittersweet berries, and hanging gourds to create a lush frame for a help-yourself dessert buffet.
Candy Cone Decorations
Halloween entertaining is all about scaring up creative ways to celebrate the holiday. Neither children nor grown-ups want to miss out on trick-or-treating. Treat every guest to a surprise right at the door, perhaps with candy-filled cones nestled in a vintage plant stand aflutter with feathered crows.
Candy Cone How-To:
1. To create a cone about 10 inches long, first wrap an 8 1/2" by 11" sheet of heavyweight white paper on the diagonal. Trim excess paper. Use this as a template to cut as many cones as desired.
2. Shaping each cone according to the template, use pinking shears to cut a band of glossy orange paper about 4 inches wide for the middle of the cone, and a band of yellow paper about 3 inches wide for the top. Affix the orange and yellow bands to the white base, then join the ends of the cone together, using double-sided tape.
Pumpkin Greeting
Spell out your greeting in mini pumpkins gathered at a prominent — and stationary — location. First, pencil letters on hollowed pumpkins (carve out the opening from the bottom). Then, using a drill with a half-inch bit, bore holes to form each letter. Here, strings of Christmas-tree lights, gathered in small bunches, illuminate each pumpkin (unscrew bulbs where the string descends to the next row).
Halloween Treats
Tuck candles and small pumpkins inside glass cylinders or canning jars. Chocolate- and caramel-covered apples from Stonewall Kitchen make toothsome favors.
Jack-o'-Lanterns
Special effects don't require special tools when it comes to pumpkin carving. To clean out the inside of the pumpkin, ceramic artist Derek Harding recommends using a potter's loop tools and a variety of knives — paring, X-Acto, and serrated — to make precise cuts. Though the carving should be restricted to the adults, the entire family will love the artful results.
Outdoor Ambiance
Add a vintage vibe to your soiree by asking guests to dress in period garb, keep decorations simple (like they would have in old times!) and use Jack-O'-Lanterns to light the way to a backyard dinner party.
Roasted Pumpkin Seeds
Try varying the seasonings in this recipe by using soy sauce, garlic salt, or curry powder. Like many nuts, roasted pumpkin seeds should be stored in the freezer.
Night Owl
This blogger turned a thrift store find into this sinister looking owl. Make your own creepy menagerie by spray painting plastic or ceramic animas and adding red glitter or glow-in-the dark paint to their eyes.
Get the tutorial atMaking Lemonade.
Spider's Lair
Create this beautiful, dramatic spider webs out of black garbage bags. You'll need a black Sharpie, a pair of scissors, some tape, and some step by step instructions.
Get the tutorial at How About Orange.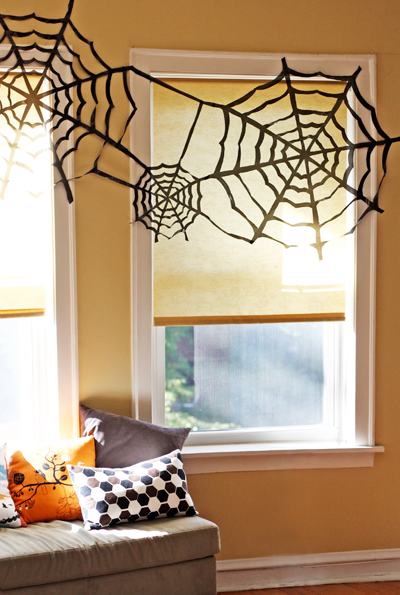 Eerie Family Photos
Take vintage portraits, cover the eyes with glow-in-the-dark paint, and roll them to fit into jars. The subjects' eyes seem to follow you around the room, and layers of black netting and twigs add to the haunting effect.
Get the tutorial at Homework.
Bloody Shirley Temple
Put a gory spin on a favorite childhood drink by filling syringes with grenadine. Enjoy it as a mock-tail or add an ounce of vodka for an adult treat.
Get the tutorial at Your Southern Peach.
Scary Crows
Old book pages, crows, and a healthy dose of black gauze give this elegant fireplace mantel a spooky vintage vibe.
Get the tutorial at The Fancy Shack.
Witch's Apothecary
No witch's home would be complete without an apothecary of snake oil, newt's eye, toad stool, and raven feet. These DIY bottles were made using plastic vitamin bottles, hot glue, and several coats of black and brown chalk paint.
Get the tutorial at Magia Mia.
Pick Your Poison
Create perfectly spooky labels for these candy test tubes and "poisonous" drinks.
Get the tutorial atModern Moments Designs.
Yarn-Wrapped Candy Corn Decorations
Craft your favorite Halloween candy by spiraling yellow, orange, and white yarn around Styrofoam cones dotted with hot glue. They look so good, we could (almost) eat them.
Get the tutorial atOccasionally Crafty.
Spooky Mirror
Reflective paint is this spectral mirror's secret. You can use any frame with glass; we chose one from Ikea, and spray-painted it black.
Boo Pumpkins
Cut out black letters from cardstock and paste them on white spray-painted foam pumpkins for ghostly mantel decor.
Get the tutorial at A Diamond in the Stuff.
Mummy Decor
Grab a styrofoam ball, muslin, and tea bags and you'll have a mummy fit for any mantel.
Get the tutorial atCraftaphile.
Paper Pumpkins
Why waste your money on decorations that can rot away (or become a meal for unwanted critters) when you can craft these cute paper pumpkins?!
Get the tutorial at I Heart Naptime.
Scarecrow Treat Bags
Give your guests these adorable party bags filled with treats. All you need is burlap, raffia ribbon and googly eyes, plus your favorite candy, of course!
Get the tutorial at The Country Chic Cottage.
Spider Web Sacks
Make these hanging creepy-crawlers with water balloons, yarn, and standard craft glue. The fun part? You get to pop the balloons once the glue-soaked string has dried overnight.
Get the tutorial atModern Parents Messy Kids.
Flying Bats
This swooping display will look spooky in any room. Just use a template to cut out your creatures and stick onto your walls with scotch or double-stick tape.
Get the tutorial at Made Everyday.
Mummy Front Door Decorations
Mummify your front door using white streamers, double-sided tape, and black and white construction paper. Your house will definitely look ready for trick-or-treaters!
Get the tutorial at Honey and Fitz.
Fishnet Jars
Spray paint, fishnets, and battery-operated tea lights turn Mason jars into decorative displays.
Get the tutorial atHomemaking Hacks.
Pine Cone Spiders
Decor is everywhere, especially in nature. Use pine cones dressed in googly eyes and brown pipe cleaner legs for an easy and creative way to make creepy-crawlers.
Get the tutorial atFireflies and Mud Pies.
Halloween Marshmallow Pops
Decorative desserts make for the perfect sweet-tooth treat this Halloween. Your guests will love these chocolate-coated marshmallows stuck with black lollipop sticks.
Get the tutorial at My Baking Addiction.
Floating Witch's Hat Luminaries
Use command hooks and extension cords to hang witch's hat luminaries on your porch. They'll look like they're floating, especially at night when they're lit up and glowing.
Get the tutorial atPolkadot Chair.
Mandarin Pumpkins
All you need to make these quick and easy cuties are mandarin oranges (or tangerines) and a black Sharpie.
Get the tutorial at A Designer Life.
Eyeball Cake Pops
These candy-coated cake treats are spooky anddelicious.
Get the tutorial atBakerella.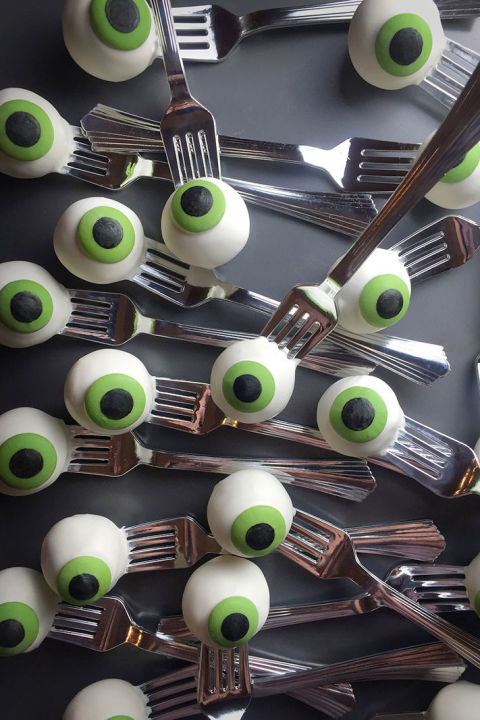 Halloween Terrarium
Put a spooky spin on your favorite indoor plant accessory. Plus, you can buy almost every item from the dollar store!
Get the tutorial atBombshell Bling.
Furry Monster Eyeball Halloween Garland
This friendly, furry monster craft will welcome all of the neighborhood kids to your house this Halloween!
Get the tutorial atTikkido.
Mason Jar Jack-O-Lanterns
Light up the room with these smiling jack-o-lanterns—with a country twist, of course.
Get the tutorial at Our Best Bites.