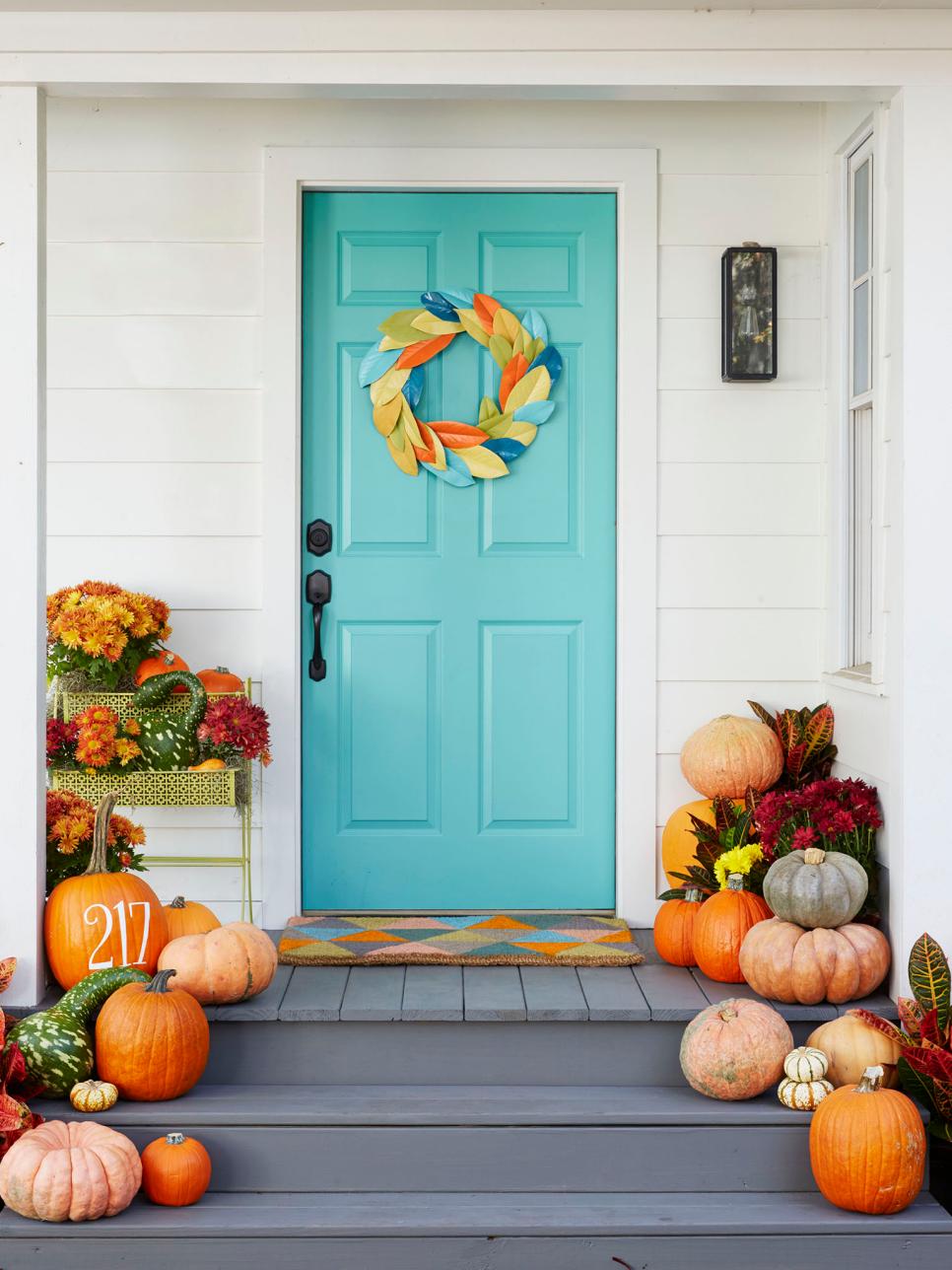 Freshen Up the Front Door
Piles of pumpkins and gourds along with potted croton and mums give this cheery front porch, maximum curb appeal. Copy a few of their clever ideas — like adding vinyl house numbers to a tall pumpkin — for a similarly festive look for your home's entry.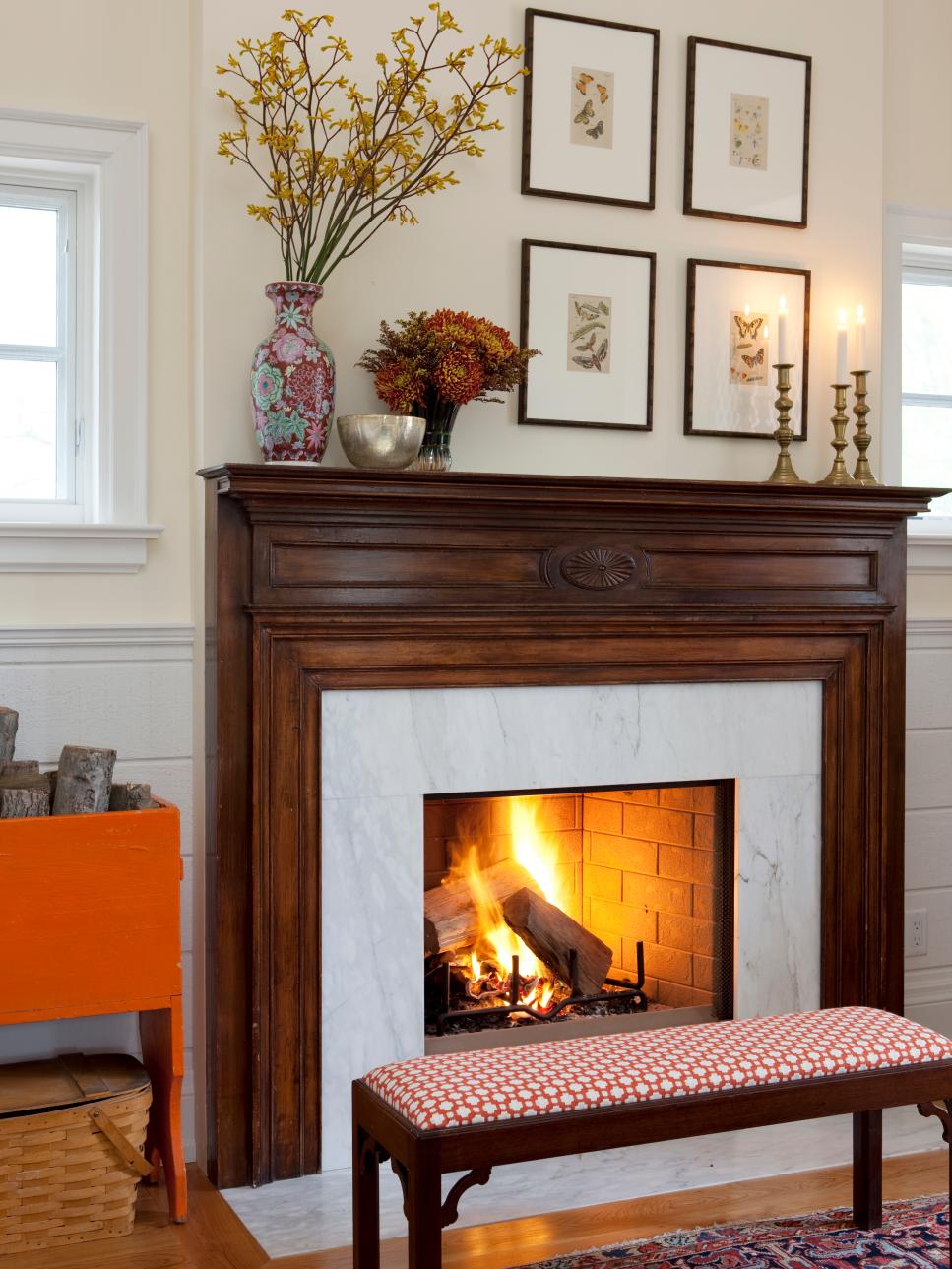 (Safely) Fire Up the Fireplace
Honestly, who doesn't love to curl up next to a roaring fire on a chilly day? As inviting as it is, put safety first. Before lighting the season's first log, have the chimney and fire box inspected and cleaned by a professional chimney sweep.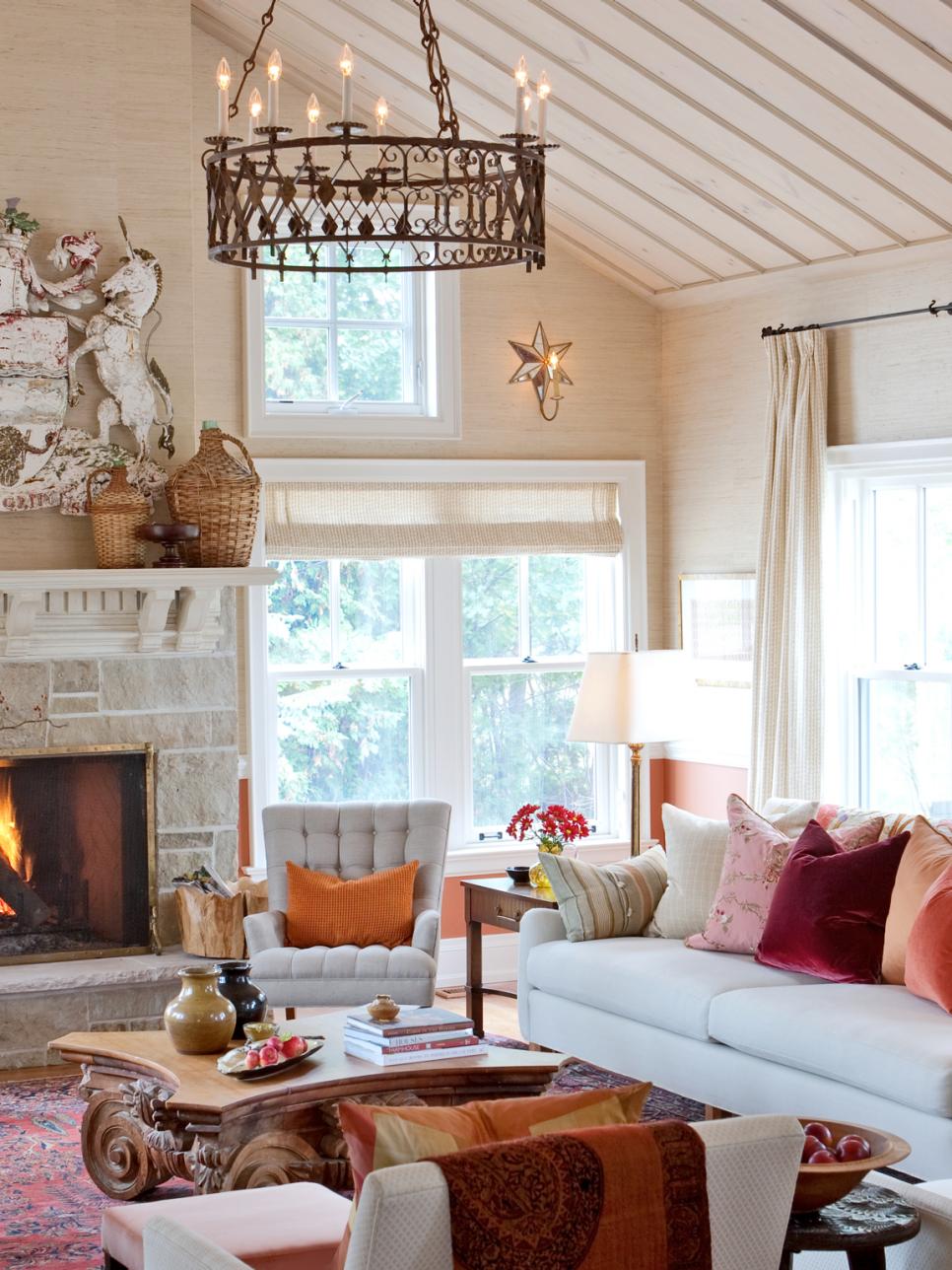 Warm Things Up
Take a cue from designer Sarah Richardson and give an open, soaring space (even one as massive as her living room) a snug, welcoming feel by swapping out pillows in lightweight summer fabrics, like linen and cotton, for luxe velvet ones in rich, fall shades. Add a few coordinating throws and get ready to cozy up by the fire.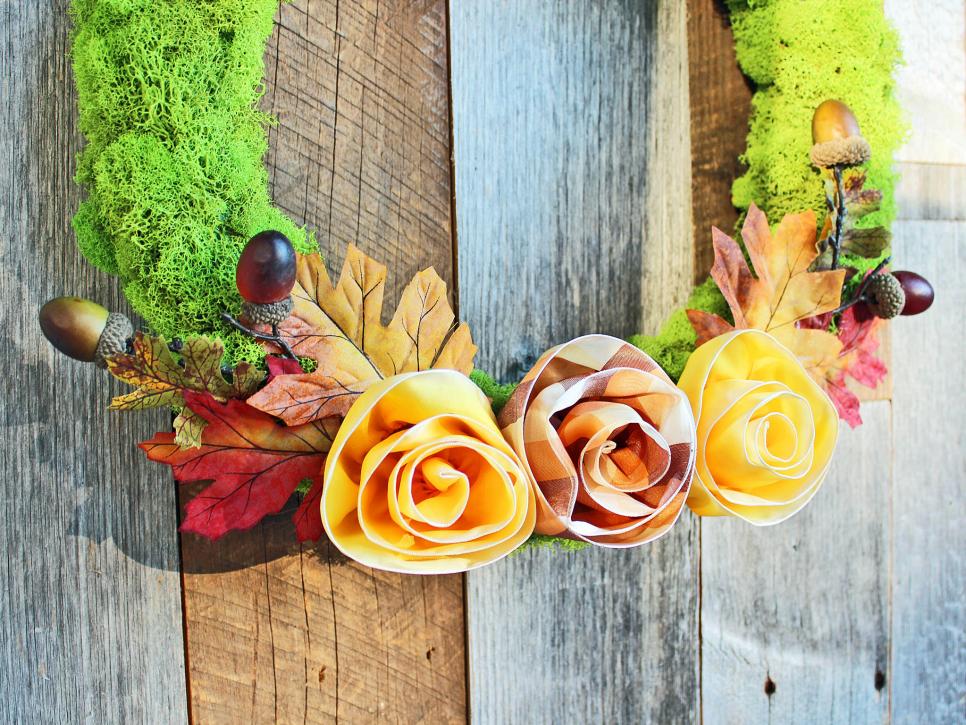 Make a Ribbon Rose Wreath
Craft a cheery touch of fall for your front door with a moss-covered wreath form and autumnal ribbon roses that look complicated but are actually a snap to make. Learn how to make your own.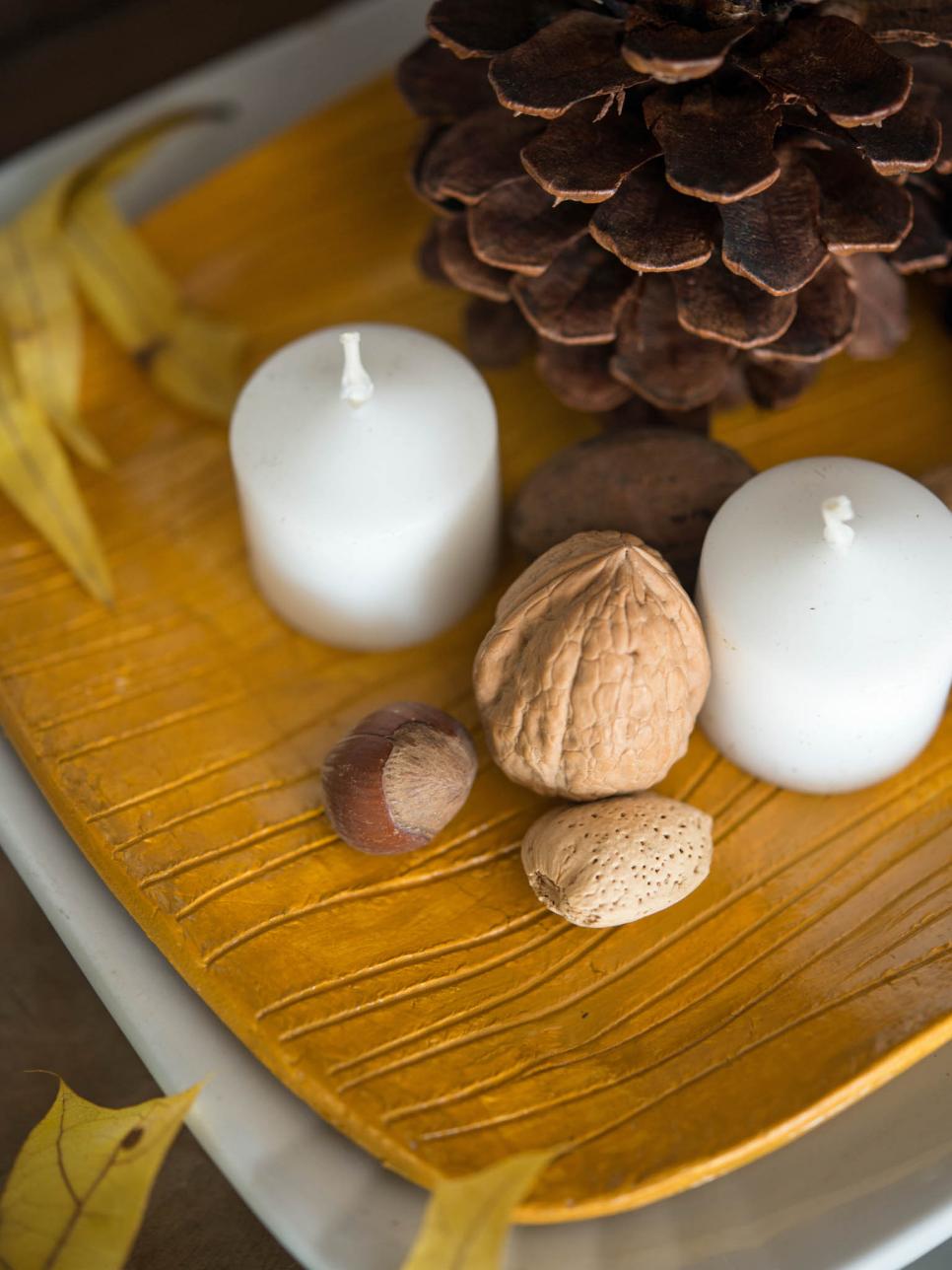 Easily Craft a Rustic Tray
Air-dry clay and paint are all you need to make a rustic tray that's perfect for corraling candles and fall accents or as part of your Thanksgiving table setting. It's an easy and inexpensive craft project for adults and kids alike. Learn how to make your own.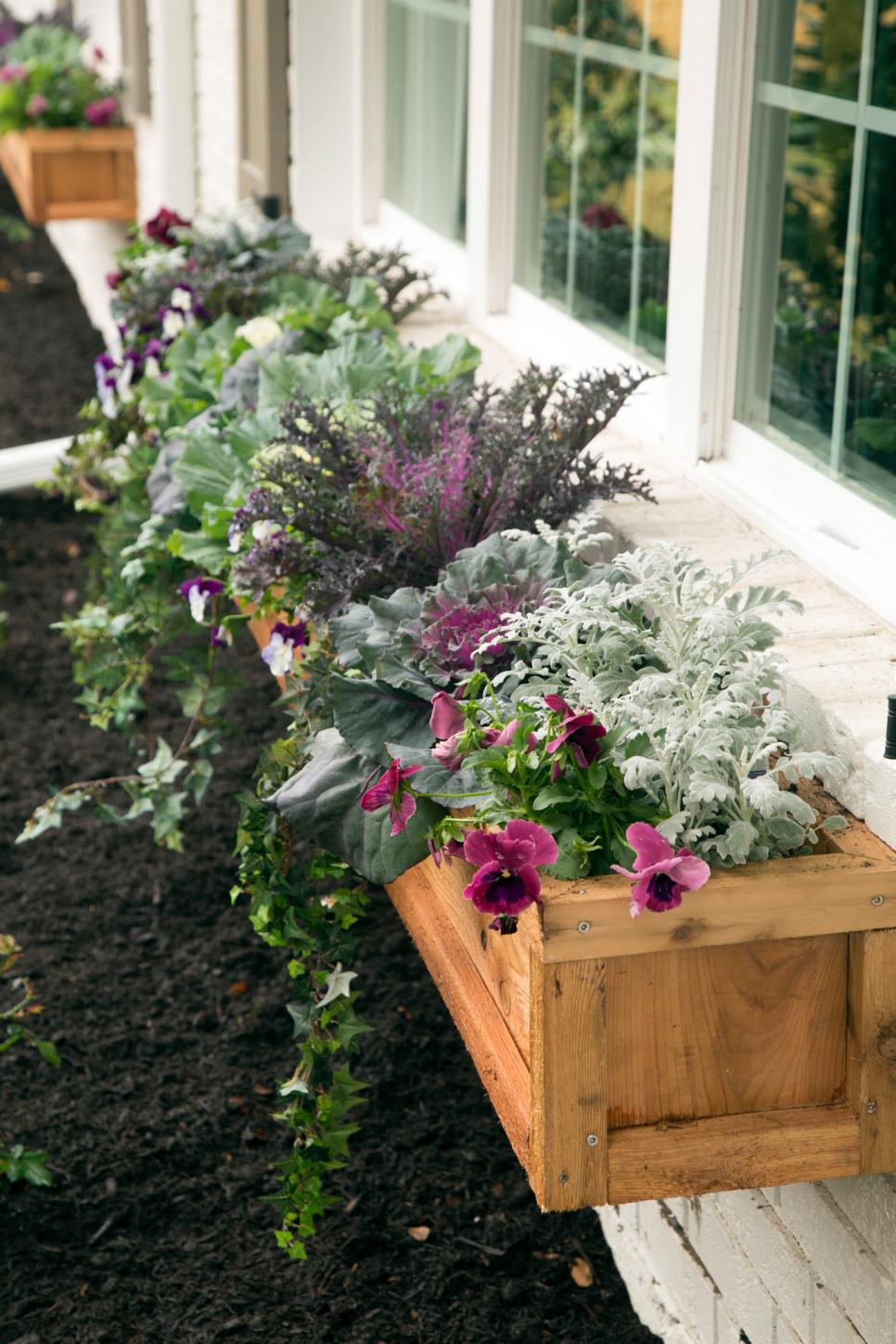 Boost Curb Appeal With Seasonal Color
Fall is the time to fill window boxes and gardens with showy white, purple or fuchsia ornamental cabbages, pansies and English ivy to add a cheery pop of color that will endure winter's frosty temps and beautify your landscape into the early spring.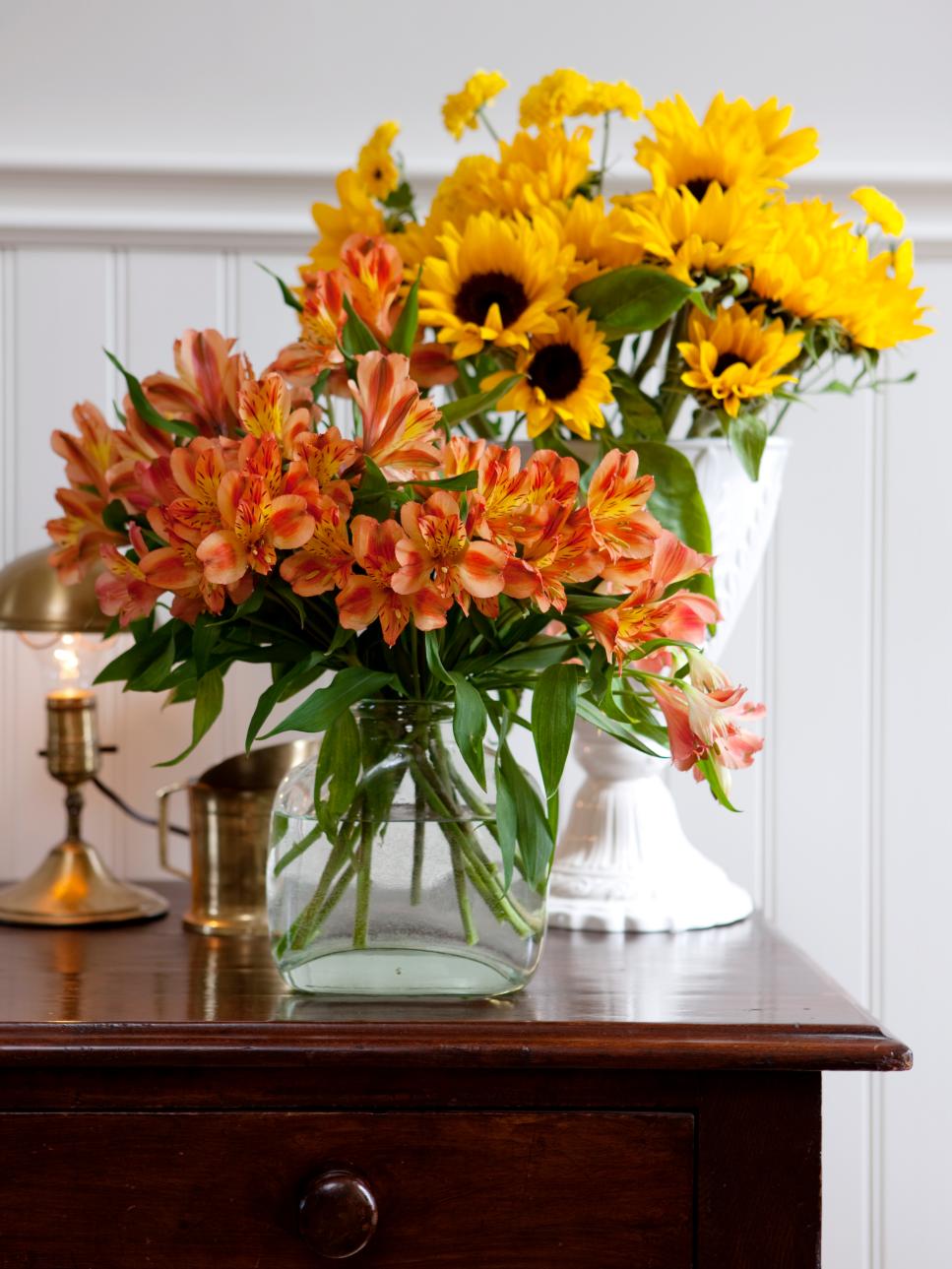 Add Fresh Flowers
Nothing brightens up your home for the season like vases filled with fall flowers. Sunflowers and alstromeria are great choices because they'll remain beautiful for up to a week. The trick to keeping blooms fresh is to remove all leaves below the water line and change out the water every few days.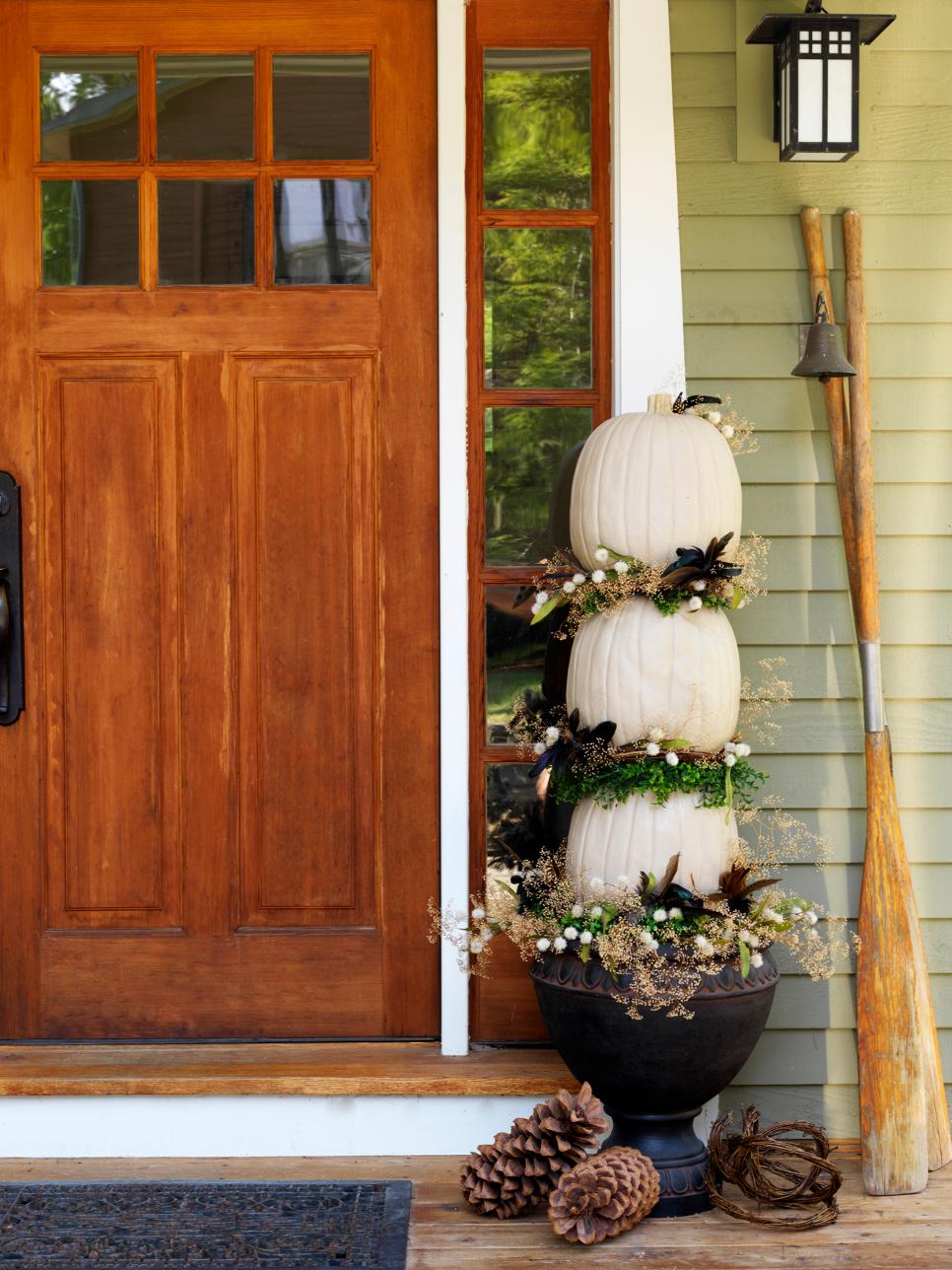 Stack a Chic Topiary
Hit the craft store for faux white pumpkins and greenery to craft this stunning topiary that'll brighten up your front porch from the start of fall till it's time to swap it out for holiday decorations. Best of all: the faux materials ensure that this topiary will keep its good looks for many falls to come. DIY Network shares the step-by-step instructions.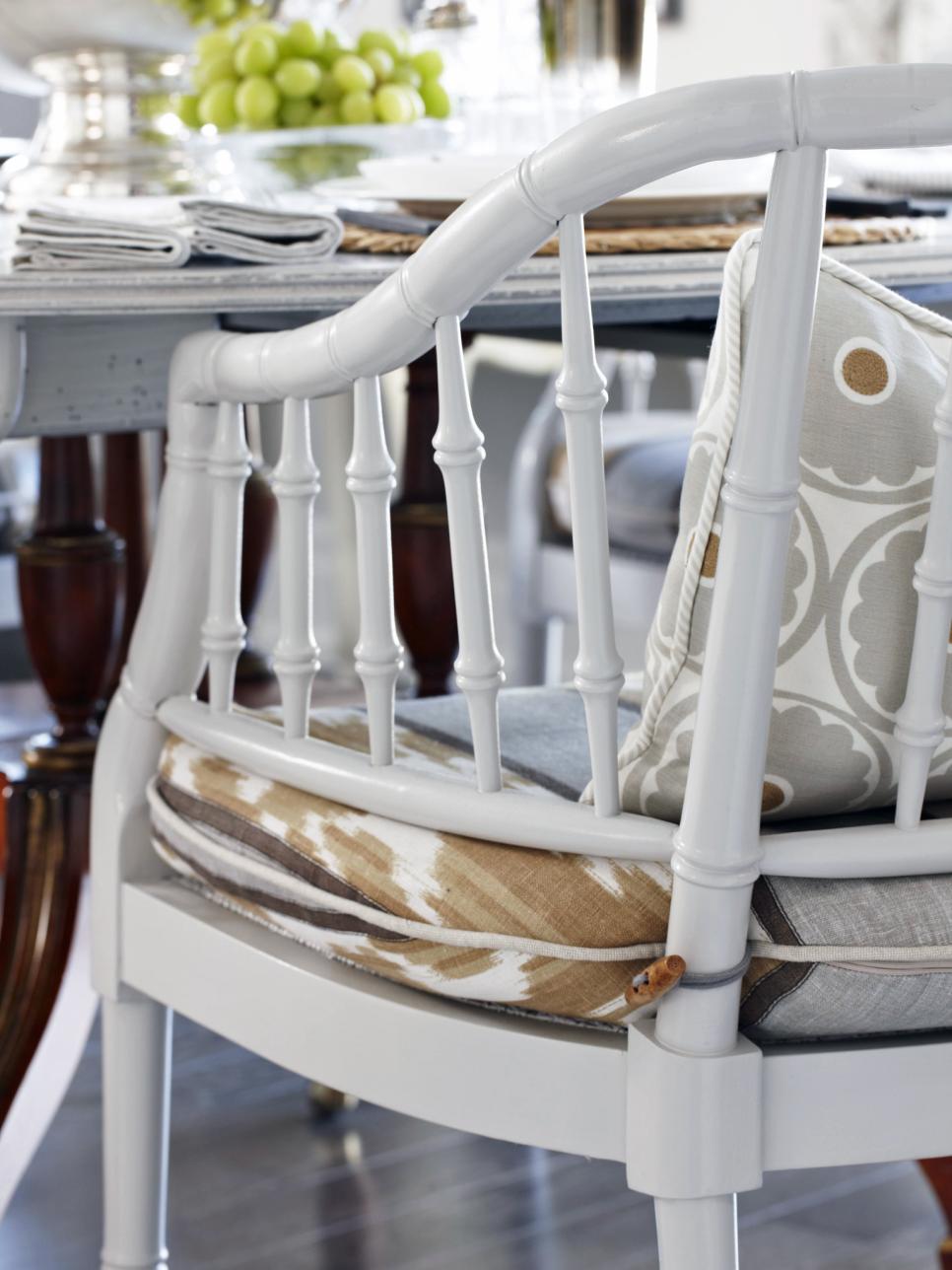 Cozy Up Dining Chairs
Sometimes style wins out over comfort when selecting dining chairs. With Thanksgiving (and then Christmas) entertaining on the horizon, fall is a great time to tackle that uncomfortable chair issue once and for all by adding a comfy pad and coordinating pillow. If your chair seats are a standard size, check online decor sites and catalogs for readymade cushions that match your decor. If your seats are an unusual size, DIY or having them custom-made are your best bets.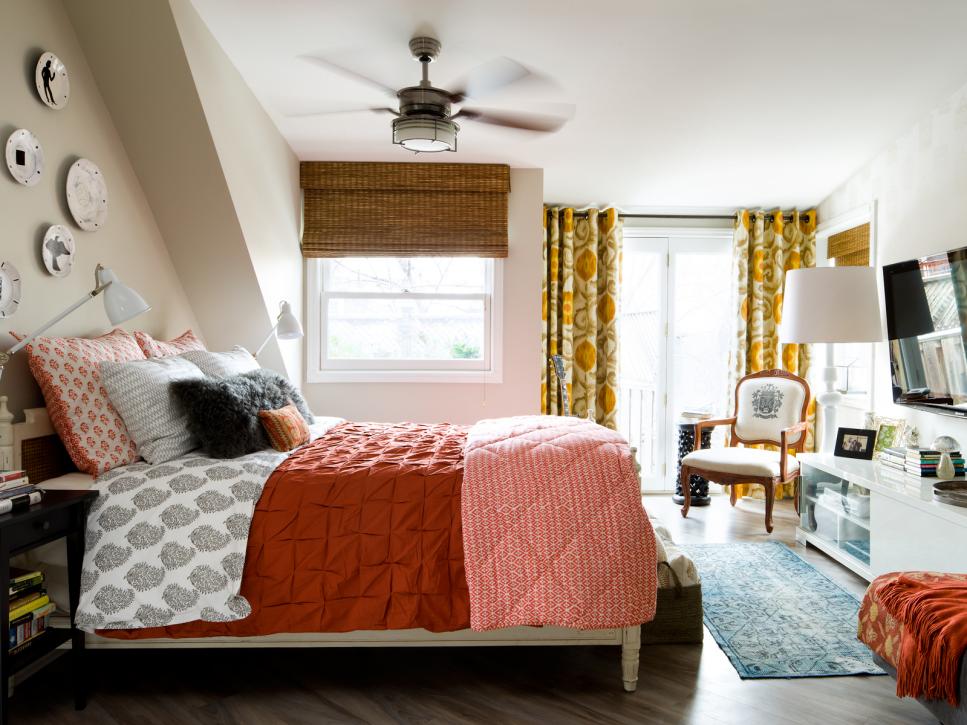 Spice Up the Guest Room
If cooler fall weather also means hosting weekend guests, swap out lightweight summer bedding for heavier linens in rich fall shades, like pumpkin, russet or gold. Changing just a few key pieces is an easy way to refresh a bedroom's look, plus your guests will appreciate bunking in such a well-appointed and cozy room. Get more tips for readying a guest bedroom for company.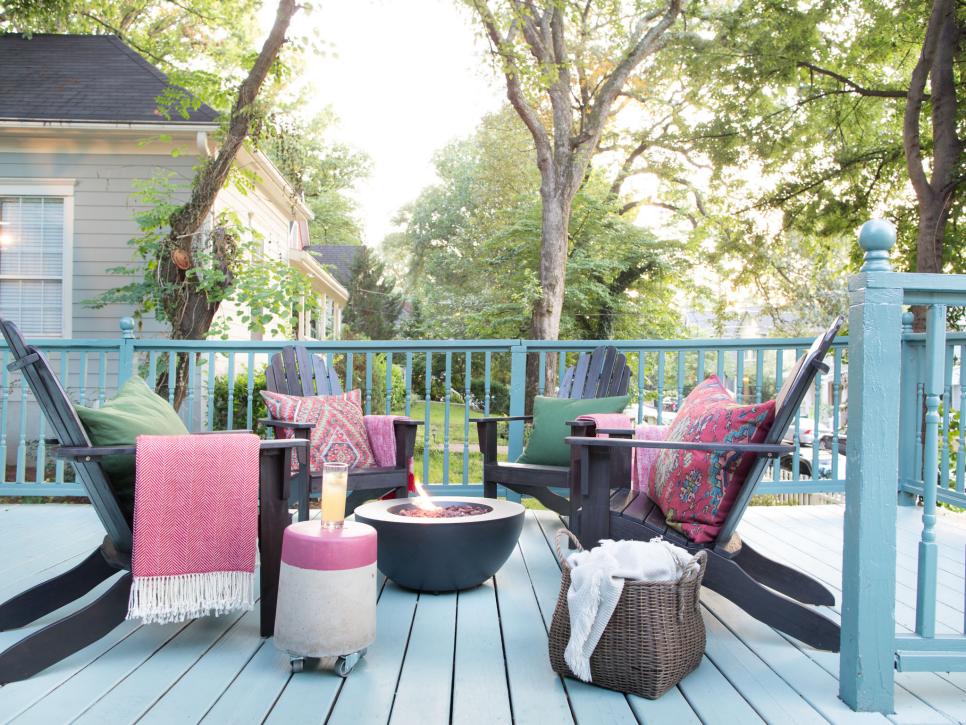 Cozy Up the Outdoors
Make the most of fall's crisp evenings by creating a small conversation area around a fire pit and add lots of pillows and throws to really boost the coziness factor. Keep a large basket handy so you can easily transport the linens indoors when inclement weather threatens.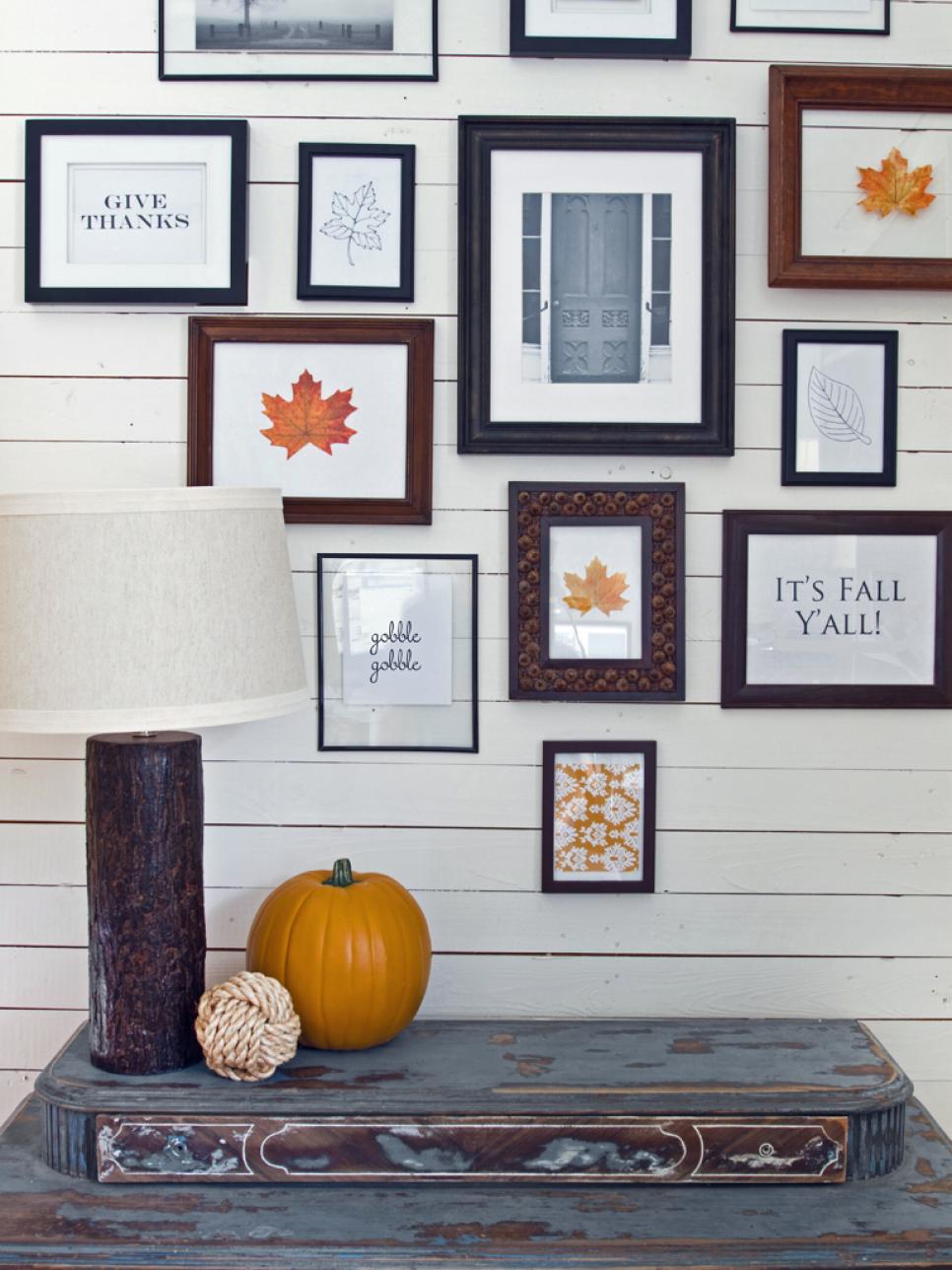 Create a Wall Grouping With Fall Flair
Shop thrift stores and garage sales for assorted small frames then fill them with fall sentiments, black-and-white photos and pressed leaves.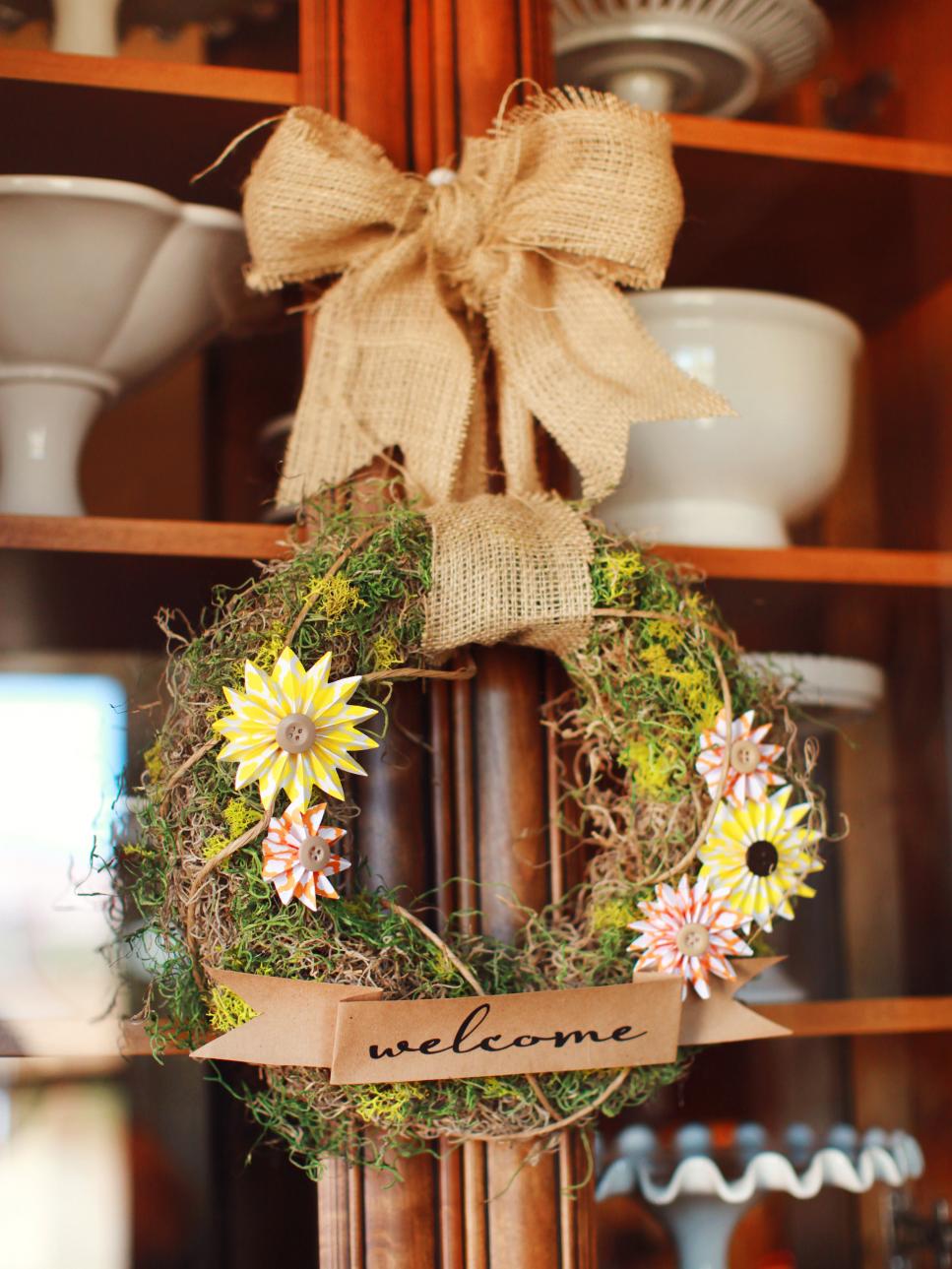 Dress Up Any Space With a Wreath
An inexpensive wreath form, moss and our free printable templates are all you need to create this rustic fall wreath.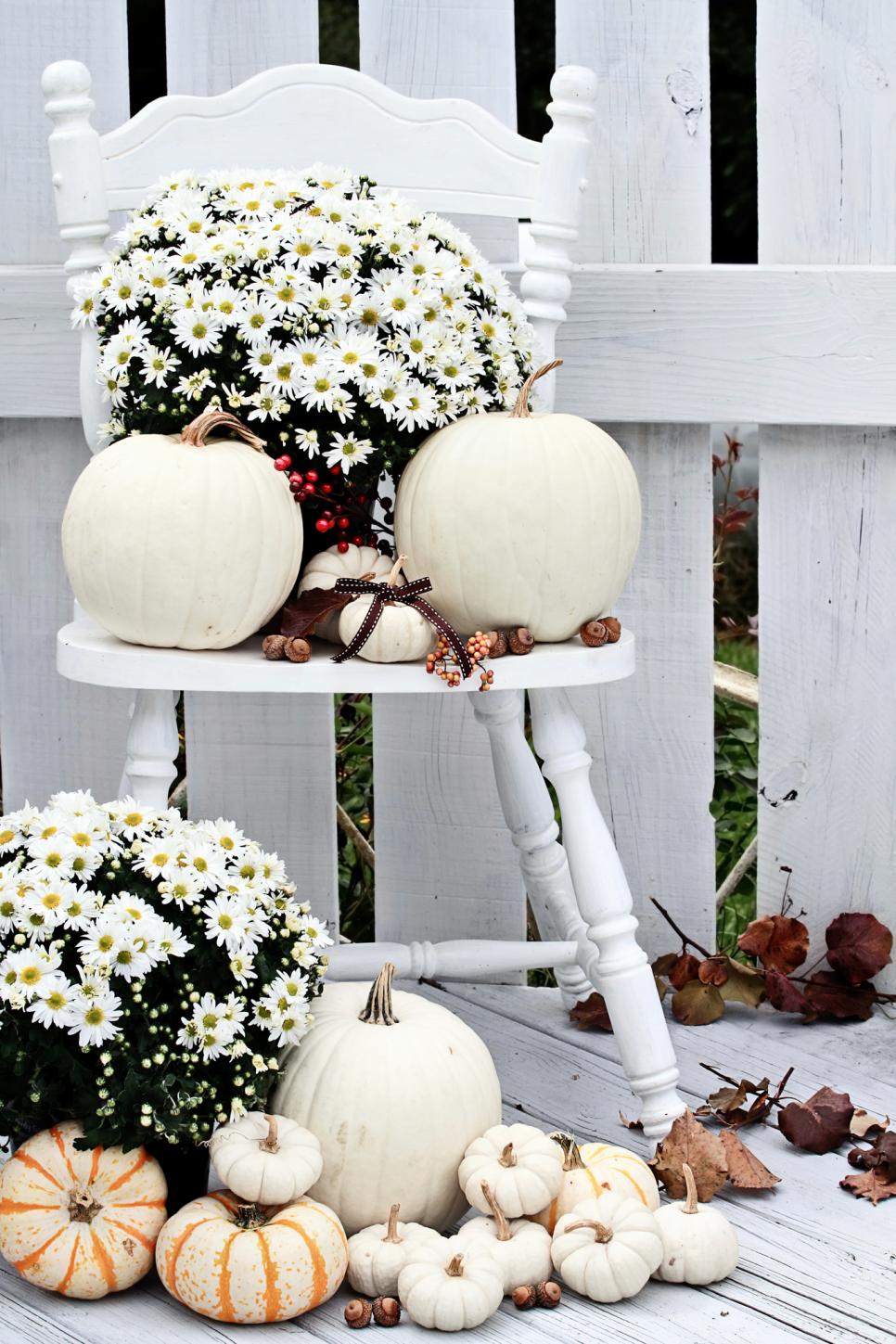 Give It a White Wash
Scandinavian decor, which predominantly features the color white in both furniture and accessories, continues to be a trendy look worth trying. White pumpkins and mums are a natural; pair them with a thrifted chair painted bright white for a crisp, clean grouping for your indoor or outdoor space.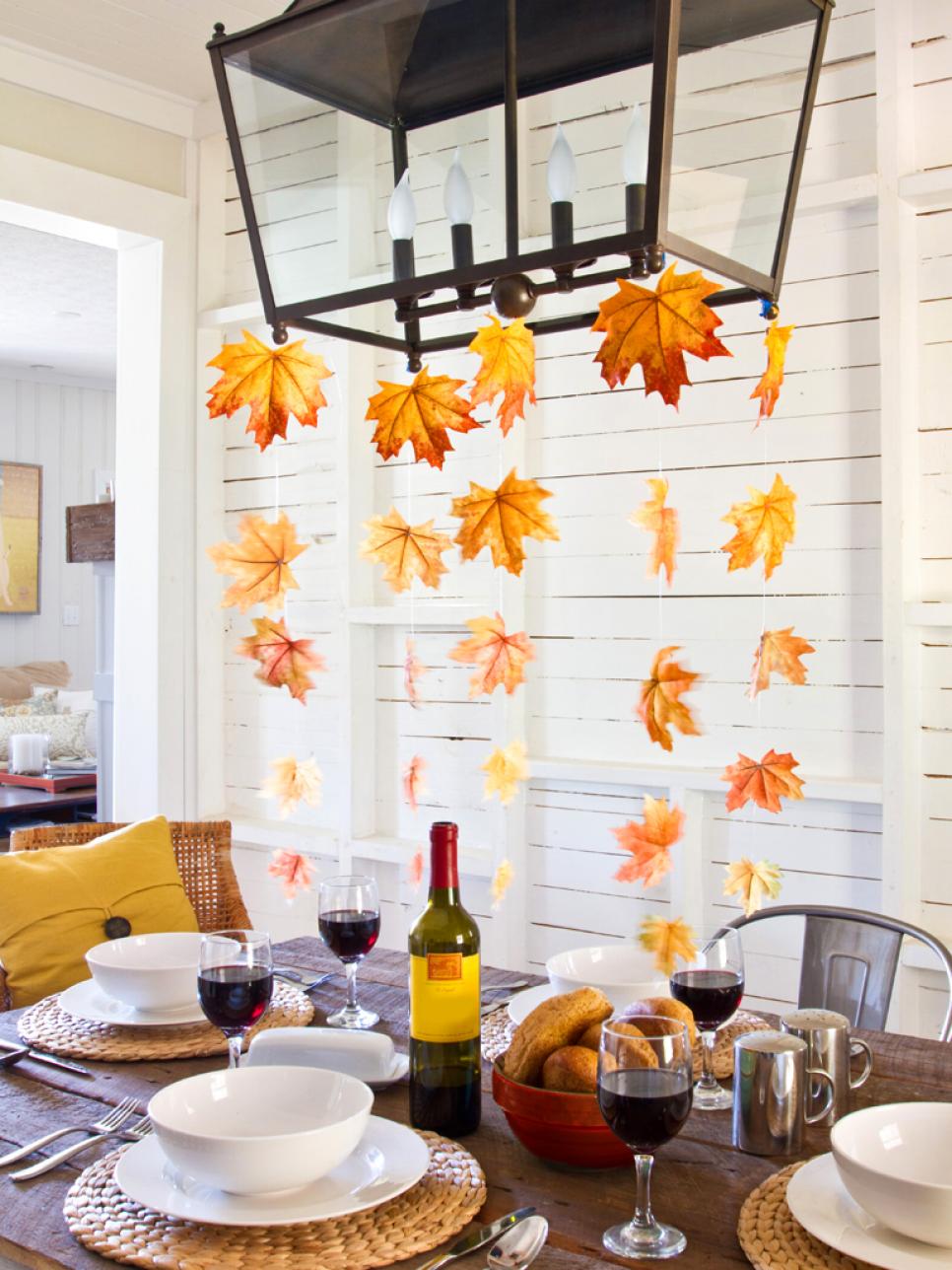 No Centerpiece Necessary
A few of our easy-to-create fall leaf streamers are all you need to decorate your Thanksgiving table. Best of all, skipping the centerpiece means there's nothing at eye level to block your view of the other guests. Get crafting to make your own.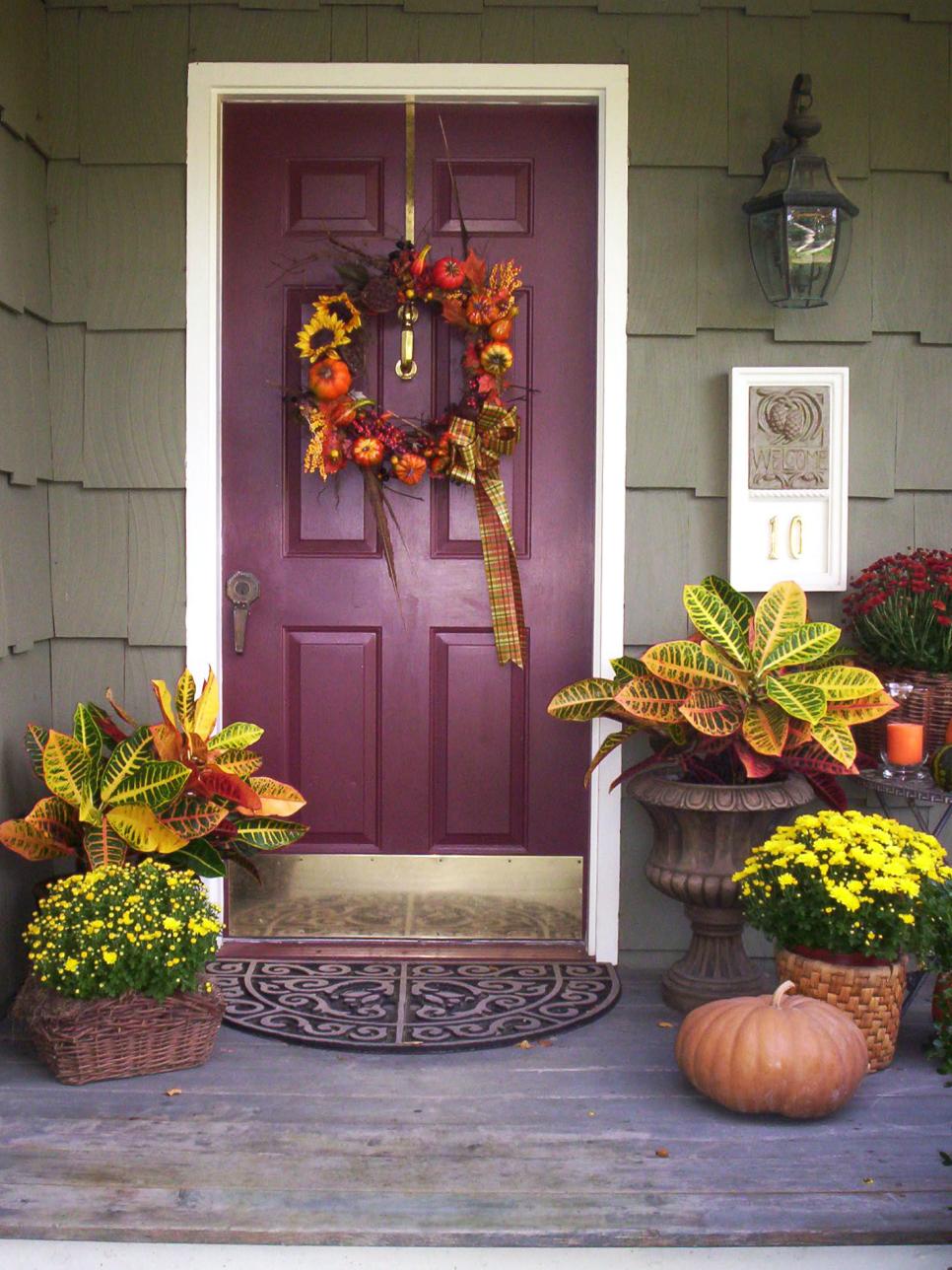 Freshen Up Your Front Door
Variegated croton in saturated shades of green, gold and red surrounded by vibrant mums and pumpkins give HGTV fan gdiveris' front entry a colorful fall pick-me-up. Both plants are perennials and can either be brought indoors to weather the winter or, if you live in a warm climate, planted to add color to your landscape.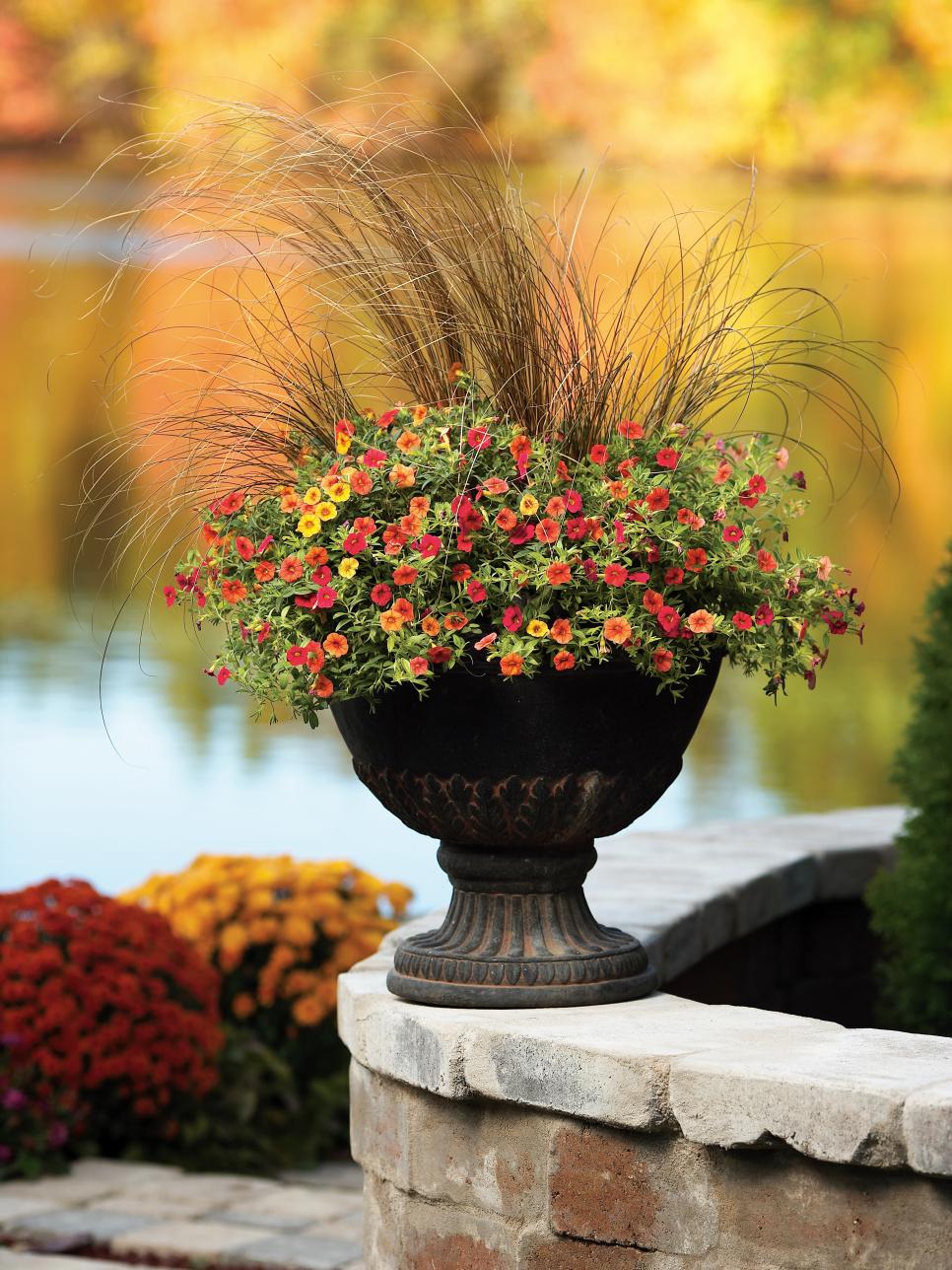 Use Containers to Spread Fall Color
Container gardening is a great way to add interest to all areas of your landscape any time of the year but is especially beautiful in fall when Mother Nature puts on her last hurrah. Pairing a hardy perennial, like this ornamental grass, with a show-stopping annual like calibrachoa is a sure recipe for container gardening success.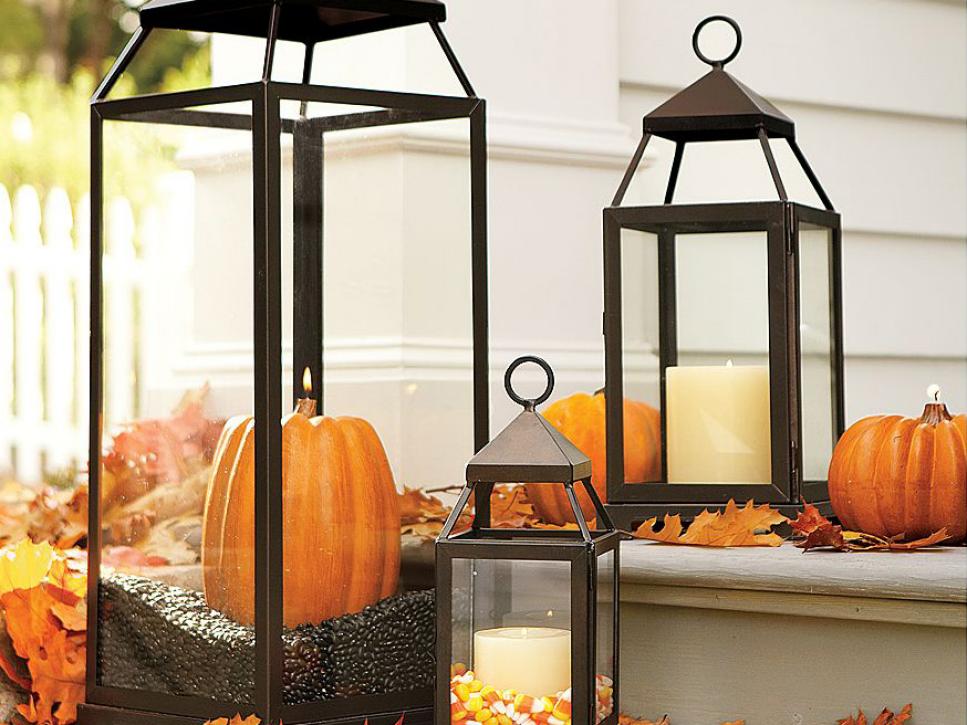 Incorporate Candles
Fill lanterns or tall glass hurricanes with pillar candles surrounded by coffee beans, acorns or candy corn to easily create a charming display for your entryway or front porch. Note: Be sure to keep an eye on the burning candles to ensure the wick doesn't burn below the level of the filler.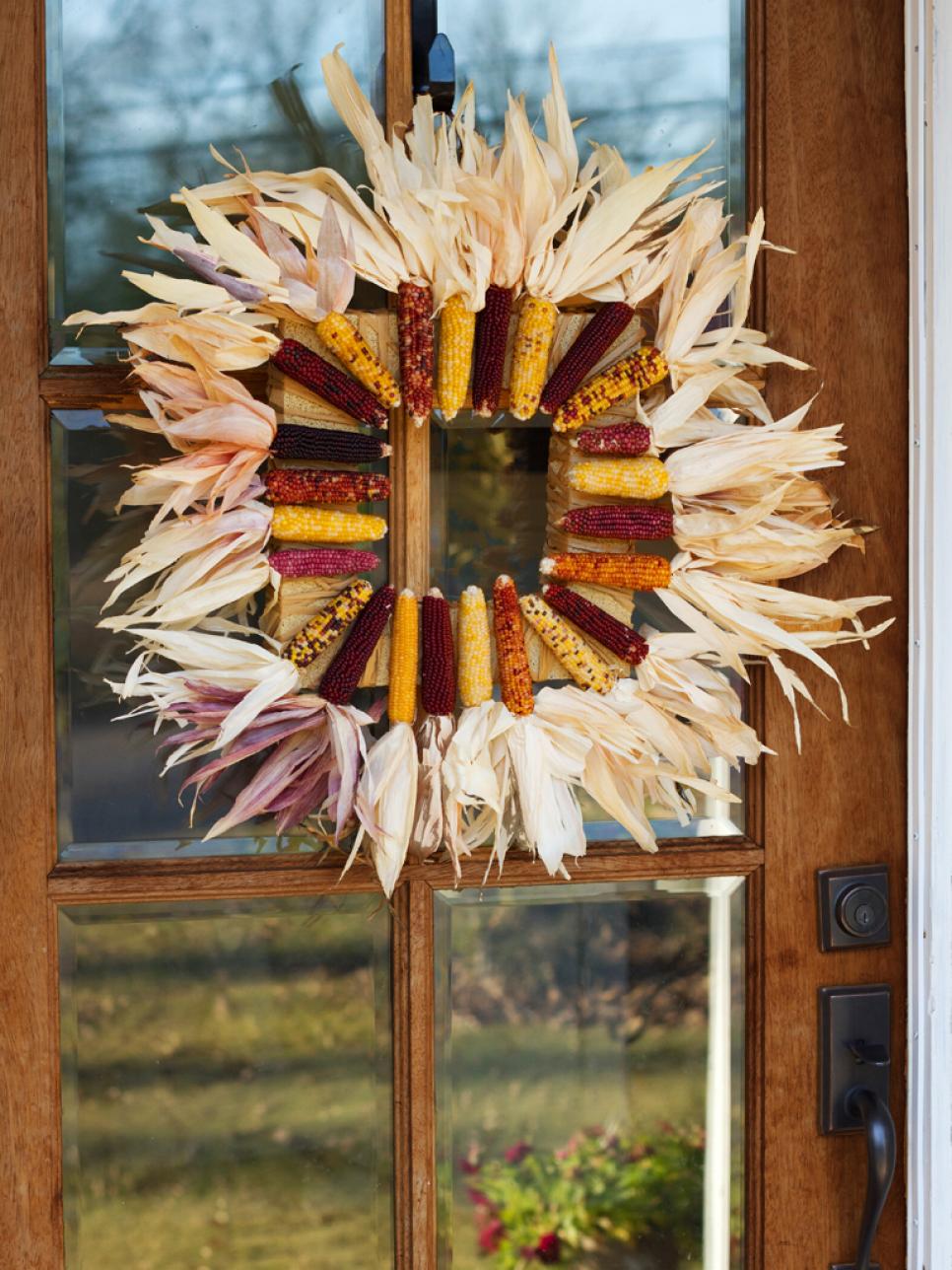 Try a New Twist on Tradition
Shake up your front door with a square wreath featuring colorful ears of Indian corn. Head to your local craft store for materials then assemble this harvest-themed outdoor decoration in just a few hours. Learn how to make your own.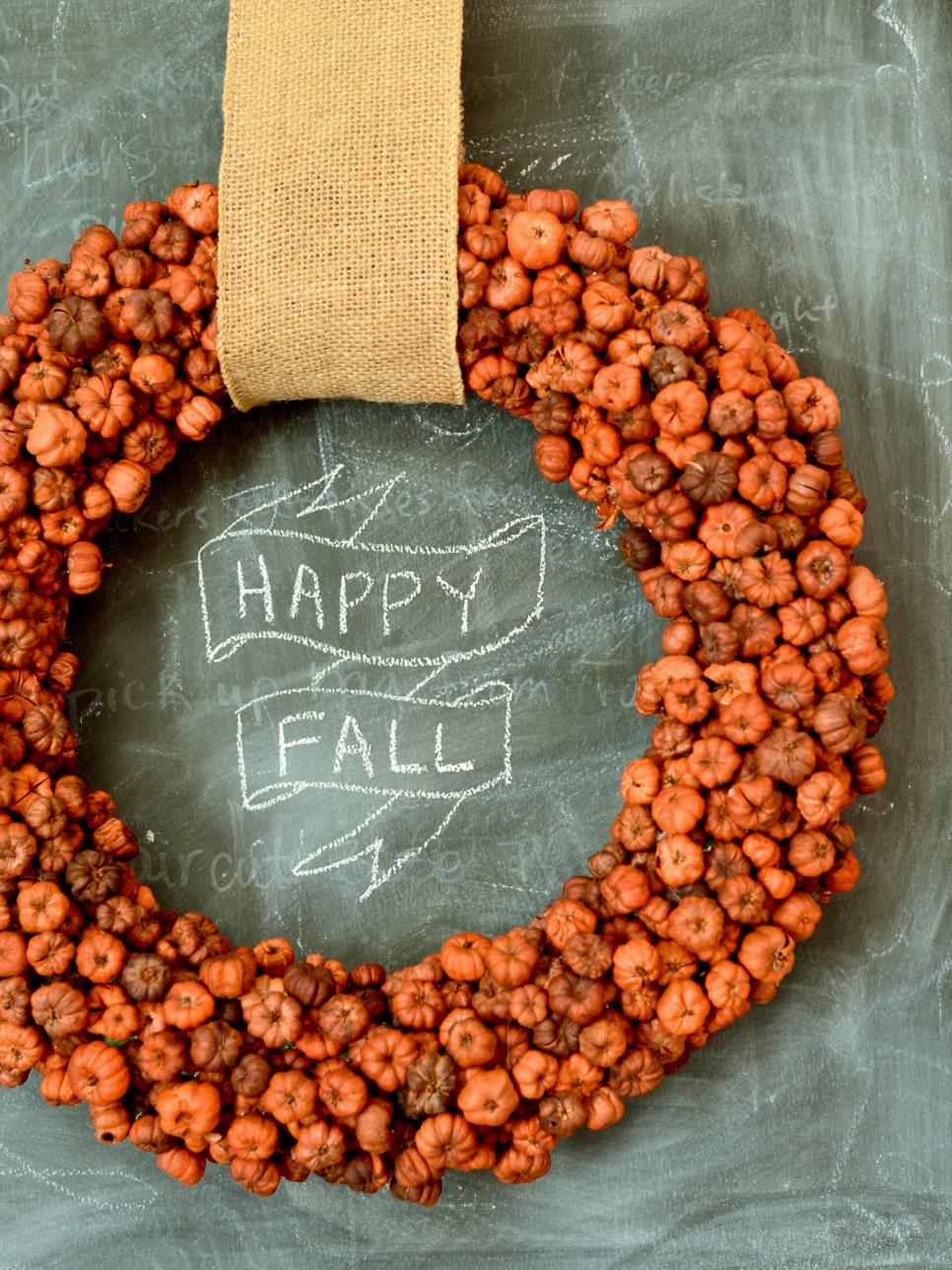 Craft a Mini "Pumpkin" Wreath
Although the tiny orange shapes covering this wreath look like diminutive pumpkins, they're actually putka pods. A great stand-in for mini pumpkins, the dried organic seed pods don't deteriorate, so your wreath can be displayed year after year. Make your own with our step-by-step instructions.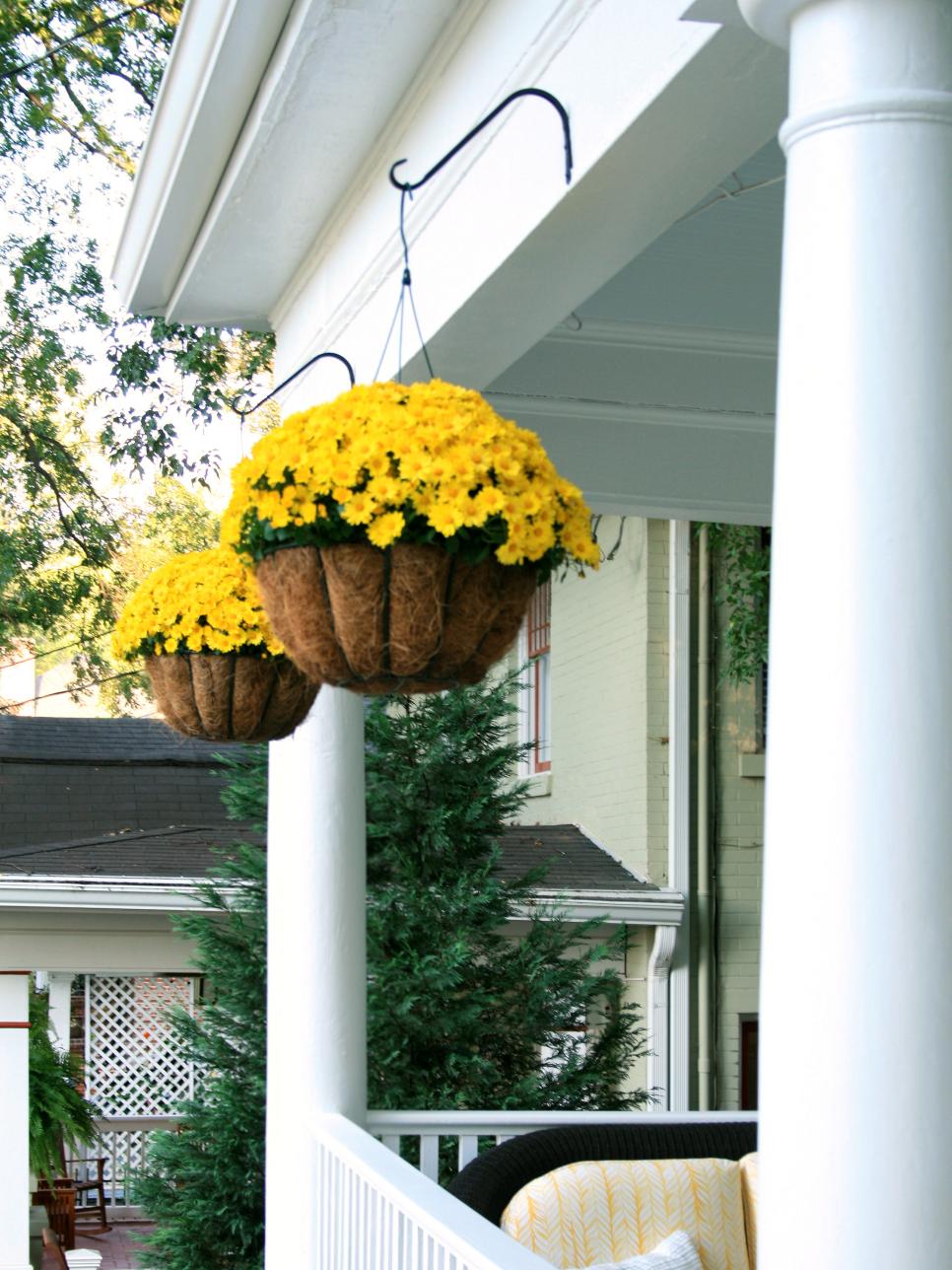 Give Your Front Porch a Cheery Update
Mounds of bright yellow mums bring a happy touch of fall color to any outdoor space. These hanging baskets were created by lining the wire frames with sheets of coco mat, which allows the plants to properly drain between waterings. Mums require plenty of direct sunlight; their location hanging from this front porch provides the minimum three hours a day they need to look their best.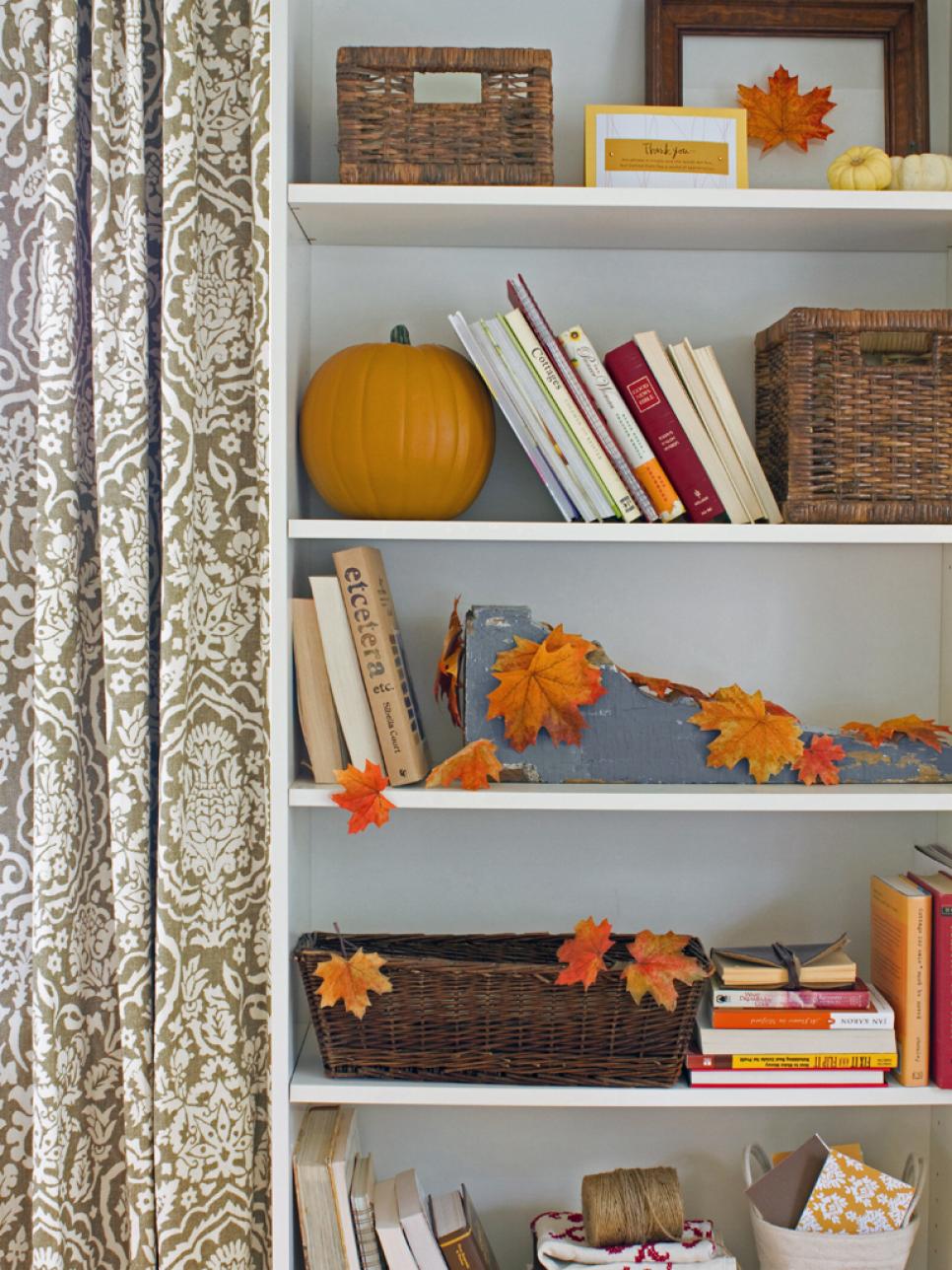 Decorate With Fall Foliage
Give bookshelves, a mantel or any flat surface a quick fall fix with a sprinkling of autumn leaves. Gather pretty specimens from your own backyard or pick up a pack of the silk variety at your local craft store.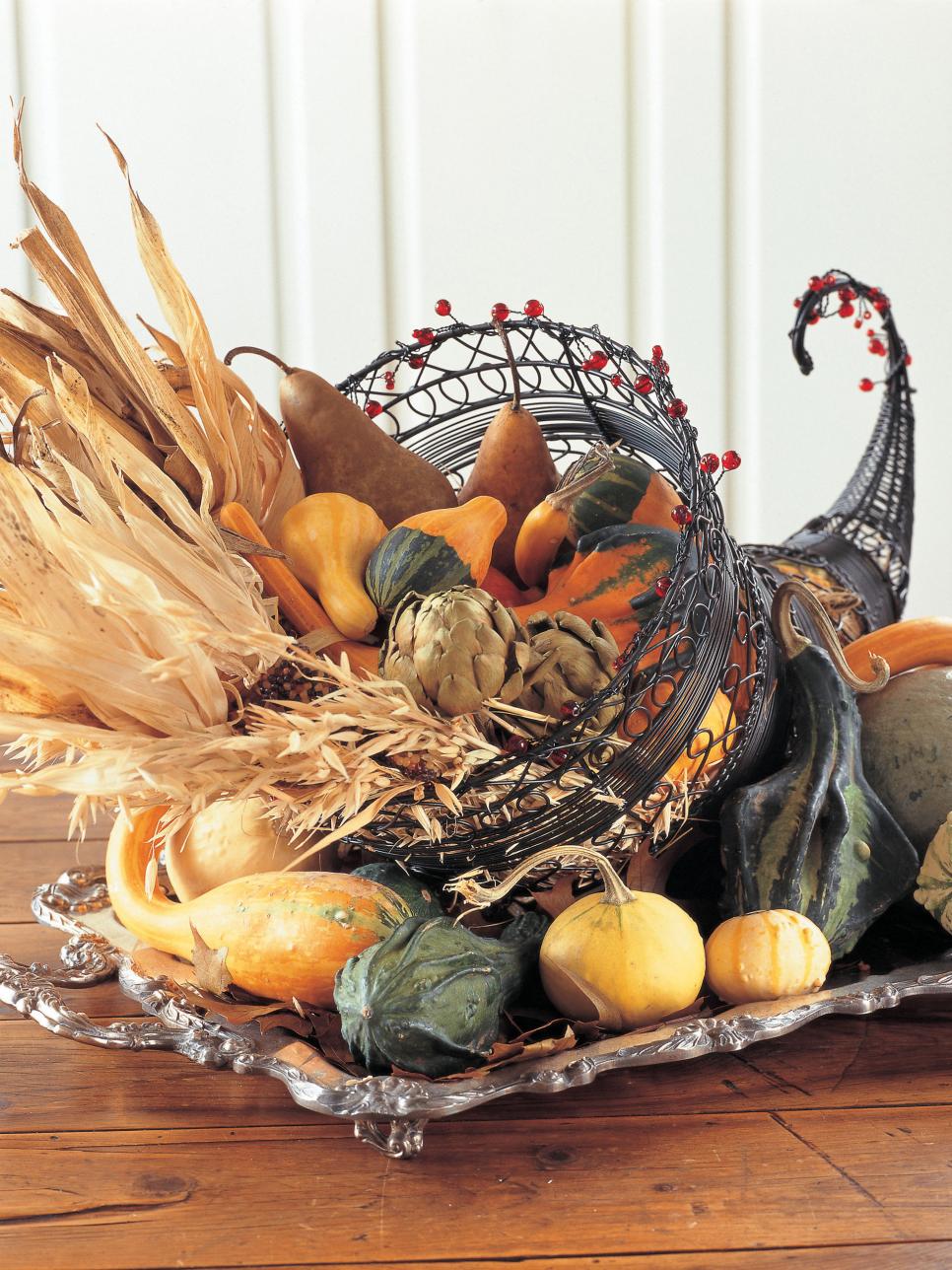 Honor Traditions
Derived from Latin for "horn of plenty," a cornucopia is a time-honored symbol of the harvest. Filled with fruit, vegetables, gourds or flowers, it's most often used as a Thanksgiving centerpiece but these decorative baskets also look great as a mantel or foyer decoration.