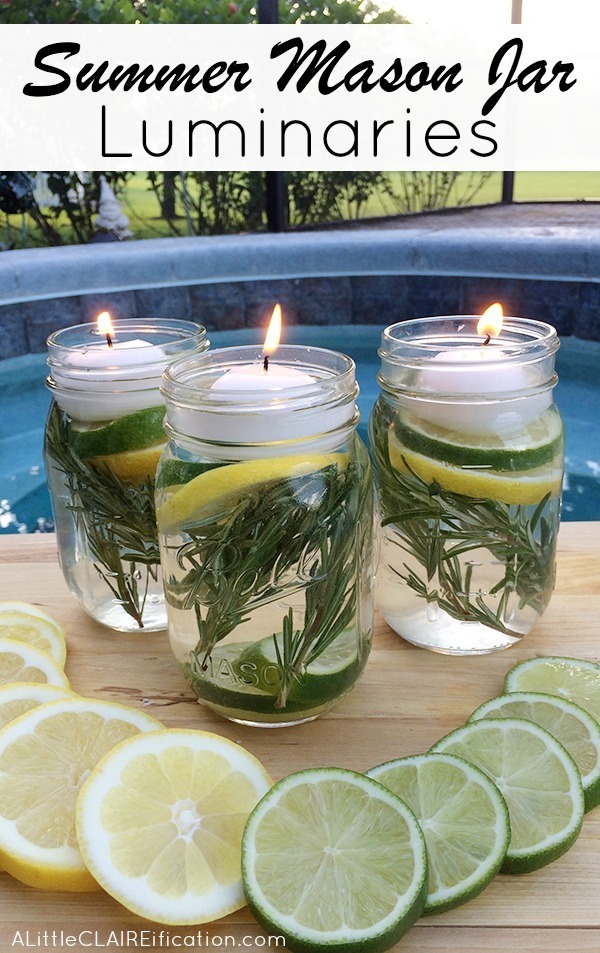 Here's what you need:
4 Mason Jars (you can also recycle jelly jars, etc)

40 drops each – Cedarwood, Lavender, Lemon and Thieves essential oils (or use your own combination of oils but these are known to help to repel the buggies)

2 fresh lemons

2 fresh limes

8 sprigs fresh rosemary

water

Floating tea light candles
Slice the lemons and the limes and set aside for a moment – I like to have two each just in case but you can possibly use one each
Place two sprigs of rosemary into each jar
Fill each jar 3/4 full with water
Add the essential oils of your choice – 10 drops each per jar – and swirl slightly
Place a slice each of lemon and lime into each jar
Add more water if needed to raise the level to almost full
Place a floating tea light candle on top
Set outside, light and make some magic once you light them*
Replace tea lights as needed – I recommend having some extras on hand!
Discard fruit and liquid in jar after 2 – 3 days depending on your climate; rinse jars and start fresh as needed
*Never leave candles unattended or in reach of small children; Make sure the mixture in jars is not ingested.*
So how pretty and easy are those? Perfect for an outside gathering or party, right?
Here's to a beautiful summer ahead with many fun gatherings and wonderful memories (and less bugs).