♫ It's the most ~creepy~ time of the year. ♫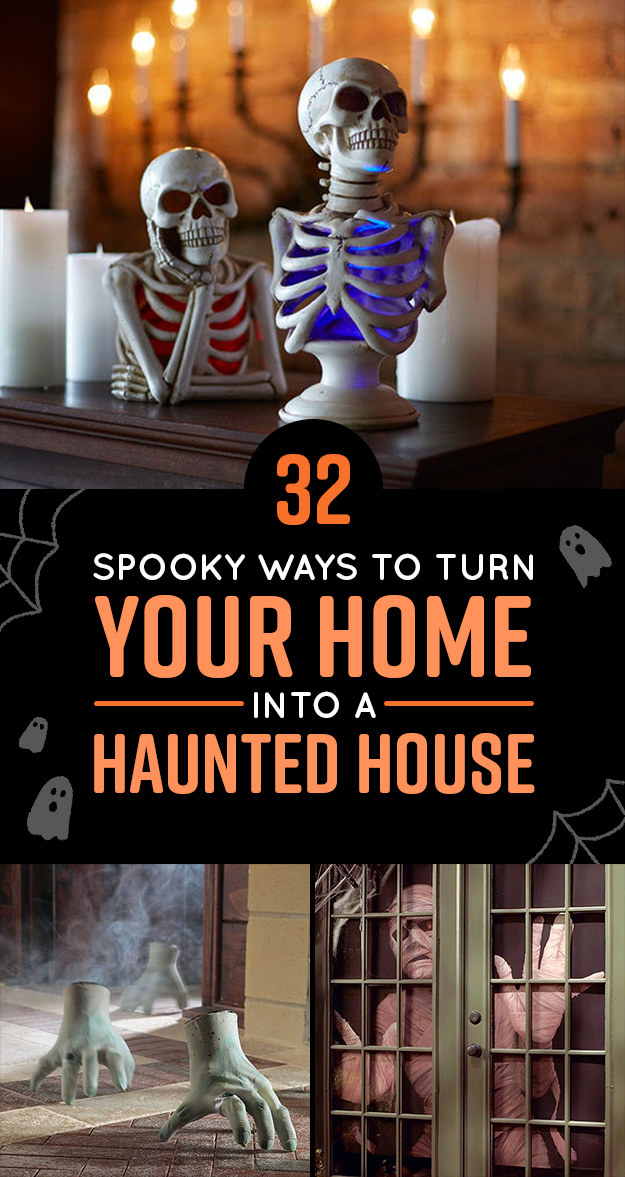 1. Hang a couple of faceless and definitely soulless ghouls that will give you the jeepers.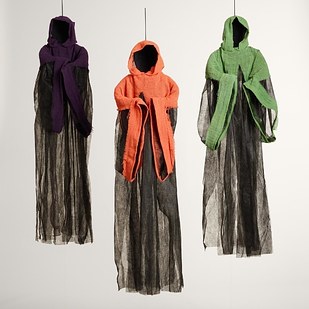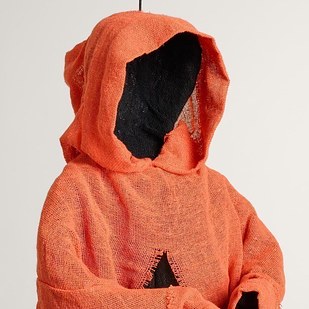 Get a set of three from World Market for $29.97.
If skeletons with silver glitter-covered faces would be easier on your eyes, you can get this set.
2. Set your dining table with a bloody gauze cover to appeal to everyone's taste buds.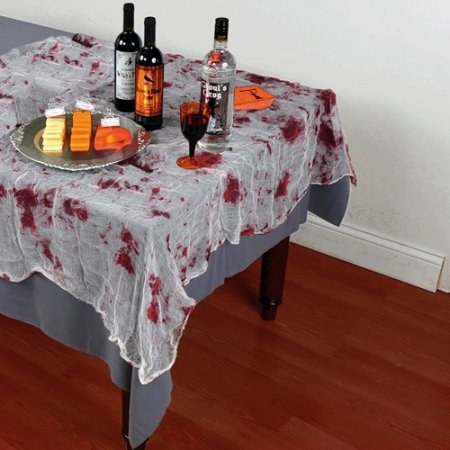 Absolutely no one will lose their appetite. Nope.
Get it from Walmart for $6.84.
3. Fill up some IV bags with a bloody red concoction so you and your guests can fulfill your dreams of becoming vampires.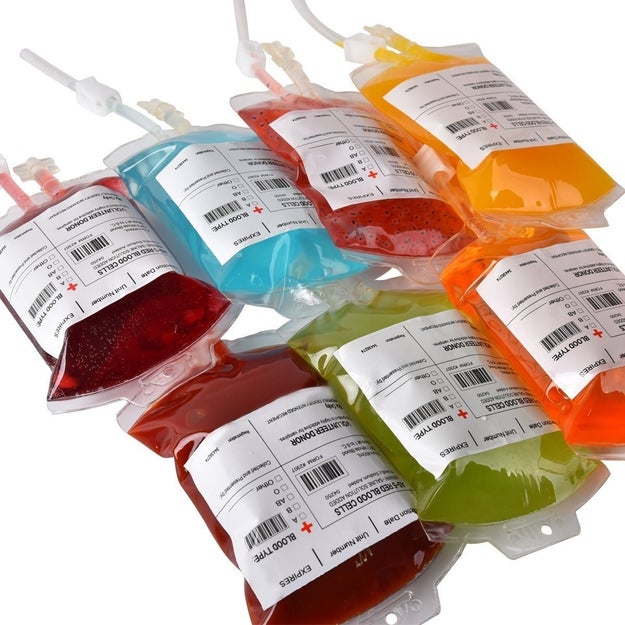 Get a set of 10 from Amazon for $19.99.
4. Plaster some unsettling decals on your wall to set the (murder) scene.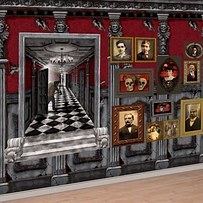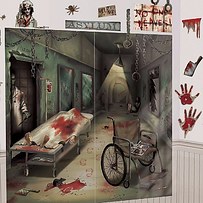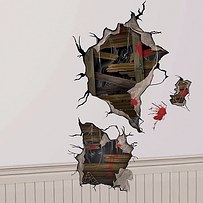 Different options for how committed you are, from ceiling-to-floor to baby, peek-a-boo holes.
Get the full wall set here, the asylum set here, and the decaying wall set here.
5. Set up some haunting, mid-air digital decorationsthat are totally worth the extra effort.
Get the DVDs (Unliving Portraits, Zombie Invasion, Jack O" Lantern Jamboree, or Phantasms) from Think Geek for $19.99-$49.99.
You'll need Hollusion OR window projection material, as well as a DVD player AND a TV, monitor, or projector. You can check out a tutorial on creating Hollusions here.
6. Plant a grim reaper chilling on its throne right in the middle of your living room for maximum impact.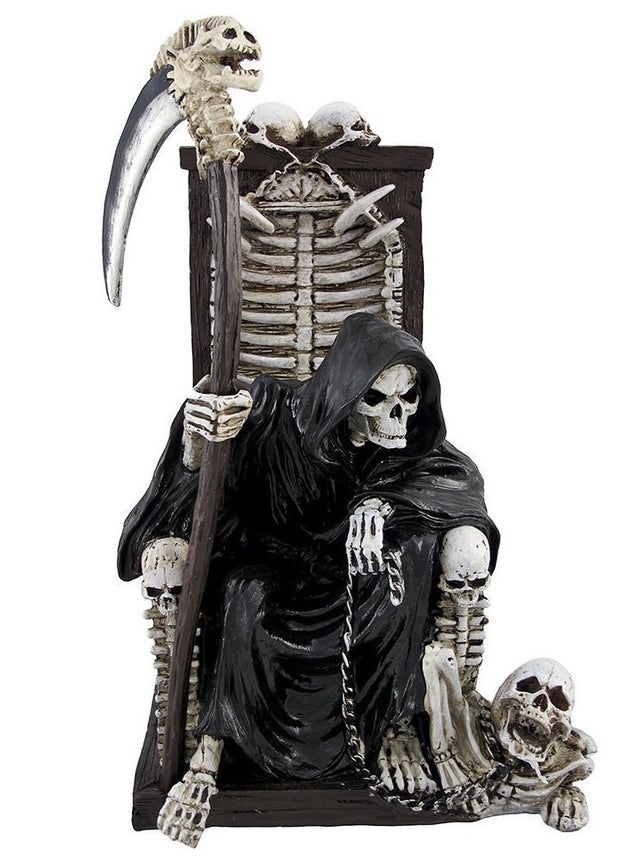 A real badass to be surrounded by essentially more-dead versions of himself.
Get it from Amazon for $18.15.
7. String a row of zombie string lights to *light up* an otherwise super dreary night.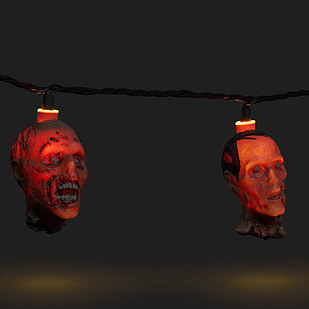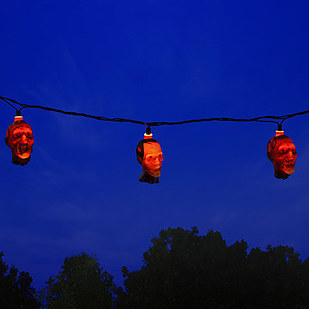 Get them from Think Geek for $24.99.
8. Or a line of weeping angels to welcome you to a delightful, totally non-terrifying party.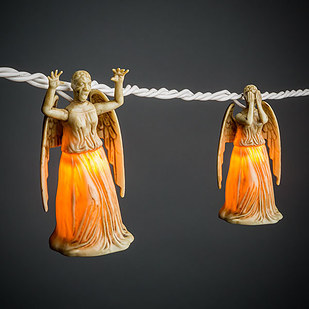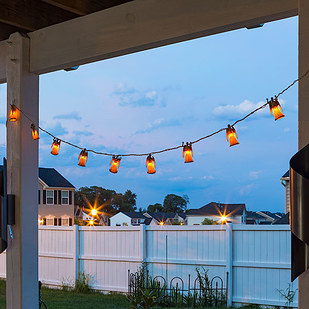 Get them from Think Geek for $24.99.
9. Let a monster hand roam free about your house and brush up against a few unsuspecting friends (or enemies).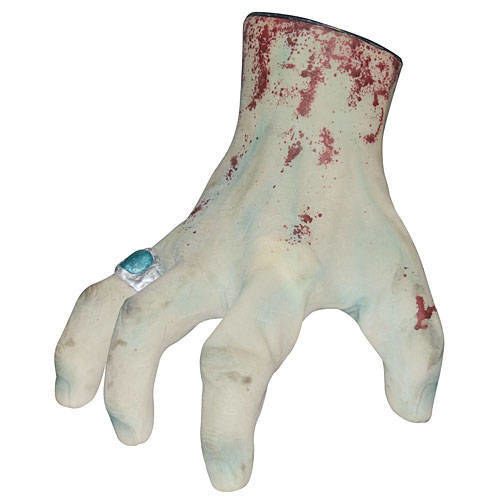 Get it from Shindigz for $19.99.
10. Replace your boring, normal TV with a haunted one that has a masked figure literally trying to jab its way out.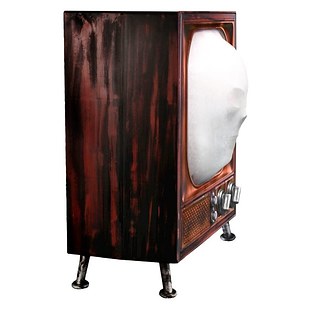 Help meee.
Get it from Target for $50.
11. Dangle a garland of bloody weapons that is purely for decoration and not straight-up evidence of a recent murder.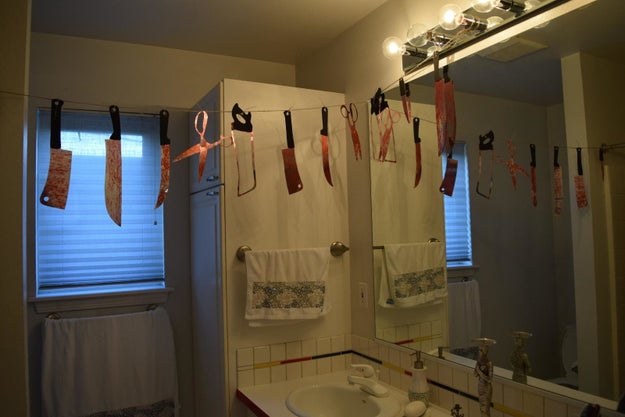 It's food coloring.
Get the set of 12 weapons from Amazon for $7.59. If you prefer minimalist butcher hooks, these are for you.
12. Cast some killer spiderwebs with this handy gunthat lets you embrace your inner Spiderman.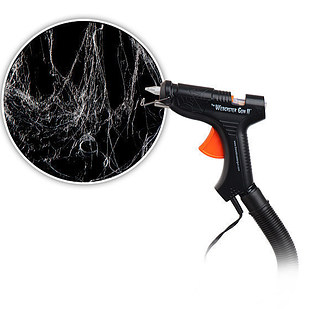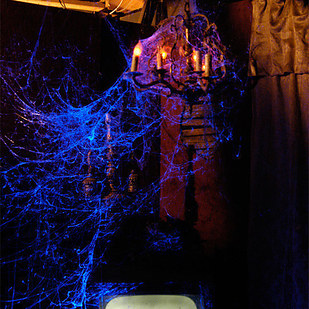 Bonus: Couple the spiderwebs with some LED lights for an awesome backdrop.
Get it from Think Geek for $29.99.
13. Decorate your walls with some semi-encouragingwooden signs adorned with tasteful red splatters.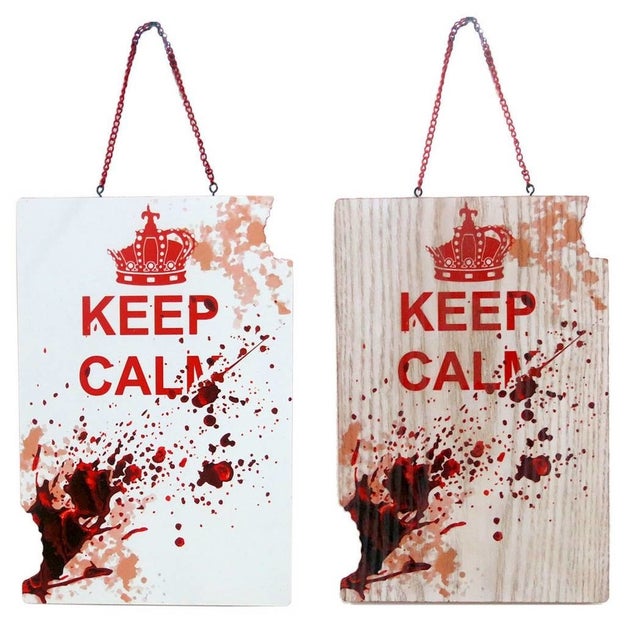 Get them from Target for $6 each.
14. Dangle a few sound-activated swinging bats in any entryway that needs a little ~livening up~.
Get them from Grandin Road for $34 each.
15. Set up this knife-equipped Joker clawing its way out of the ground (complete with a motion-sensitive spotlight) to strike fear into the hearts of many.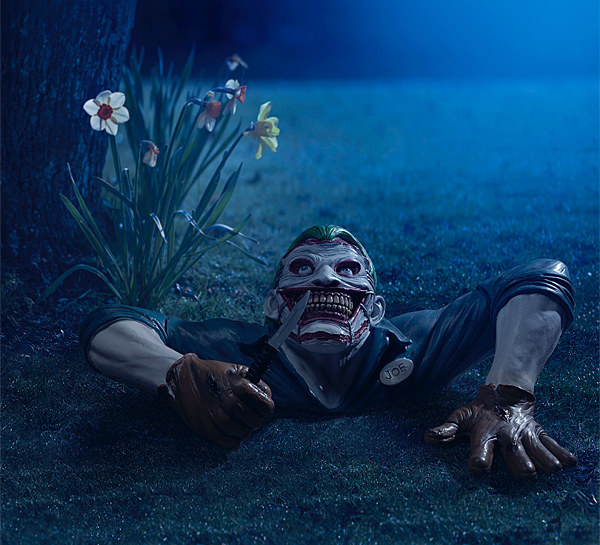 Get it from Think Geek for $89.99.
16. Plop down a furry, giant-ass spider that will really add a pop of fear wherever it lands.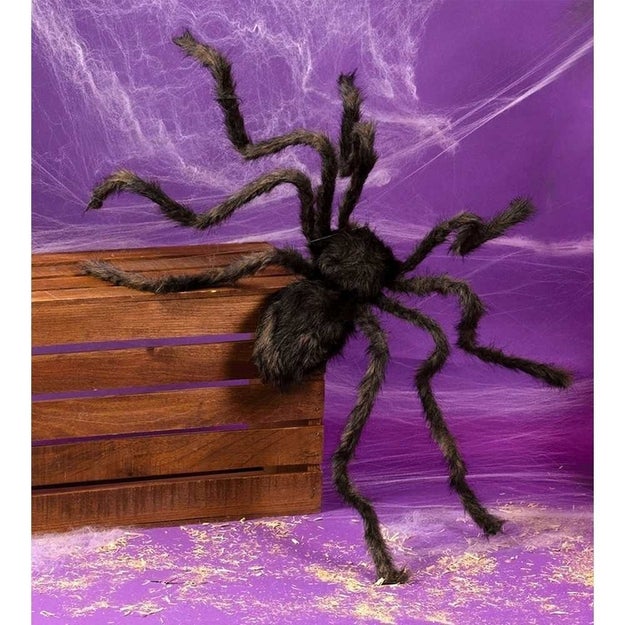 Get it from Amazon for $14.95.
If a still spider is too boring for you (*yawn*), get this animated jumping spider with lovely, wretched red eyes.
17. Hang a rather terrifying image-shifting portraitstraight out of The Exorcist to show off the double-sided nature of mankind.
Get it from Think Geek for $19.99.
18. Adhere a peeping mummy decal because it'd be downright shameful to have an empty window display.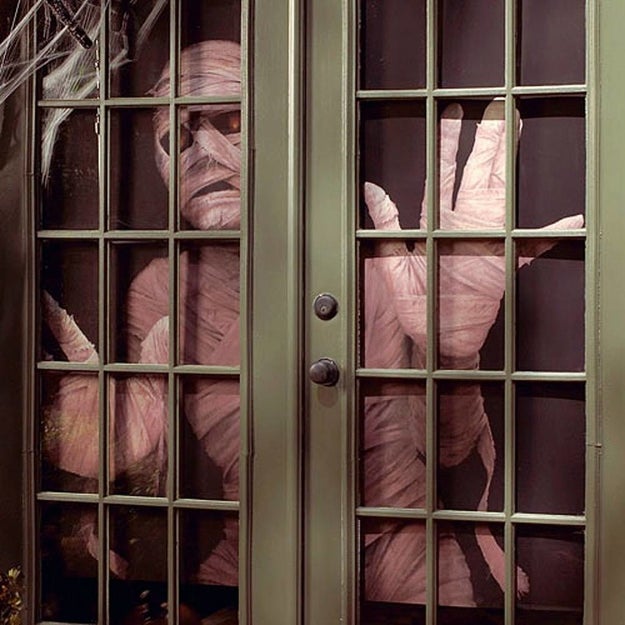 Get it from Target (15" x 35") for $12.99.
19. Paste your bathroom door with a creepy skeleton decal so everyone knows it's occupied.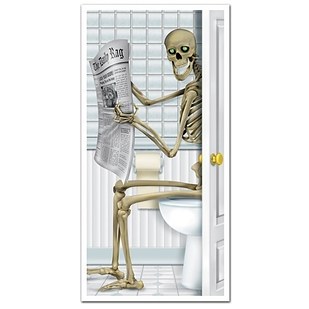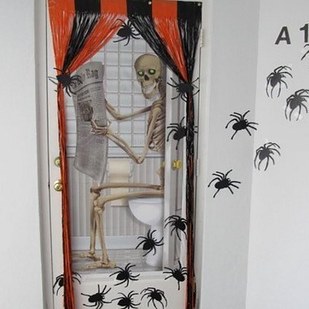 Get it from Amazon for $5.38.
20. And then stick a gory zombie-infested cover onto your toilet seat because, well, you warned them not to go in.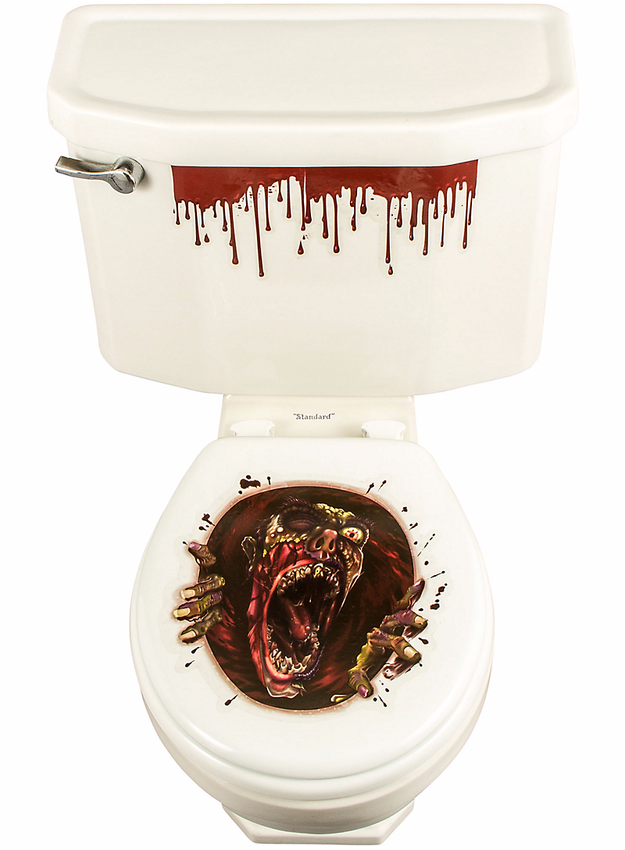 Get it from Party City for $4.99.
21. Affix an eerie, glowing eyeball doorbell that flutters open when you push to ring.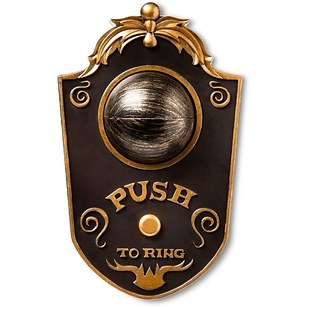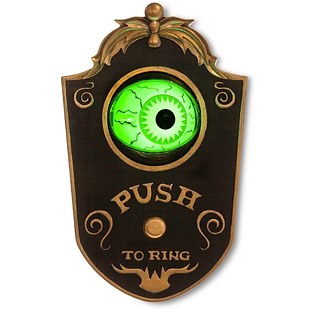 The fun starts way before you even enter.
Get it from Target for $10.
22. Prop a few color-changing skeleton table pieces to keep you and your guests company.
If you enjoy a dead person staring into your soul, that is.
Get them from Michael's for $35.99 each.
23. Hover a perched vulture with nothing to do but stare at you all day with its beady little eyes.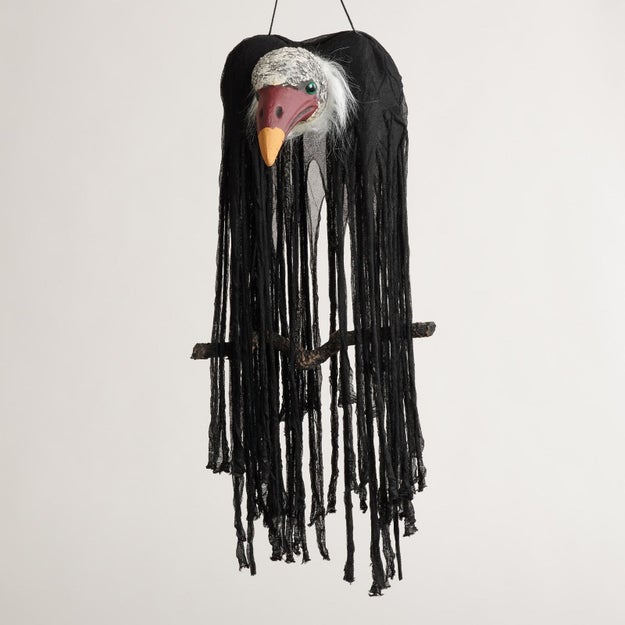 Get it from World Market for $24.99.
24. ~Dress up~ your windows with a scarily life-like, 3D peeping Tom.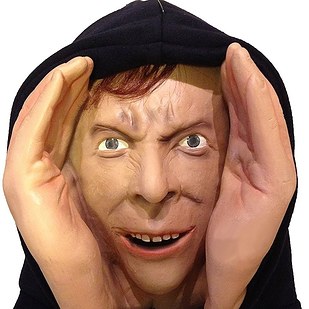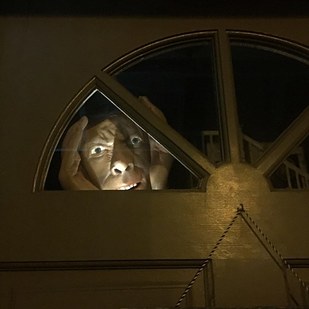 Because, let's face it, real people are the stuff of nightmares.
Get it from Amazon for $39.95.
If you want to up the creepy factor even more, get an animated version that actually taps its fingers on your window.
25. Anchor down some tombstones on your front yard for that classic Halloween vibe.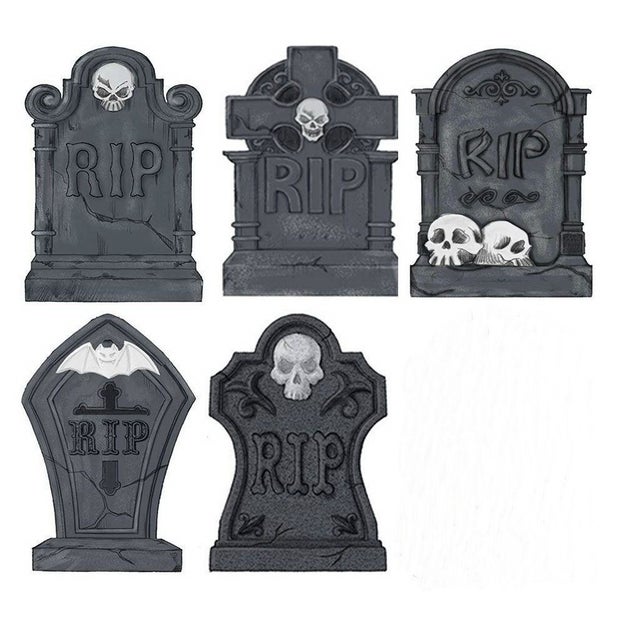 Get a set of five from Home Depot for $59.98.
26. Scatter some villainous coasters around so guests can be shadowed and watched over around for their entire stay.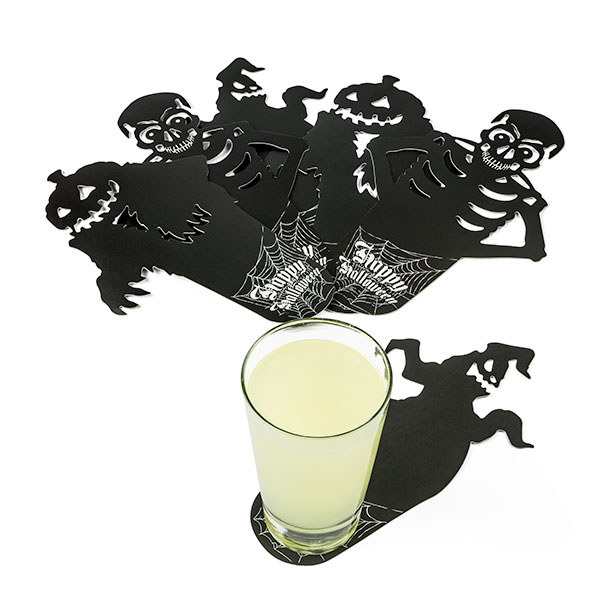 Get them from Think Geek for $7.99.
27. Enhance your otherwise innocent dishwasher or fridge with an immensely creepy demon.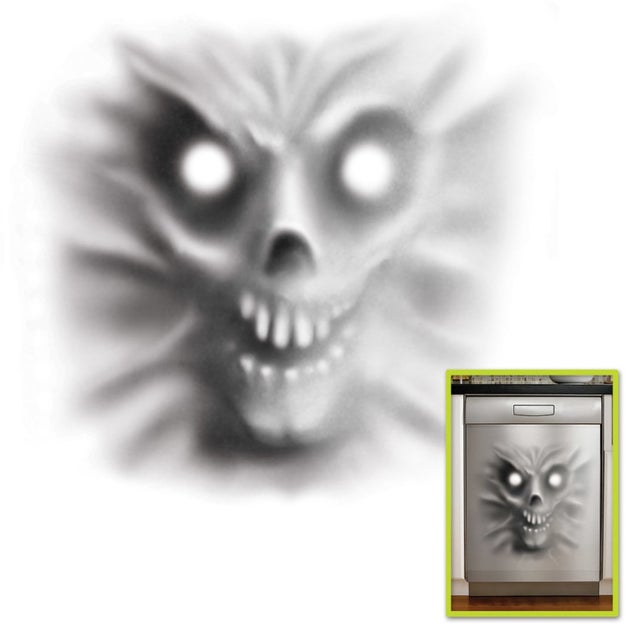 Who will eventually break free and destroy all that is good.
Get it from Walmart for $2.99.
28. Run a fog machine, because why even try for a haunted house without one?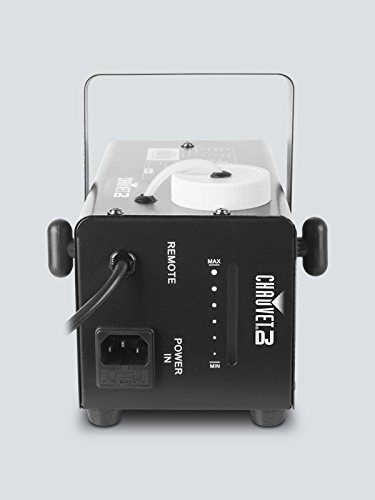 Get it from Amazon for $33.99.
29. Upgrade your bushes with some ominous peepersthat don't seem like they belong to a very friendly creature.
Halloween, Decor, Ideas, Ghost, 2016, Country Living, South Home Realty, Blogs, Creepy | 0 Comments | Add a Comment Tags: