Say goodbye to summer by adding a few cozy autumnal touches around your house.
Pin these ideas!
Don't forget to pin these cozy ways to decorate for autumn!
Accessorize a Farmhouse Table
Use an antique pitcher as a vase to hold faux wheat. Add neutral-colored pumpkins at the base of the pitcher to complete the look.
Get the tutorial atShabby Fur Blog.
Use a Pumpkin as a Centerpiece Vase
Yes, you can use real pumpkins as vases—just make sure you get all of the seeds out!
Get the tutorial at A Pumpkin and A Princess.
Dining Table Display
Place white pumpkins, dried hydrangeas, and fallen leaves on a tray to create a portable centerpiece. When your dining room table isn't in use, move the tray to a fireplace or entryway table.
Get the tutorial atCherished Bliss.
COURTESY OF CHERISHED BLISS
Add a Rocking Chair
A plaid blanket and a basket full of pumpkins? All that's missing from this autumnal scene is a steaming pumpkin-spiced latte.
See more at Stone Gable Blog.
Think Outside the Pumpkin
Not all pumpkins need to be carved into a spooky scene. By adding a lace doily over the stem, the pumpkin becomes a bright focal point on your front porch.
Get the tutorial at On Sutton Place.
Craft a Woodland Frame
Ann from On Sutton Place DIYed her way to a woodland-themed frame that's complete with moss, acorns, and pinecones. You can follow her lead and fill it with a fall-themed quote, or put a favorite family photo in it instead.
Get the tutorial at On Sutton Place.
Craft an Elegant Table Setting
White dishes, DIY napkin rings, and branches with berries combine to make a fall-themed dinner table.
Get the tutorial at The Wood Grain Cottage.
Deck the Door
A "Happy Fall" wreath made of wood slices and twigs turns your front door into a beautiful fall entrance.
Get the tutorial atThistlewood Farms.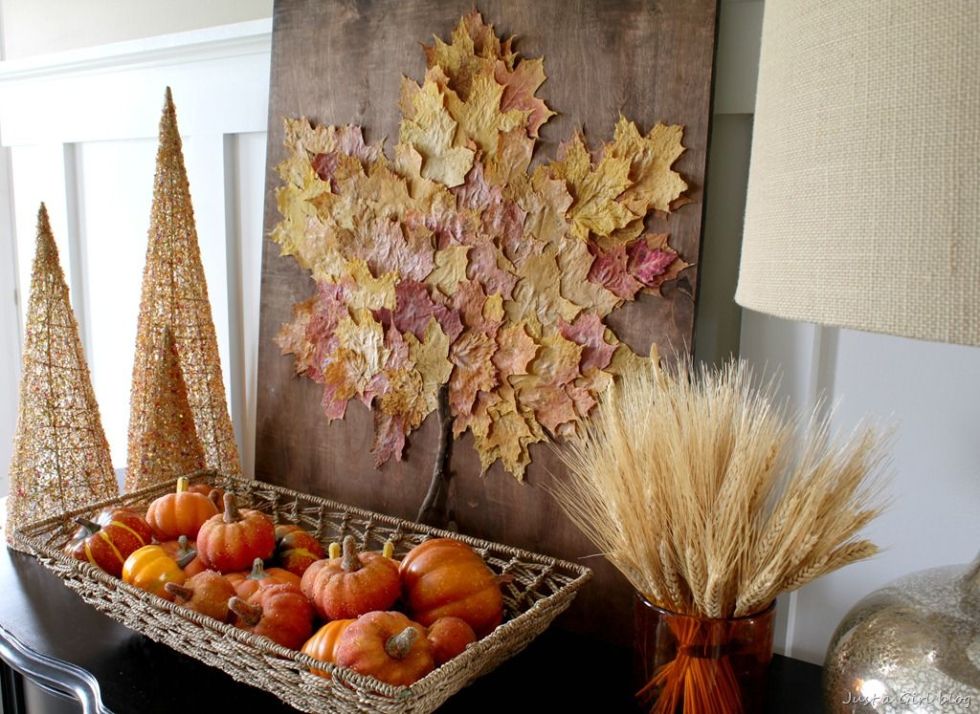 Bring the Outside In
Collect fallen leaves from your backyard and turn them into a beautiful piece of art.
Mix Colors and Neutrals
The barely blue paint color in this living room provides a breezy backdrop for a little sweep of something from the garden—like this oakleaf hydrangea—and understated white "Baby Boo" pumpkins.
Go All Out
Sometimes, more is more! This front porch in Connecticut spares no expense, with a giant wreath, an assortment of gourds, and cozy throw blankets to boot.
Don't Be Afraid of Red
Red comes in all forms on this porch: pillows, barn doors, florals, and a stripe in the throw rug. Together, they create a cozy, rustic aesthetic that stands out in fall, but could also last throughout all the seasons.
Add a Pop of Pumpkins
No need to go overboard: Place two small white pumpkins on an entryway table to greet guests with a smattering of fall spirit.
Switch Out Pillows
You can quickly transform the feeling of a room by trading out pillows. Opt for plaids and strips with deep hues to add a more autumnal vibe.
Decorate With Corn Husks
Add seasonal curb appeal with these easy DIYs.
For the garland: Cut a piece of ½-inch jute ropeto your desired length (add a few extra inches to get the drapey effect at the top) and attach corn husks and silks with a hot-glue gun. (You can also use tamale wrappers.)
For the wreath: Start with a flat-wire 18-inch frame. Hot-glue corn husks
(roughly 18) and corncobs (roughly 9) in an alternating pattern. Fray the ends of the corn husks to add more dimension.
Create a Rustic Room
French leather club chairsfrom Wyatt Childs, plus a pair of Mitchell Gold + Bob Williams sofas, serve up plenty of cozy seating in this Georgia lake house.
Offer Creative Seating
A gymnastics pommel horse, with its legs shortened, serves as a bench in a mudroom. The seasonal wreath hangs on a framed chalkboard.
Include Autumnal Colors
Wicker pieces, accented with burnt-orange accessories, offer seating on this glassed-in porch. The off-white urn is a TJ Maxx score.
Add Vintage Details
The owner of this New Jersey home displays fall foliage in transferware atop a 19th-century mahogany dresser in her dining room.
Warm Up Your Outdoor Space
Country Willow throws and a wire basket filled with firewood adorn this front porch.
Add Foliage to Pumpkins
Hit the road, Jack! Carved pumpkins don't hold a candle to this naturally brilliant idea. Just use ModPodge to découpage a white gourd with pressed leaves. You can harvest the foliage from your own backyard—or online at naturespressed.com.
Arrange Crabapple Branches
The best thing about this sort of autumnal display? There's absolutely no arranging involved. Liza Lubell of Brooklyn's Peartree Flowers simply stripped the leaves from each limb before putting it in a vase. "This treatment highlights the prettiest feature of the plant—its fruit," she explains. Group several different-size vases for even greater visual payoff. You can also try figs or chestnuts.
Plus: 11 more seasonal centerpieces »
Paint Patterned Pumpkins
You can create all of these nifty designs using acrylic paint and painter's tape.
For a two-tone, dipped look, bisect a pumpkin with a strip of tape (angle the tape for a diagonal effect). Use a foam brush to cover one section of your pumpkin with two coats of acrylic paint, allowing 30 minutes of drying time per coat. Remove the tape and discard. Stop there, or repeat the steps to add another color to your pumpkin.
Amp Up the Entryway
The owner of this Adirondack-style homelined her mudroom using color copies of seven antique bird prints bought for $7 each, making boots and brightly colored jackets pop against the wall.
Add Natural Elements
The owners of this Vermont home used oak leaf stems, crabapple branches, and a few pumpkins as a quick way to bring fall indoors.
Warm a Room
A roaring fire takes center stage in the living room of this New Hampshire home, furnished with a nubby cream sofa and white slipcovered chairs, both from Crate & Barrel.
Set Out Pride of Place Pumpkins
Let revelers know they're at the right address by emblazoning your house number—and hometown—on pumpkins. First, you'll need number stickers, as well as a decal in the shape of your state . Use Fiskar's star punch to mark your location on the state decal. Apply it to one pumpkin, and the numbers to another, then use a foam brush to cover both pumpkins with two coats of acrylic paint, allowing 30 minutes of drying time per coat. Remove the decals and discard. If you'd like the numbers or state to be a different color than natural pumpkin orange, fill in using a small paintbrush and contrasting acrylic paint, as we did for the green-and-white pumpkin.
Dress Your Door with an Autumn Wreath
Birch bark is the key to these autumn "leaves." You'll need twenty-four 6 3/4"W x 20 1/2"L sheets of birch bark, a 20-inch-diameter foam wreath form, and 45 small wooden cubes to act as risers. First, print and cut out our oak- and maple-leaf templates. Trace 75 assorted leaves onto the birch-bark sheets, and cut out. Varying the leaf type, hot-glue 30 leaves onto the wreath form. Then, hot-glue a wooden cube onto the back of each remaining leaf. Using our photo as a guide, hot-glue the cube-backed leaves atop the original leaves.
Leaf Art
Instead of framing pressed foliage, place leaves on card stock. Then affix leaves with spray mount and tack these naturally good-looking pinups into place.
Decor Doesn't Have to Be Orange
Blogger Alice created a door adornment made of Indian corn to balance out the graphic tribal-print textiles below.
See more at Thoughts From Alice.
Think Longterm
The best part about this fall mantel? Its simple, colorful components make it an appropriate display for September, October, and November.
Get the tutorial at Adventures in Decorating.
Create a Pumpkin-Lined Trail
A walkway lined with an eclectic assortment of pumpkins sets the tone for fall decor.
Display Fall Gourds Under Glass
You may have a jack-o'-lantern on the porch, but these beauties from the Great Pumpkin Patch in Arthur, Illinois, take the Cucurbita to new heights—especially when elevated on cake stands, a nod to their eventual conversion to a holiday treat.