Gingerbread Brownie Cutouts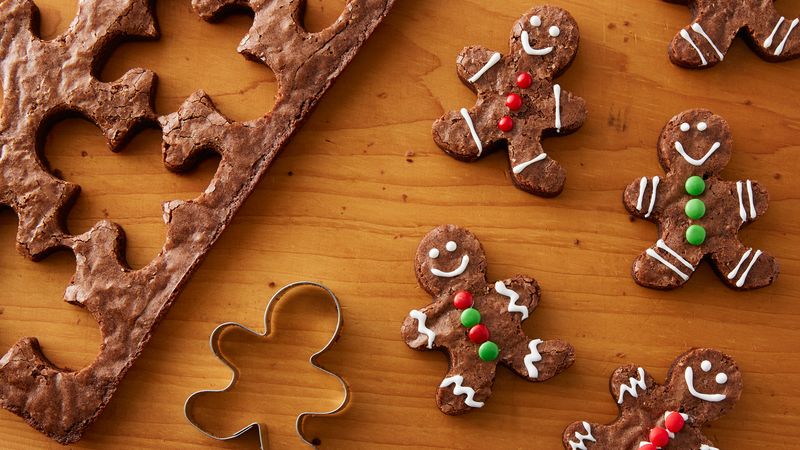 Prep20 MIN
Total2 HR 45 MIN
Servings8
Ingredients
1 box (18.3 oz) Betty Crocker™ fudge brownie mix
Water, vegetable oil and eggs called for on brownie mix box
2 teaspoons ground ginger
1 1/2 teaspoons ground cinnamon
1 pouch (7 oz) Betty Crocker™ Decorating Cookie Icing white icing
24 M&M's™ minis milk chocolate candies or red cinnamon candies
Steps
1 Heat oven to 350°F. Line 13x9-inch pan with foil, letting foil hang 2 inches over sides of pan. Spray foil with cooking spray. In large bowl, mix brownie mix, water, oil, eggs, ginger and cinnamon until well blended. Spread in pan.

2 Bake 20 to 25 minutes or until toothpick inserted 2 inches from side of pan comes out clean. Transfer to cooling rack to cool completely, about 1 hour. Freeze in pan 30 minutes.

3 Using foil to lift, remove brownies from pan, and peel foil away. Cut out 8 gingerbread men using 3-inch gingerbread man cookie cutter. Gently push brownie out of cutter each time. Set aside end pieces for snacking. If cutter gets sticky, wipe clean with damp paper towel before cutting again.

4 Decorate each gingerbread man with cookie icing; place candies for buttons. Let stand about 30 minutes or until icing is set. Store covered in airtight container at room temperature with waxed paper between layers.
Easy Christmas Tree Brownies
Ingredients
1 box Brownie Mix
1 tub white vanilla icing
green food colouring
small round sprinkles
small star sprinkles
candy canes
Instructions
Line an 8"x8" baking pan with aluminum foil and spray with cooking spray.
Prepare the brownie mix according to the package directions and bake as directed.
Allow brownies to completely cool, approximately 1.5 hours.
Remove the brownies from the pan, and cut into triangles. (Cut in three rows, then cut in alternating diagonals, as in the photo shown above).
Unwrap the candy canes, and use a sharp knife to gently cut/break the candy canes into 1.5" long pieces.
Press the sharper end of the candy cane into the bottom of the brownie triangles.
Spoon out approximately ½ of the tub of icing into a bowl.
Add green food colouring until you're happy with the colour.
Spoon the green icing into a zip lock bag.
Seal the bag and cut off a small corner of the bag with sharp scissors.
Starting at the top of the brownie triangles, gently squeeze out the icing in a curvy zigzag as you go down the tree.
Add your favourite sprinkles and a small star sprinkle at the top.
Enjoy!
Easy Rudolph Brownies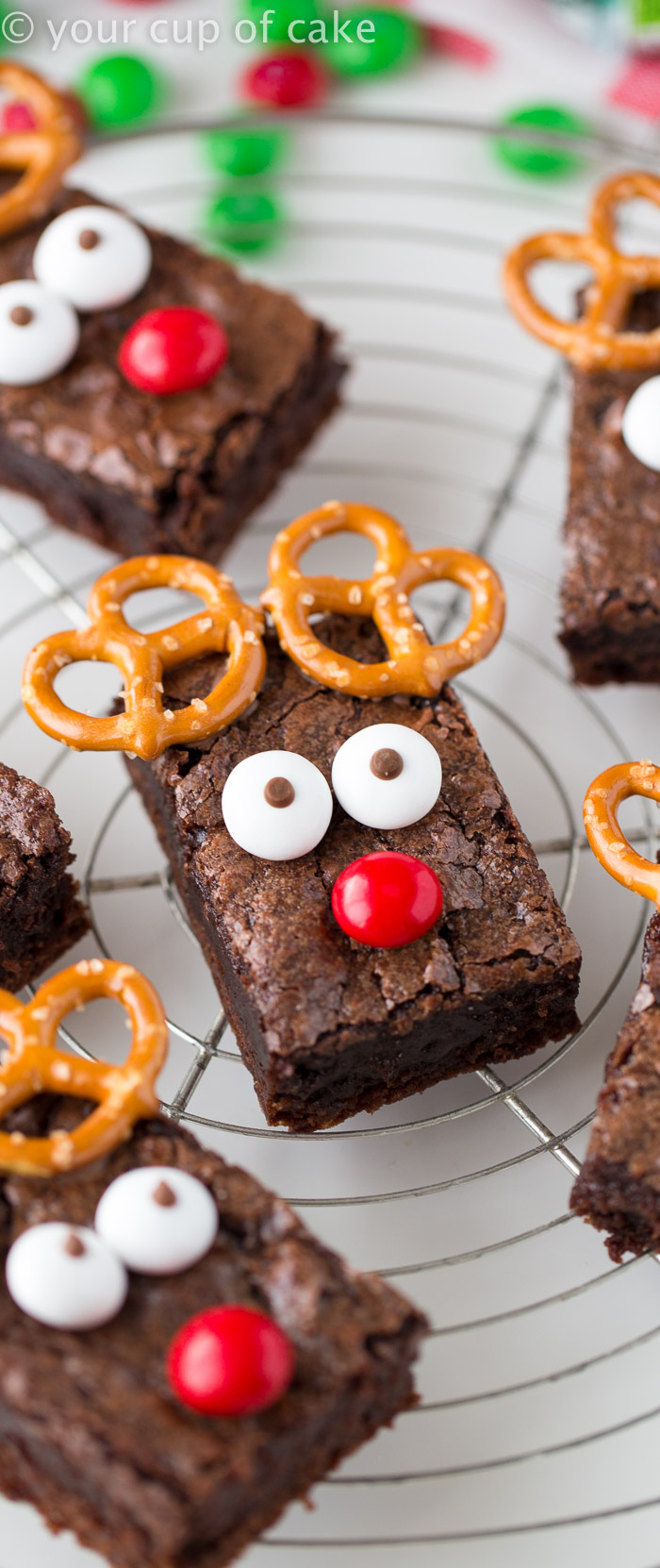 Ingredients
1 Box Brownie Mix
Ingredients on back of Brownie mix (usually oil, eggs and water)
Pretzels
Holiday Mint m&m's (they come with red, white and green)
melted chocolate (about 1/2 cup)
Directions
1. Prepare brownies as directed and let cool.
2. Cut brownies into rectangles and either frost or use the melted chocolate to stick on the reindeer face. See notes above for decorating options.
RED VELVET BROWNIES WITH MARSHMALLOW CREAM CHEESE FROSTING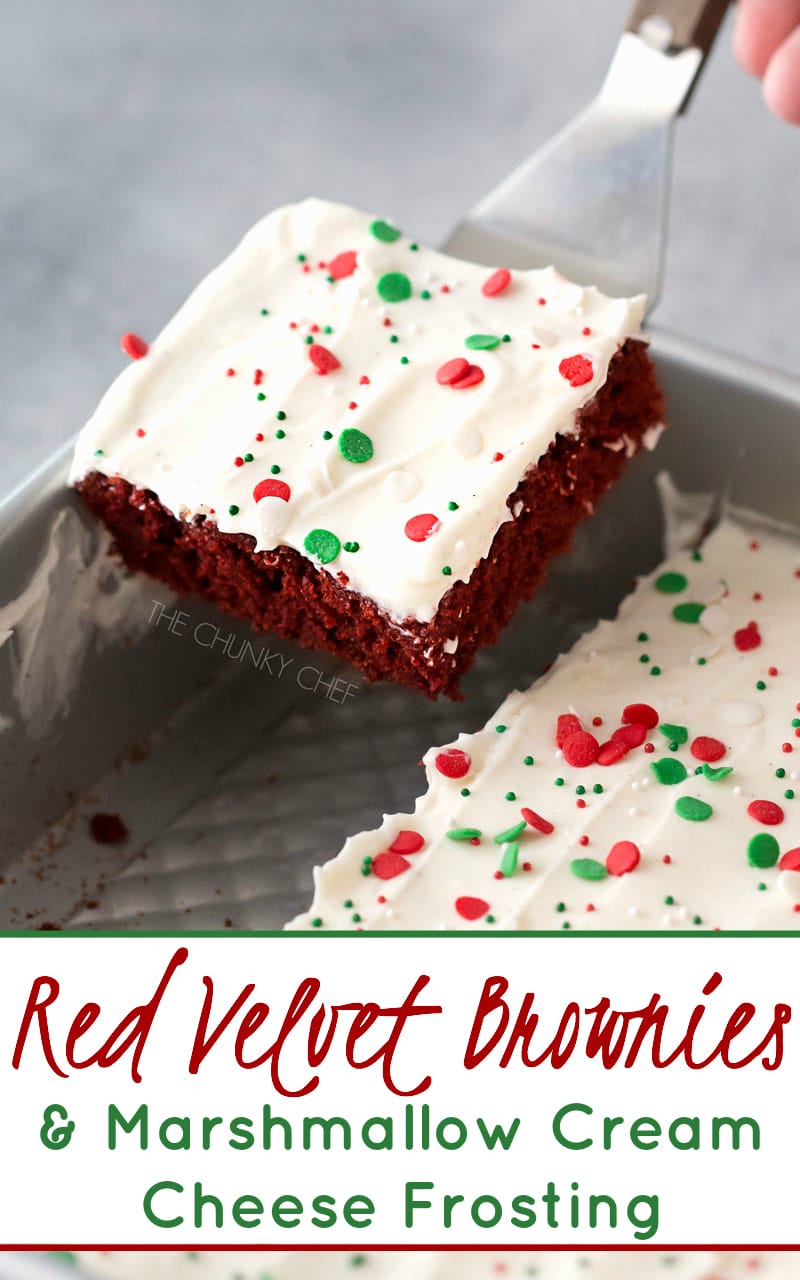 INGREDIENTS
BROWNIES
2 cups all purpose flour
2 cups granulated sugar
1 tsp baking soda
1/4 tsp salt
1 cup unsalted butter (2 sticks)
1 cup water
1/3 cup unsweetened cocoa powder
2 eggs
1/2 cup buttermilk
1 1/2 tsp vanilla extract
2 Tbsp red food coloring (I used 2 - 0.5oz bottles)
FROSTING
1/2 cup softened unsalted butter
8 oz softened cream cheese
1/2 tsp vanilla extract or vanilla bean paste
13 oz jar of marshmallow creme sometimes called marshmallow fluff
1 1/2 - 2 cups powdered sugar sifted
1/4 tsp salt
assorted holiday sprinkles/decorations
INSTRUCTIONS
BROWNIES
Preheat oven to 350 degrees and spray a 13x9" baking pan with non-stick baking spray. In the bowl of a stand mixer, combine flour, sugar, baking soda and salt. Whisk to combine.

To a medium sized saucepan, add butter and water. Heat over MED heat until butter is melted into the water. Add cocoa powder and whisk to combine. Bring to a boil while stirring very often, then remove from heat and let cool slightly.

Add melted cocoa mixture to the flour mixture and beat on MED speed until combined.

Add eggs, buttermilk, vanilla and red food coloring and beat an additional minute or until just combined.

At this point the batter will be thin. Transfer batter to prepared baking pan. Bake for 25-30 minutes, or until a toothpick inserted into the center comes out clean or with very few moist crumbs on it.

Cool completely on a wire rack.
FROSTING
To the bowl of a stand mixer, add softened butter, salt, and cream cheese and beat until light and fluffy. Add vanilla and beat 20 seconds.

Add powdered sugar and beat until incorporated. Slow beat in marshmallow creme.

Spread frosting over cooled brownies in the pan, sprinkle with desired sprinkles/decorations and serve.

Keep refrigerated for up to 3-4 days.