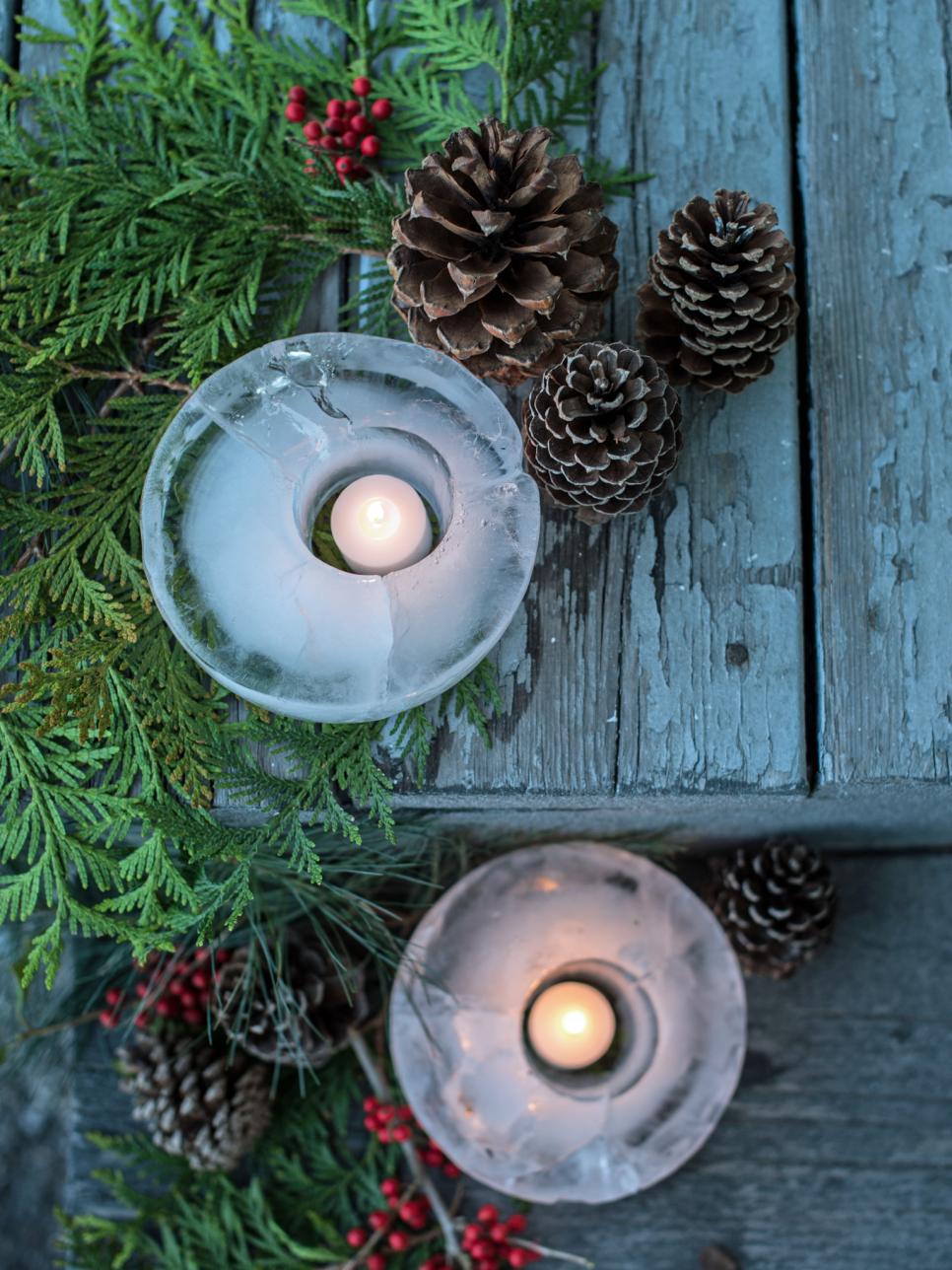 Make Ice Lanterns
Get an assist from Mother Nature (or your freezer) to turn plastic cartons filled with water into magical ice lanterns to display either indoors or out. Make your own with our tips.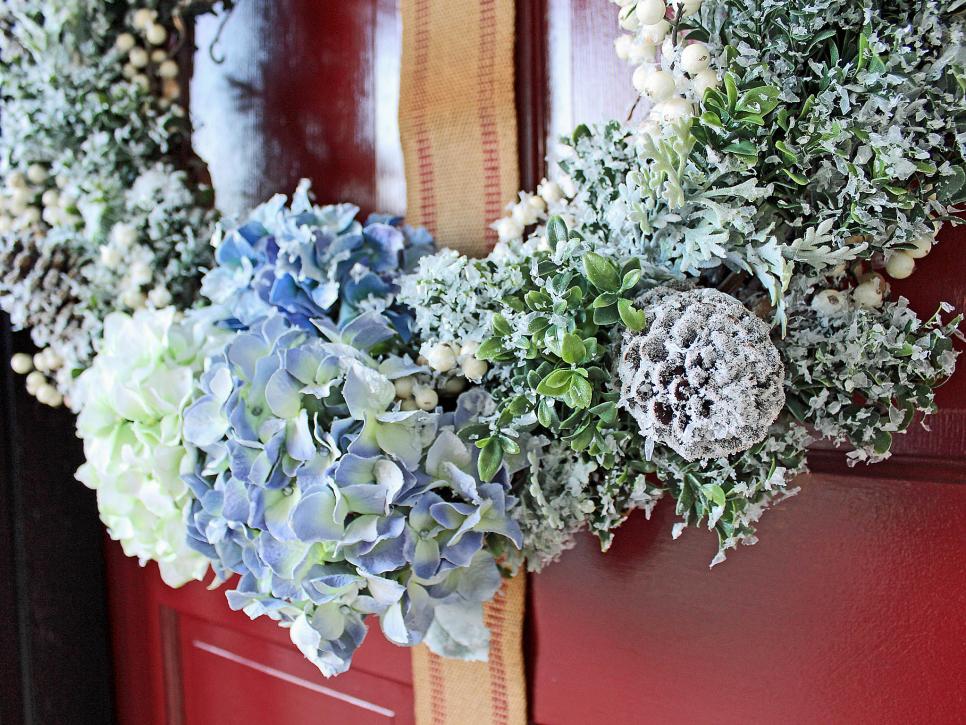 Craft a Snowy Wreath
Add faux greenery, flowers, berry sprigs and glittered pinecones to a grapevine wreath then cover with faux snow to give your front door a cheery update during winter months. Learn how to make your own.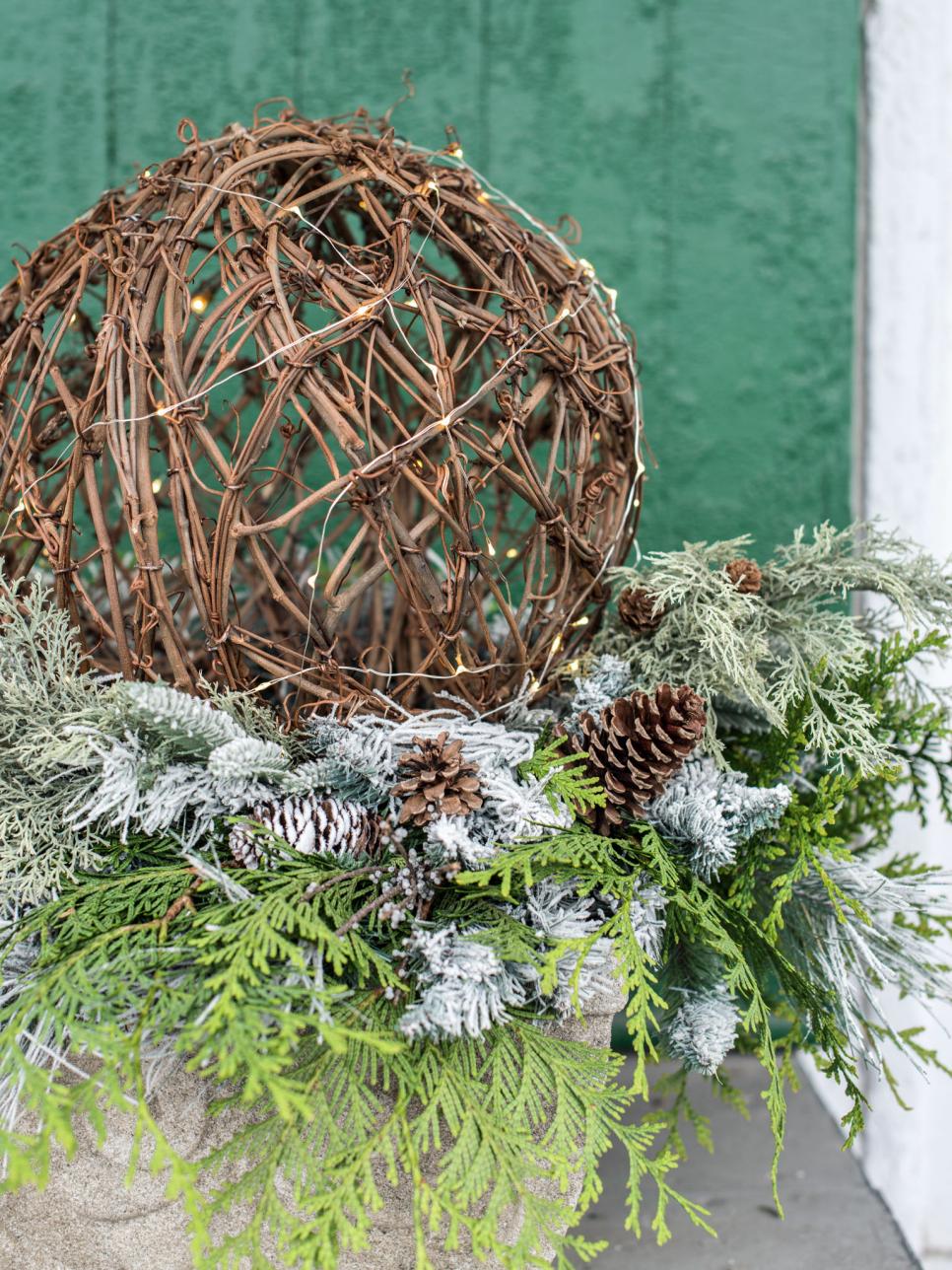 Glow It On
Our how-to explains how to create these illuminated grapevine sphere topiaries for your front porch. The waterproof lights ensure they'll brighten up your entry even during stormy winter weather.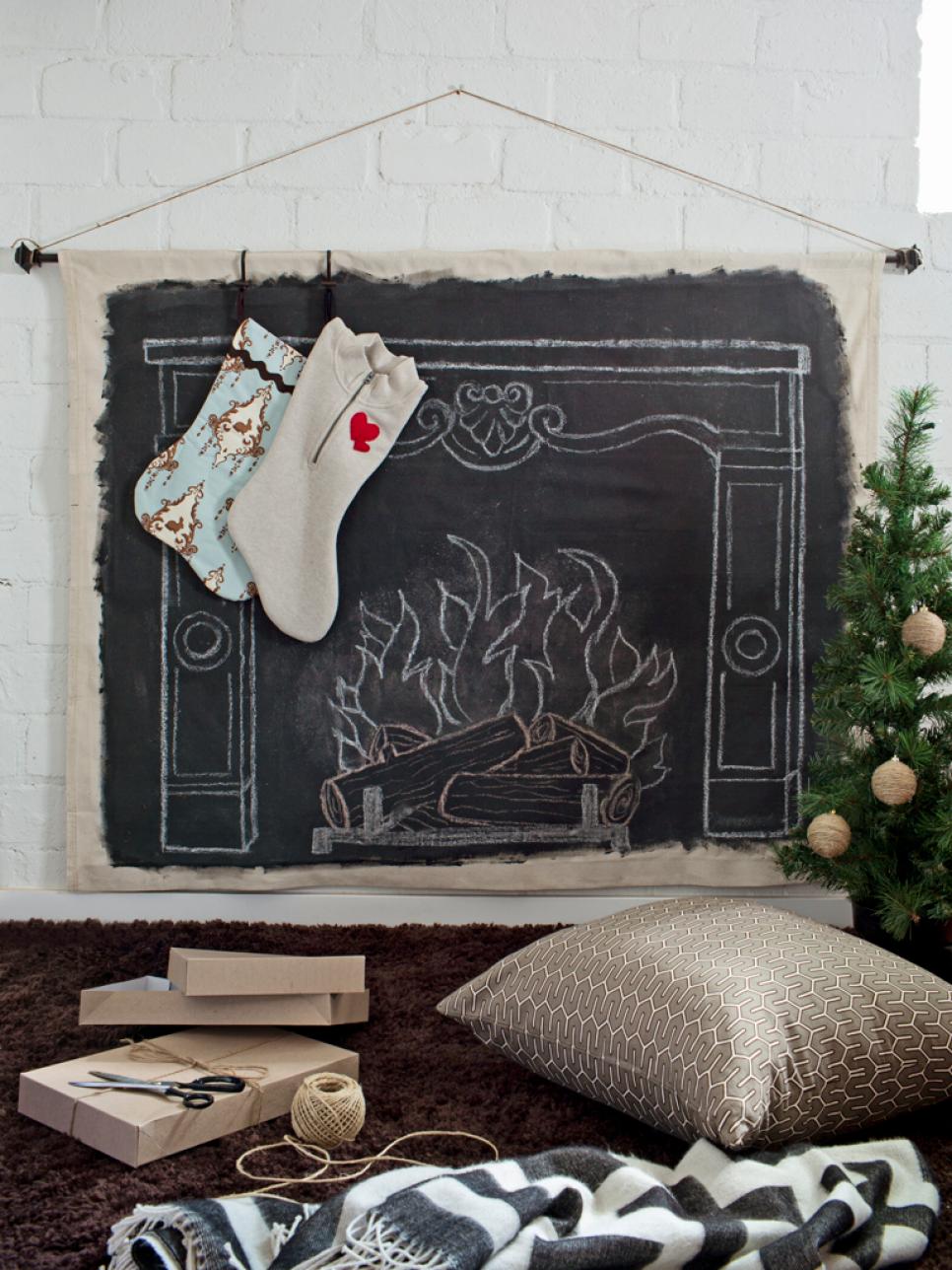 Fake a Roaring Fireplace
Apartment dwellers and urbanites: this project's for you. Get creative to craft a spot to hang your stockings and lend a little Christmas cheer to any room. Our step-by-step instructions show you how to turn a canvas dropcloth, drapery hardware and chalkboard paint into this clever faux mantel wall hanging that you can simply roll up and store when the holidays are over.
Put Candy Canes Under Your Tree
Add a sweet touch to your decorations by gluing or stitching up this playful felt Christmas tree skirt. Felt is perfect for this project because it's inexpensive and doesn't fray when cut. Learn how to easy it is to make one of your own with our step-by-step instructions.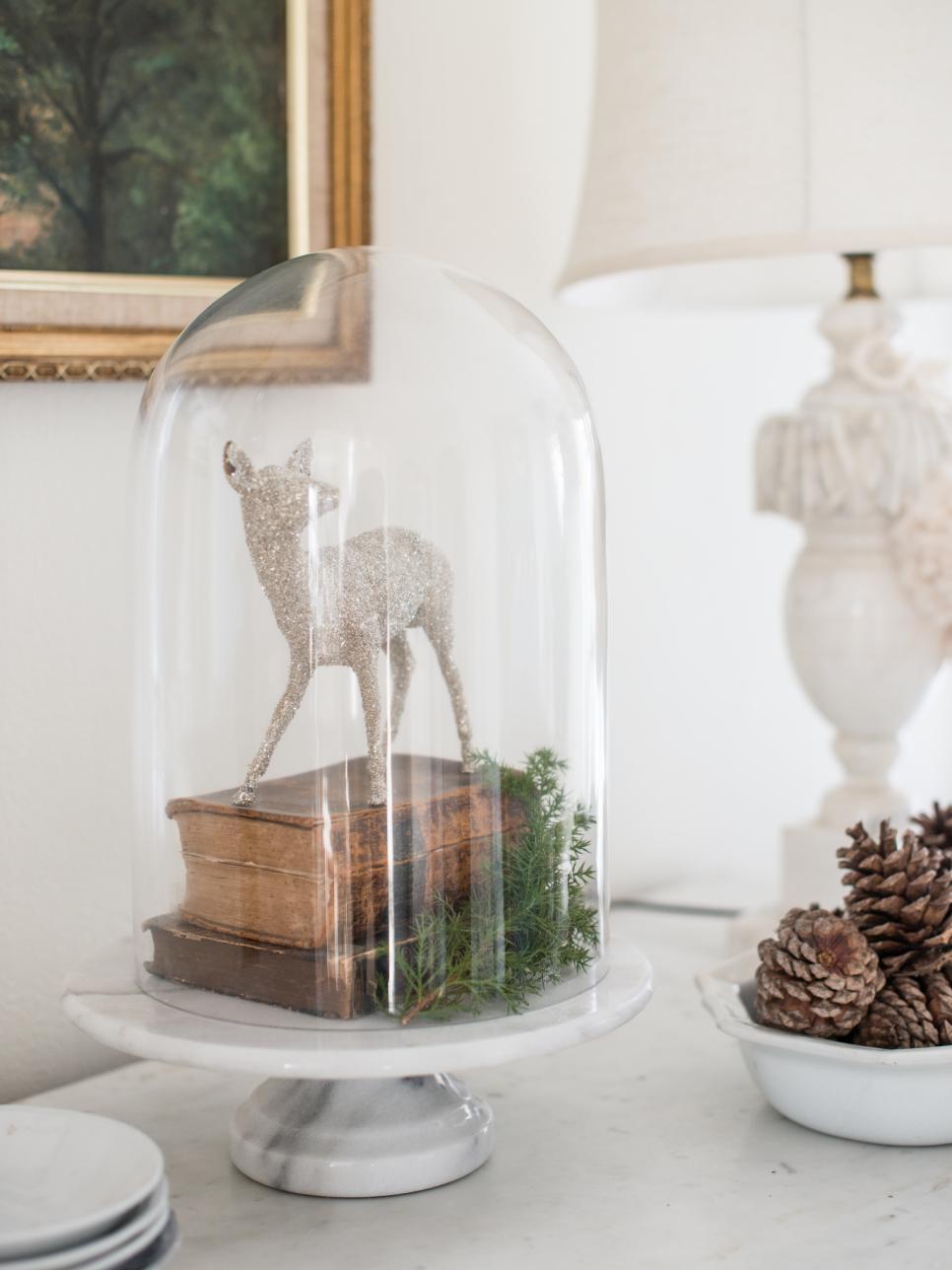 Turn a Toy Into Holiday Decor
Add a little glitz to any area of your home with an inexpensive plastic deer figurine covered with basic white glue and glass glitter. Check out the how-to for our tips and tricks.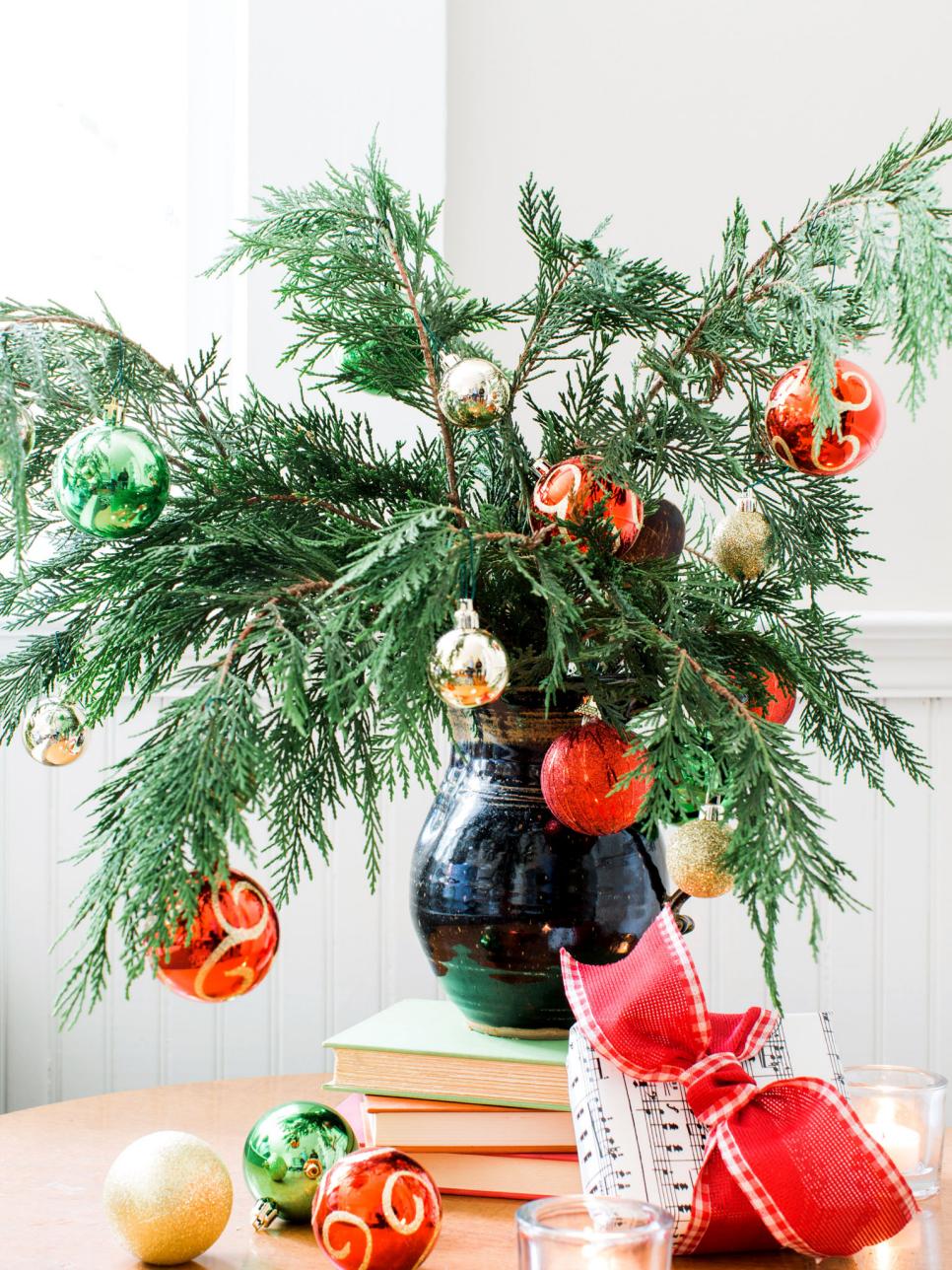 No Tree? No Problem!
A vase filled with evergreen clippings is a handy stand-in for a Christmas tree in small spaces. Make it festive by wiring ornaments onto the branches and piling presents beneath. Like any cut centerpiece, change the water ever few days to keep the greenery looking its best.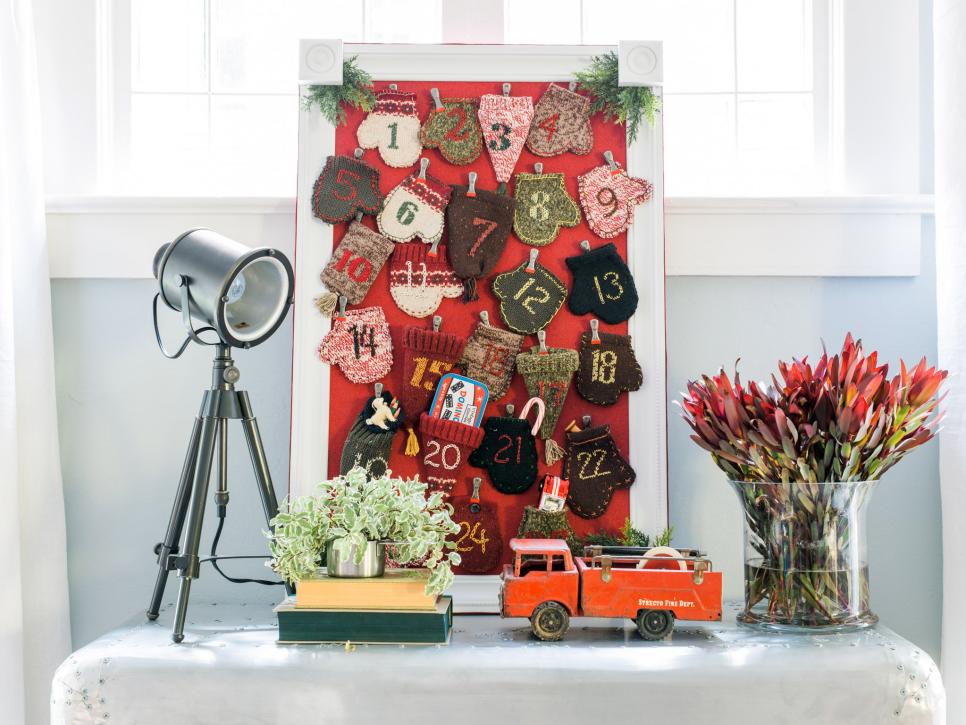 Help Kids Count Down to the Big Day
Our step-by-step instructions show you how to upcycle assorted old sweaters into cute mini mittens and toboggans you can fill with small trinkets and treats for a fun take on a traditional advent calendar.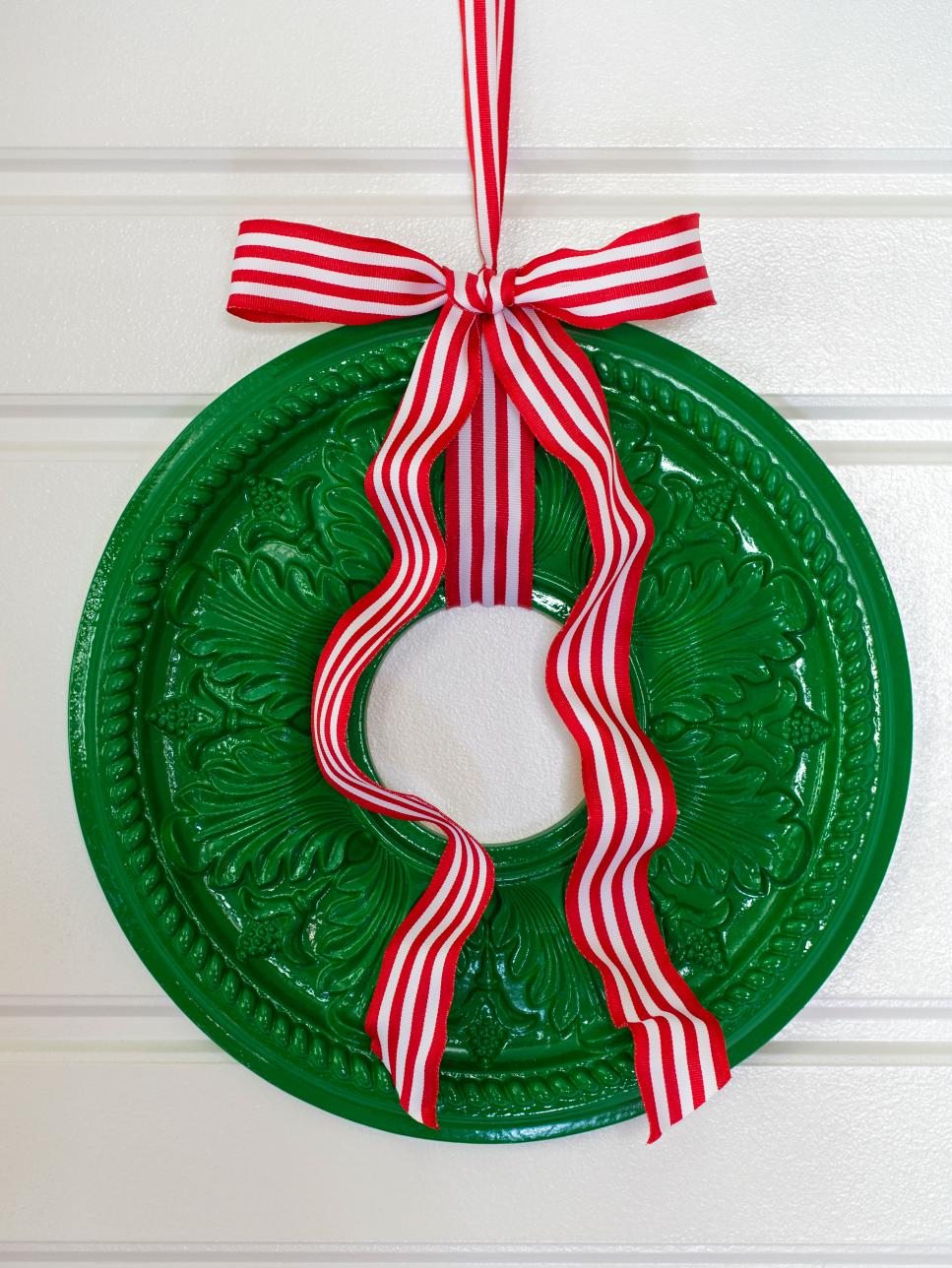 Craft a Unique Wreath
If you want to brighten up your front door for the holidays but a traditional evergreen wreath isn't your style, this clever project is for you. Just coat a ceiling medallion (available at your local hardware store) in green high-gloss spray paint then loop through some colorful holiday ribbon for hanging.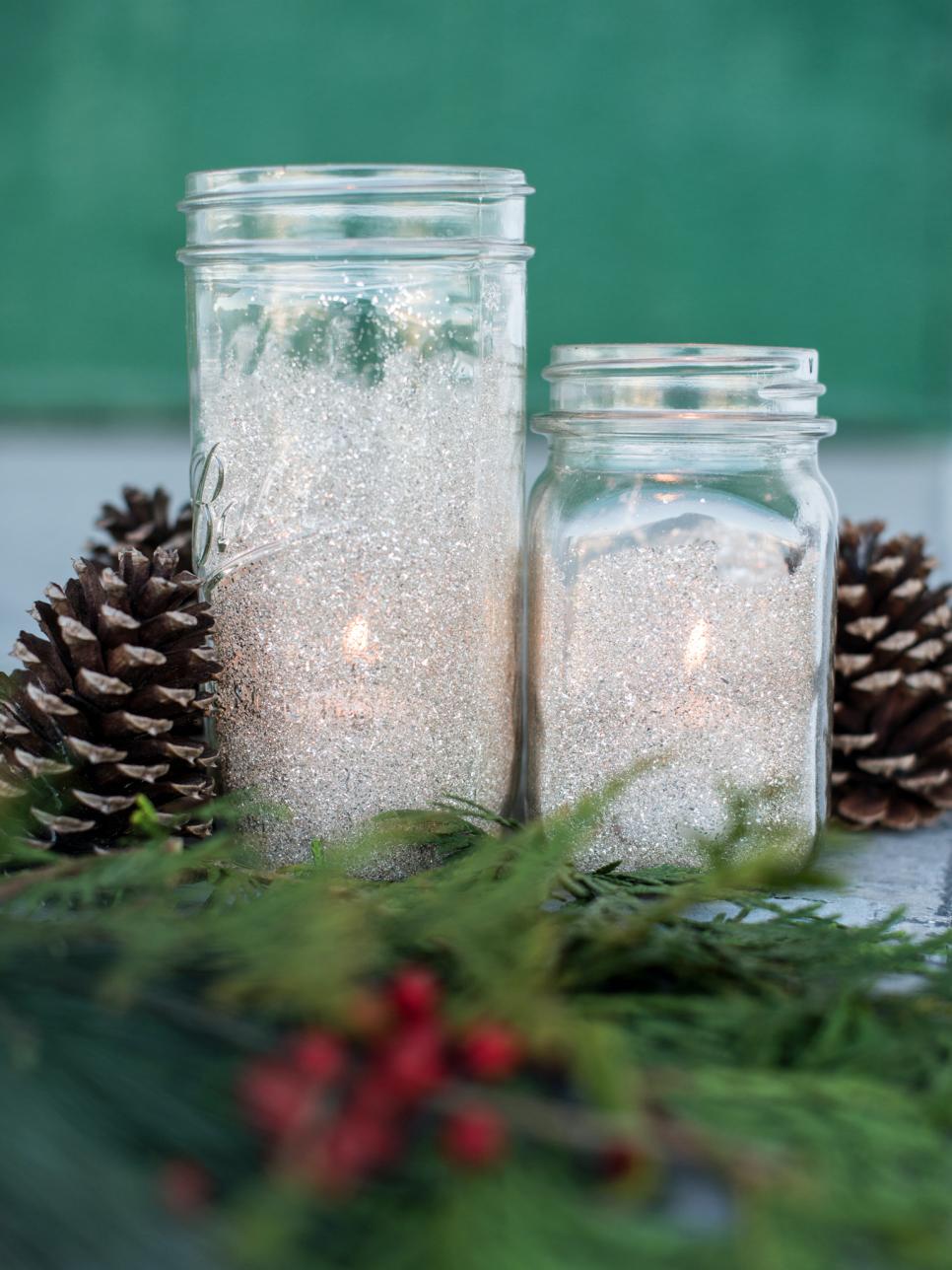 Add Some Sparkle
These gorgeous, glittering votives only look expensive. Using glitter, glue and an empty jar, you can easily craft them yourself on the cheap.
Invite a Snowman to Dinner
Turn fresh or silk white carnations into a fanciful centerpiece for your holiday table. Our tips and instructions make this a fun family project you can complete while watching your favorite holiday movie.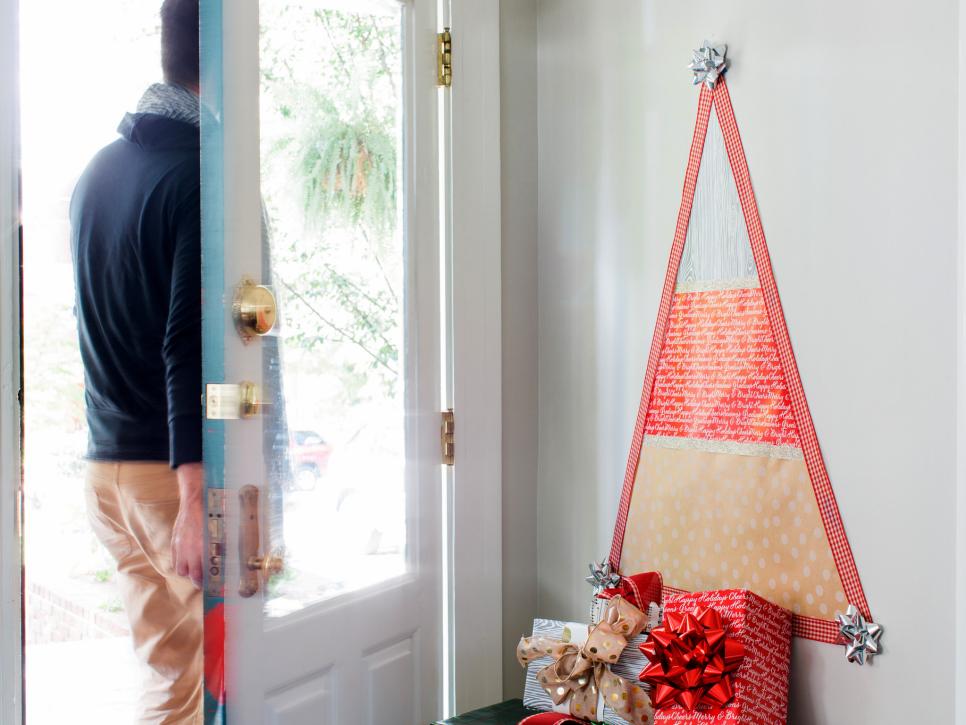 Easily Deck the Entryway
Put lefover wrapping paper to work to create this cute space-saving Christmas tree that's sure to brighten up small spaces like a foyer, guest bath or kids' room. Ribbon and double-sided tape keep the paper in place while presents piled underneath complete the look.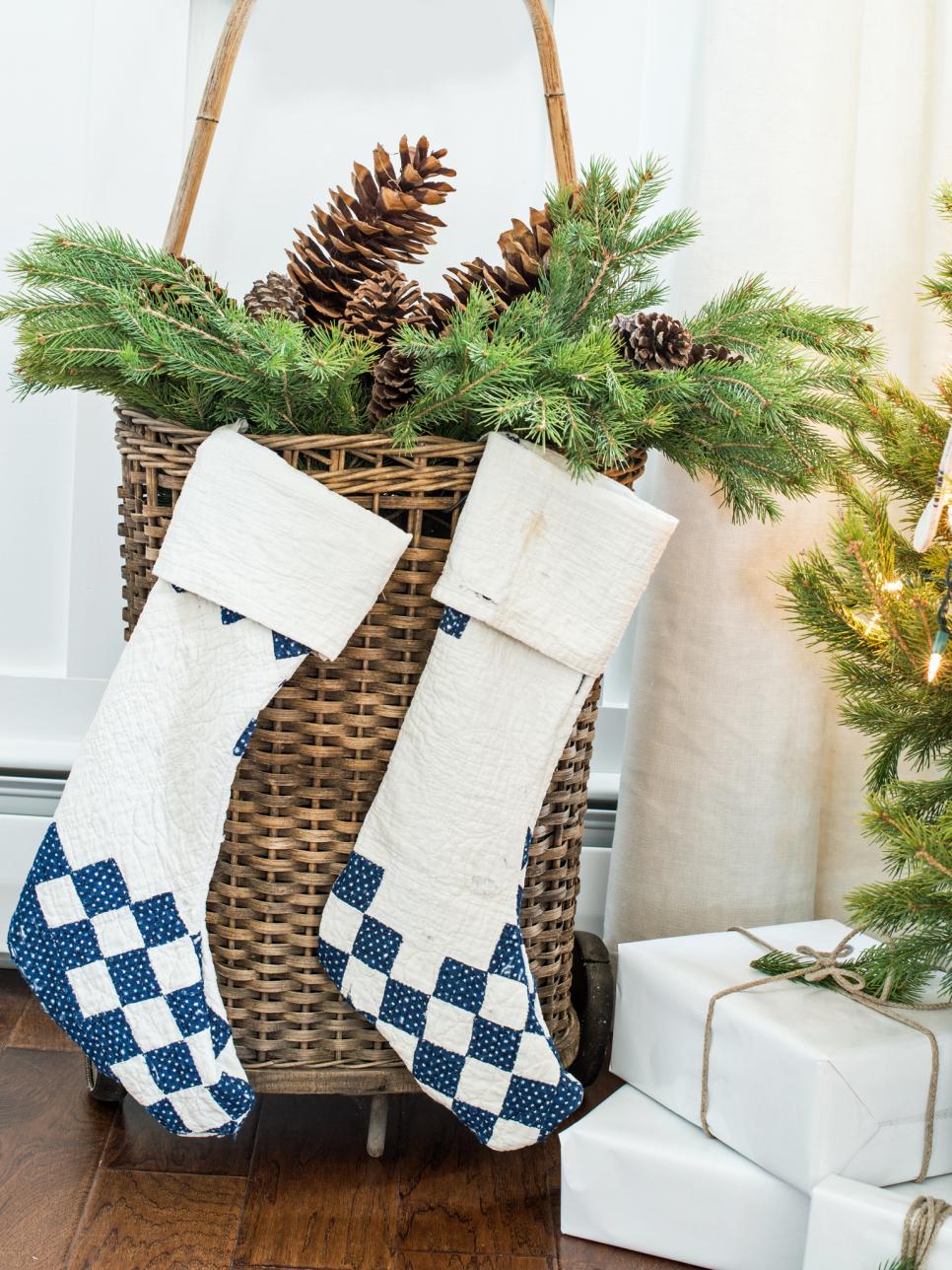 Upcycle an Heirloom Quilt
Upcycle a past-its-prime family quilt, that's hidden away in a closet or trunk, into charming Christmas stockings you'll be proud to display year after year. Get sewing with our step-by-step instructions.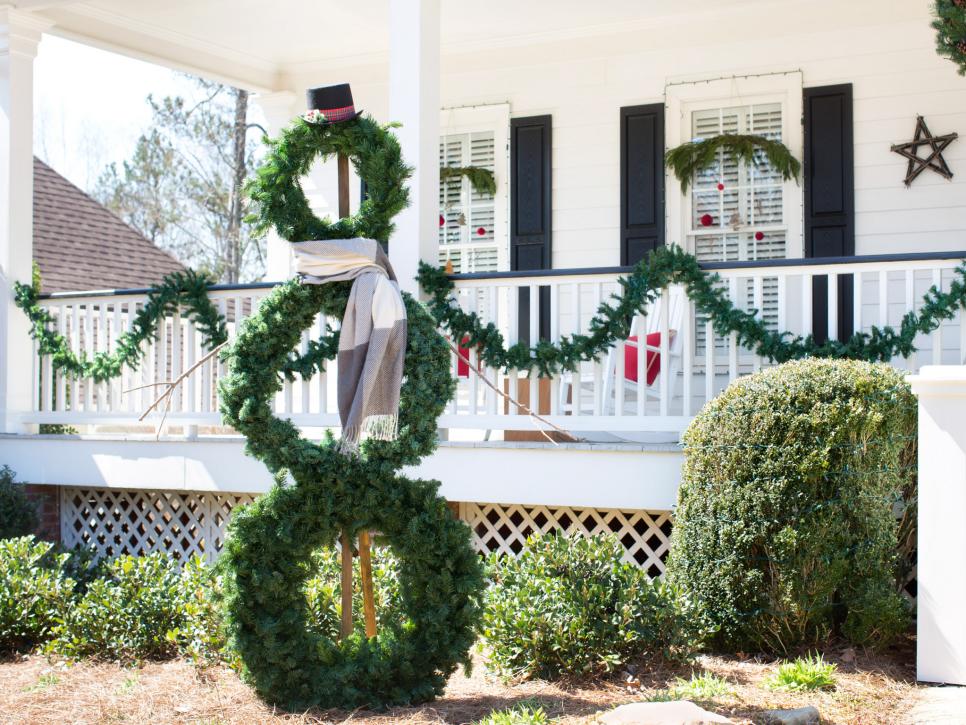 Make a Snow-Free Snowman
A sturdy wooden support + 3 faux evergreen wreaths = a friendly outdoor snowman who won't melt, making him the perfect decoration for snow-free climates. Plus, using faux wreaths, rather than fresh, means you can display him year after year. Get started with our tips and step-by-step instructions.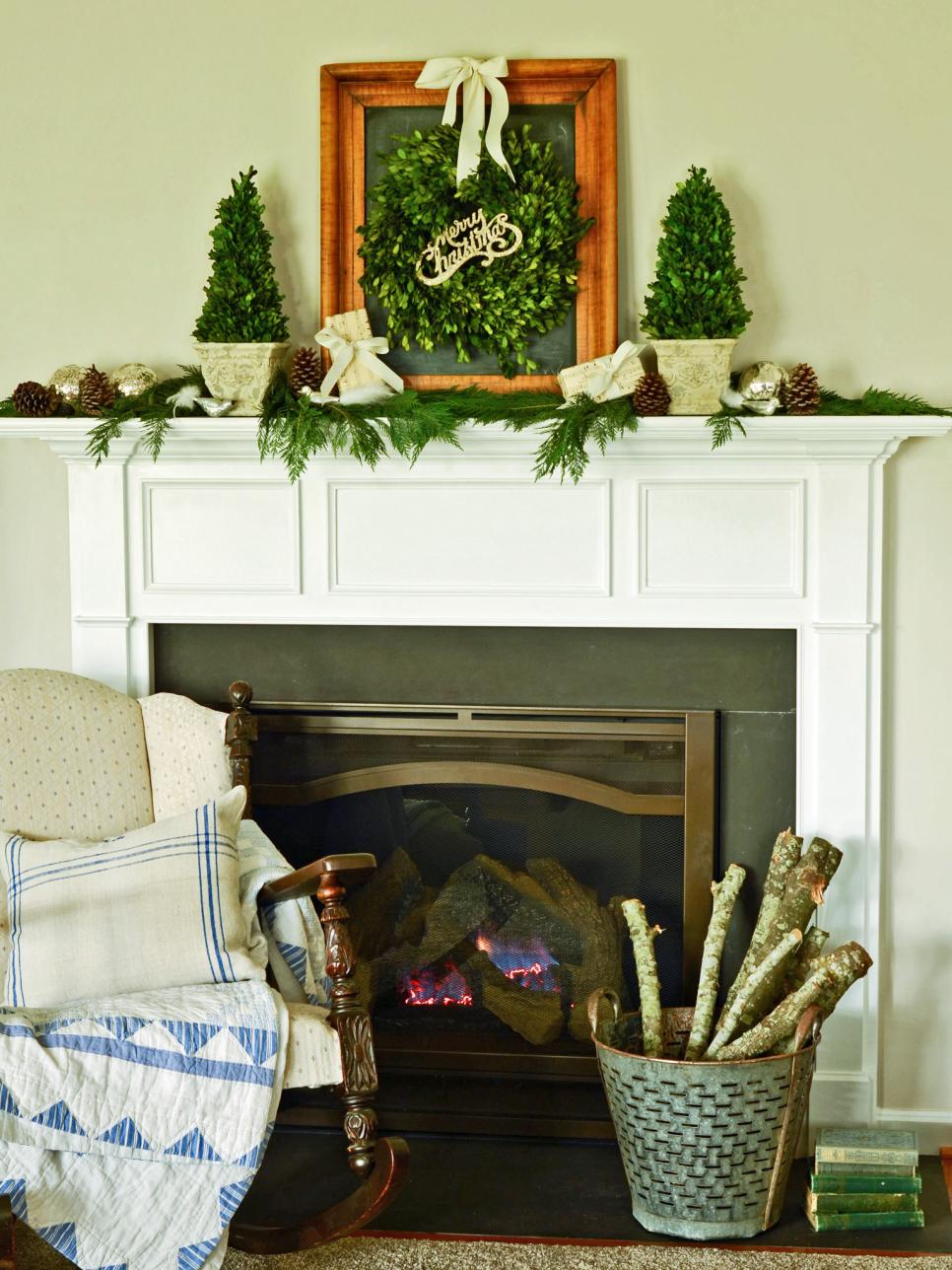 Freshen Up the Fireplace
Add a natural touch to your mantel with a preserved or fresh topiary and wreath. They're easy to assemble and can be left plain or embellished with holiday ornaments and trim. An occasional misting with water will keep them hydrated and looking their best. Make your own with our boxwood wreath step-by-step instructions and boxwood topiaries step-by-step instructions.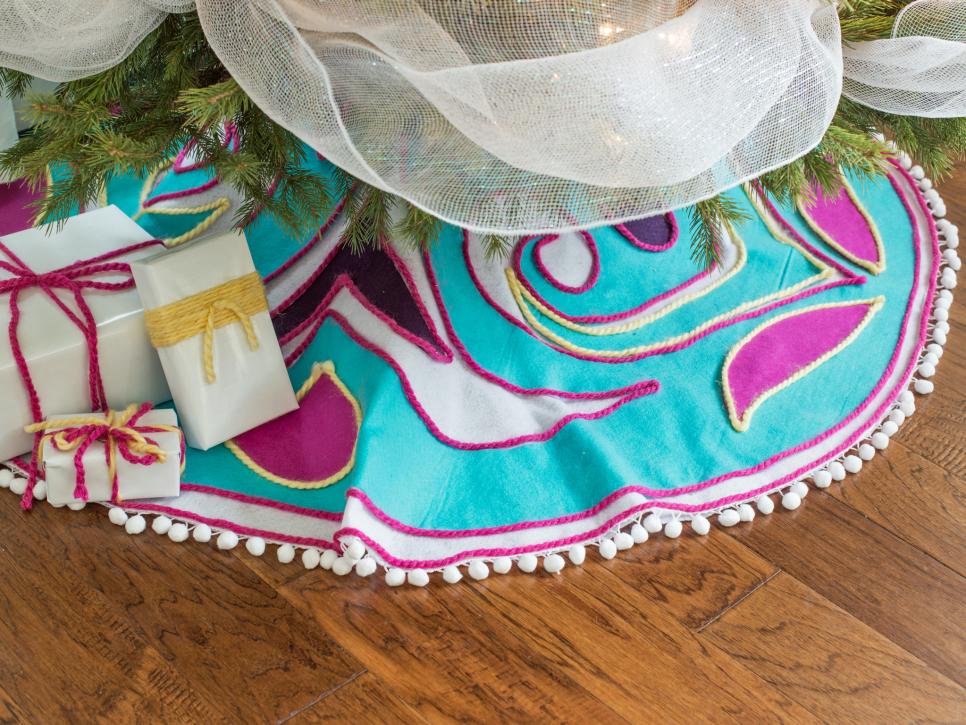 No-Sew Felt Tree Skirt
This year, forgo the usual holiday colors and embrace kicky bright hues and swirling patterns inspired by traditional Scandinavian designs. Felt, yarn and fabric glue are all you need to make this colorful Christmas tree skirt.
Light Up Your Entryway
Create a warm and inviting entry for guests during the Christmas season. Fill mason jars with Epsom salt for a snowy, winter look, then add small votive candles and line the walkway leading to your front door.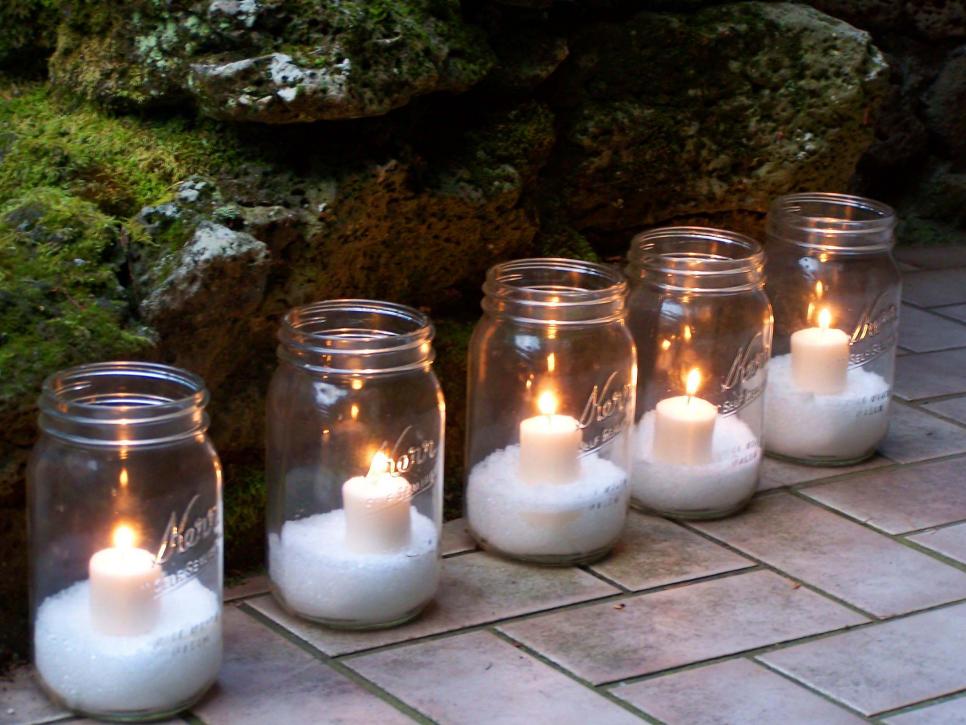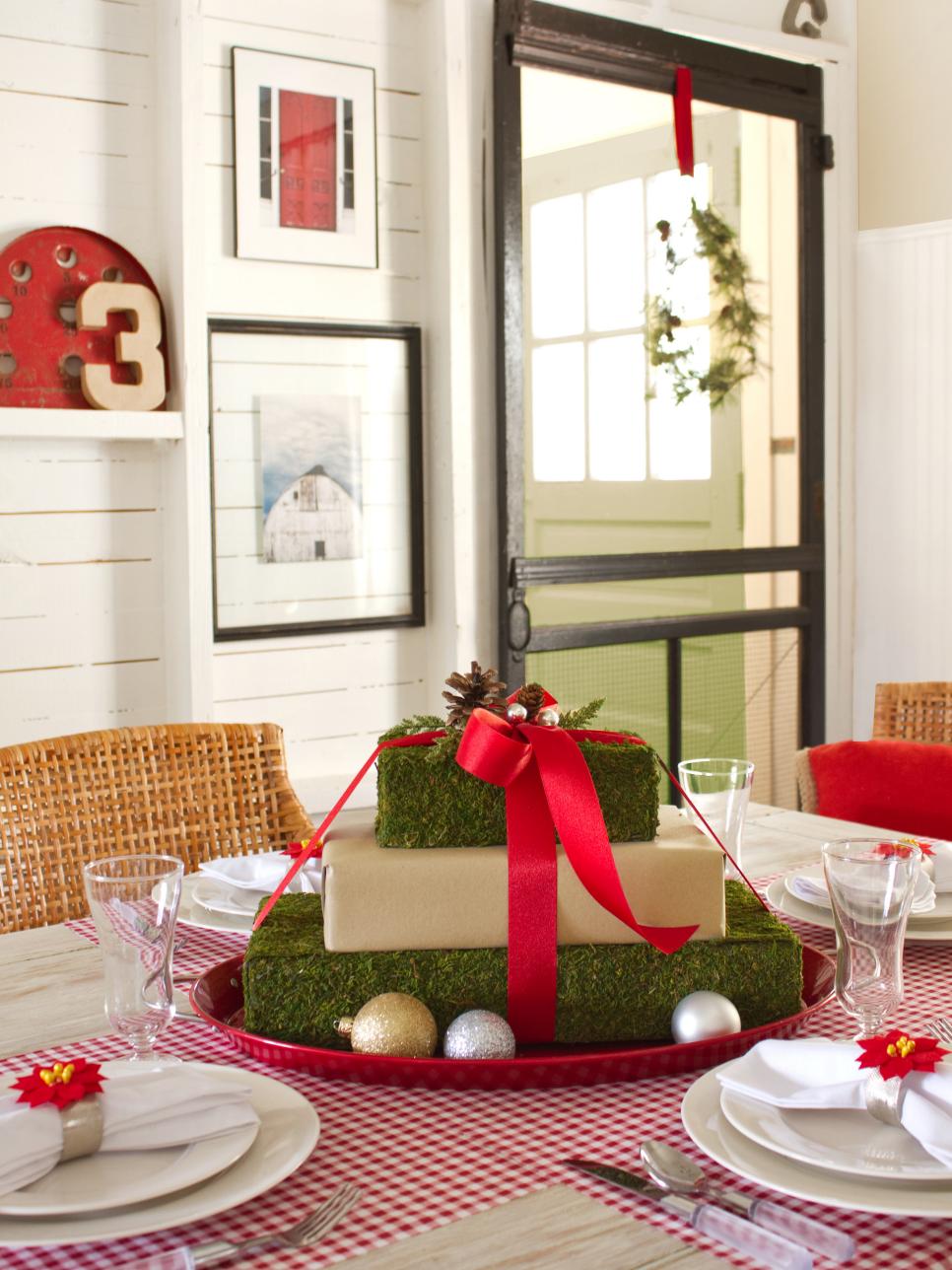 Stack a Gifty Centerpiece
Impress your holiday guests with a stunning (and easy-to-make!) centerpiece that will add a festive touch to your table all season long. To create it, just wrap foam bricks in Kraft paper and sheet moss, stack, then glue them together. Finish off the entire set with ribbon and decorative embellishments. Make your own with our step-by-step instructions.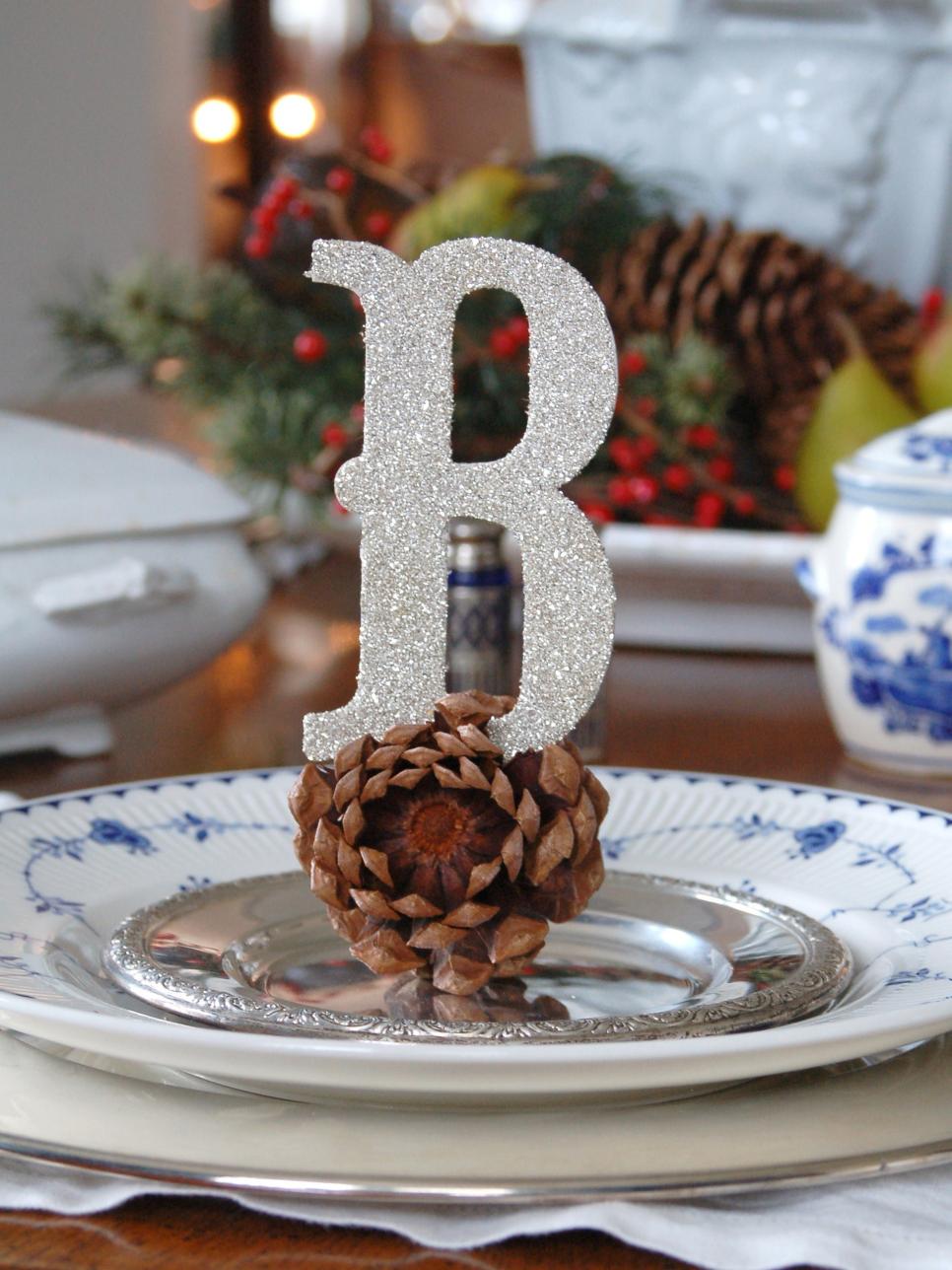 Personalize Place Cards
Looking for a unique take on holiday place cards? Marian Parsons places a glittered chipboard letter in a pinecone to create personalized place settings for each guest. To get the look, use an artist brush to apply school glue to both sides of a traditional chipboard letter. Then sprinkle silver glitter on the letter until both sides are entirely covered. Marian suggests adding adhesive magnets to the back of each letter for inexpensive and practical party favors.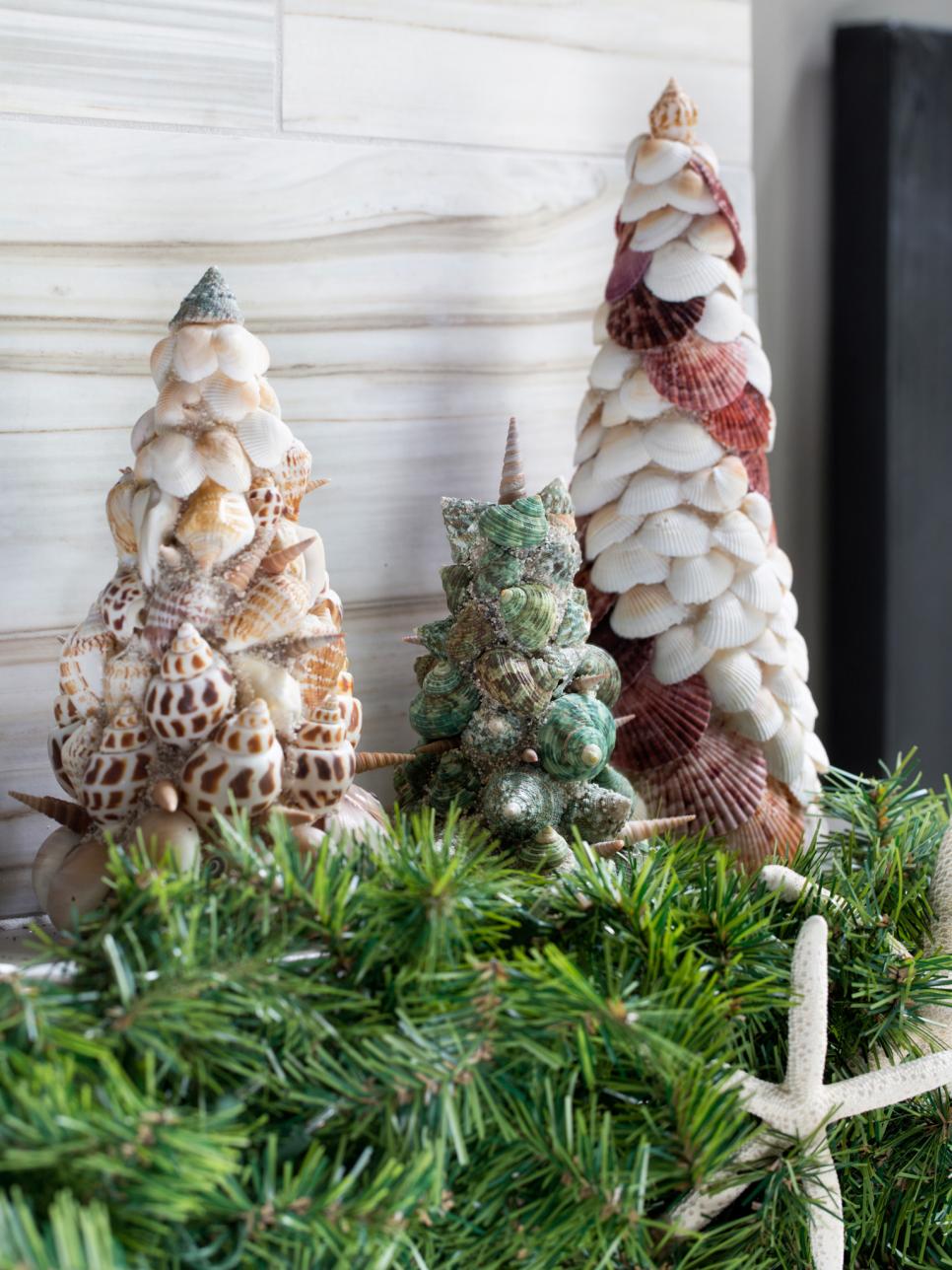 Shell Trees
Try a new twist on traditional holiday topiaries by covering cone-shaped foam forms with found or purchased shells (check your local craft store) in assorted colors and sizes. Attach them with hot glue, starting at the bottom and working your way up.