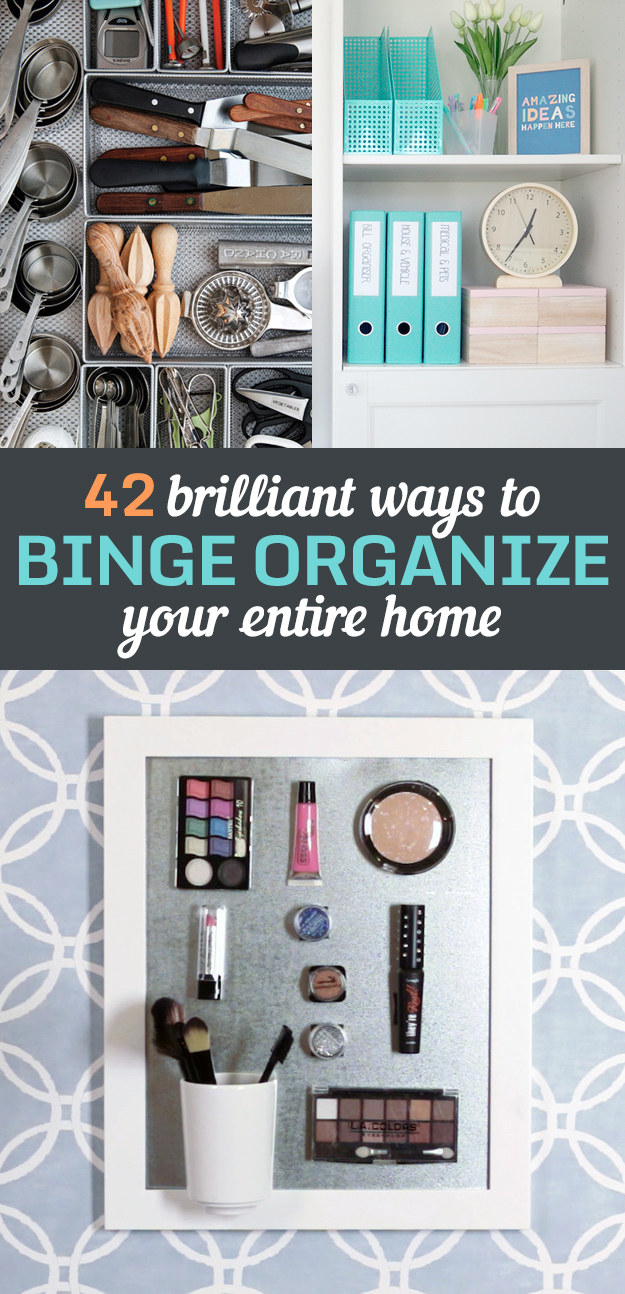 Zoë Burnett / Buzzfeed

1. Attach an empty tissue box to the inside of a kitchen cabinet for easy-to-grab storage.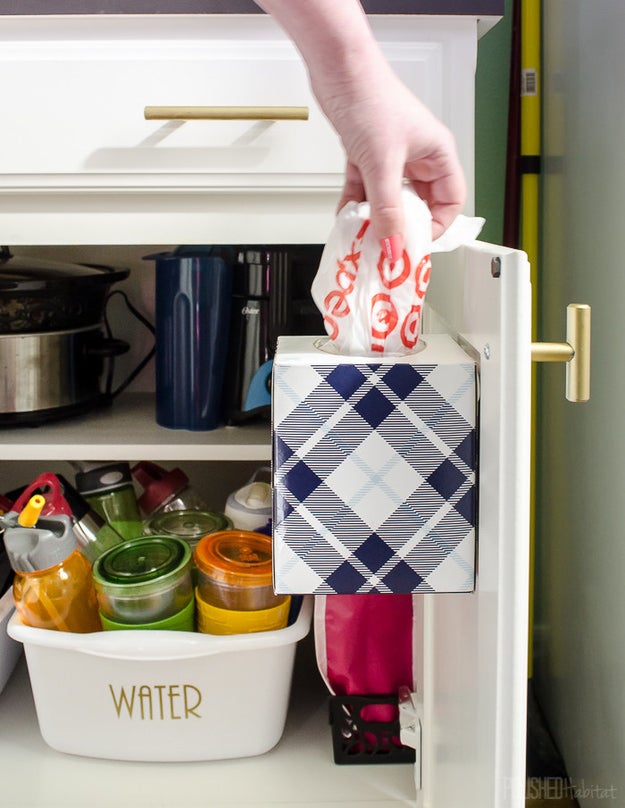 Read more here.
2. Sort your pantry into easy-to-identify sections using magazine organizers.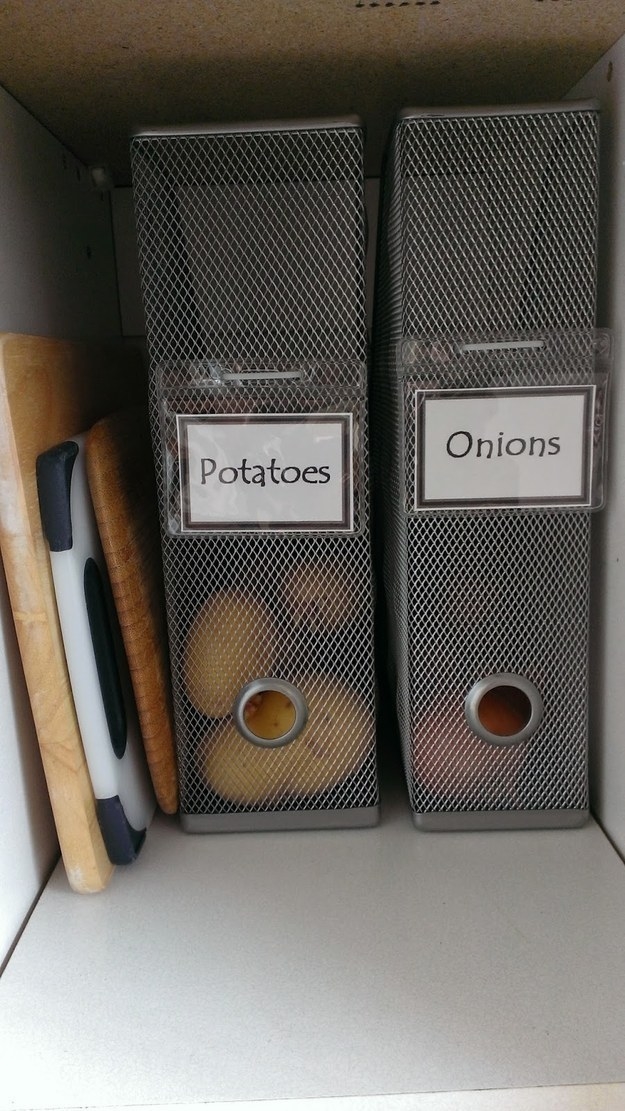 mimiscraftyworld.blogspot.co.uk
Besides being a handy way to store potatoes and onions, they're also great for boxes of long pasta. Read more here.
3. Hang an office file organizer on the inside of your Tupperware cabinet to keep up with the lids.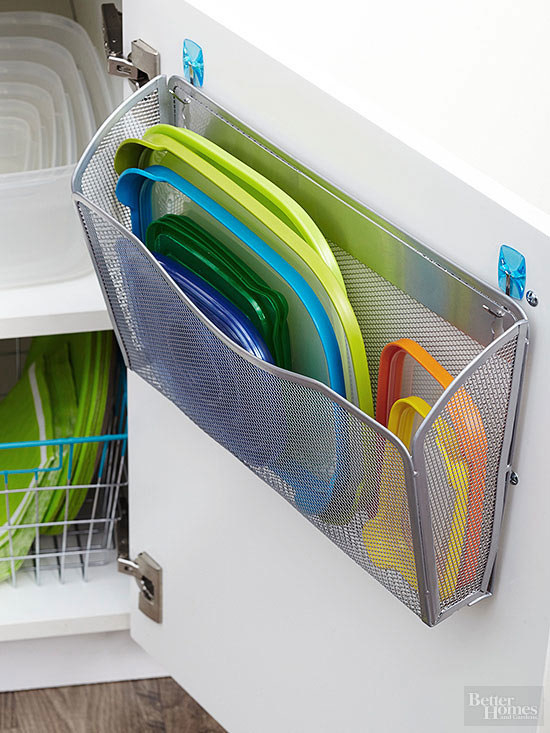 It makes them easy to put away AND easy to grab. Read more here.
4. Create an "eat me first" bin in your fridge or your pantry (or both!) to help cut down on food waste.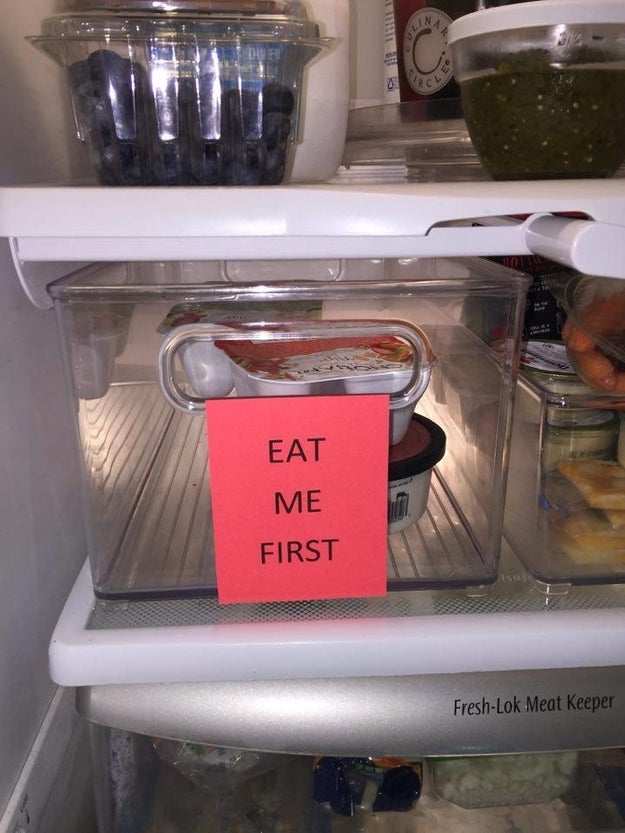 If you notice that food is getting old, put it here. That way, 1) you know what's about to go bad instantly, 2) the food actually gets eaten, and 3) you can start to figure out what (if anything) you tend to overbuy. From here.
5. Divide up your drawers with mesh organizers from the office supply store to make sure every utensil has a spot.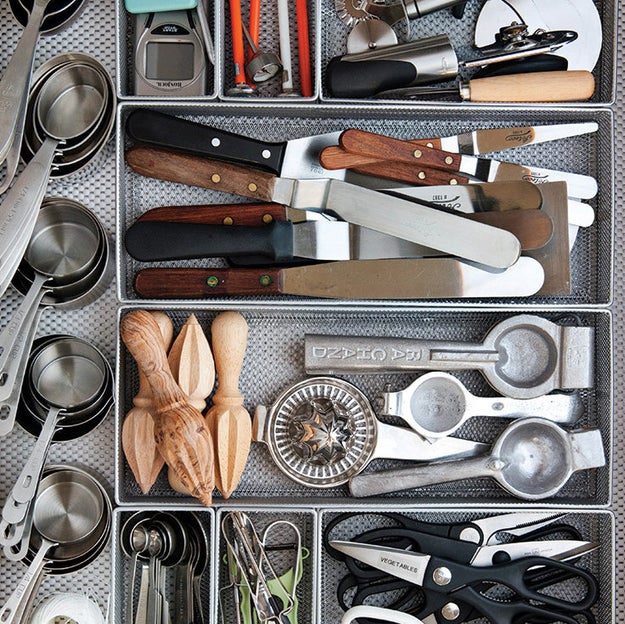 Photograph by Ditte Isager. Courtesy of Martha Stewart Living. © 2010.
They're affordable, and because they come in so many shapes and dimensions, you can always figure out how to customize what you need for your drawers. Check out more well-organized drawers here.
6. Stash under-bed storage bins in your deepest cabinets to make everything accessible, even in the back of the cabinets.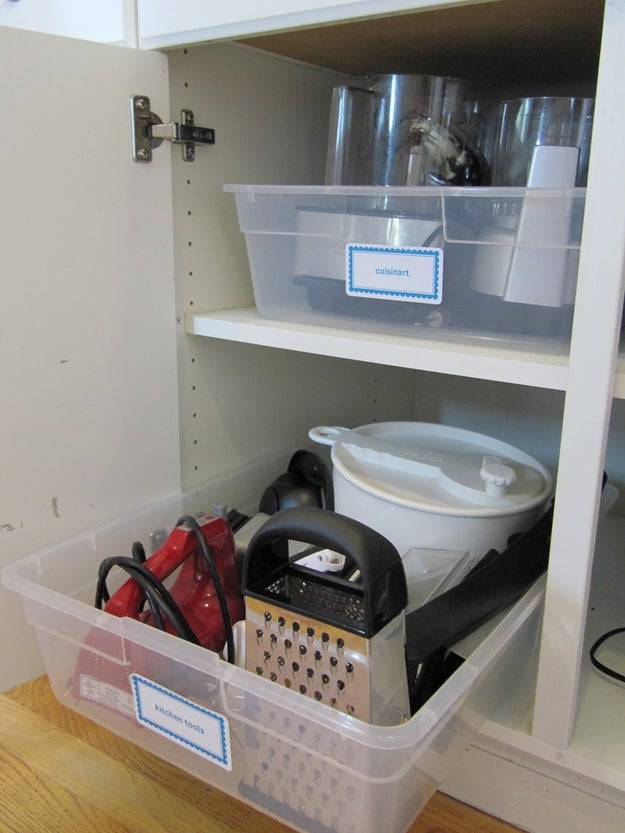 Labels are optional, but they can be very helpful! You will lose a little bit of storage space this way (much like you would with more expensive pull-out cabinet organizers), but depending on your set up, you could be taking better advantage of the space you're using.
7. Stock your fridge with bins, baskets, and maybe a lazy Susan or two.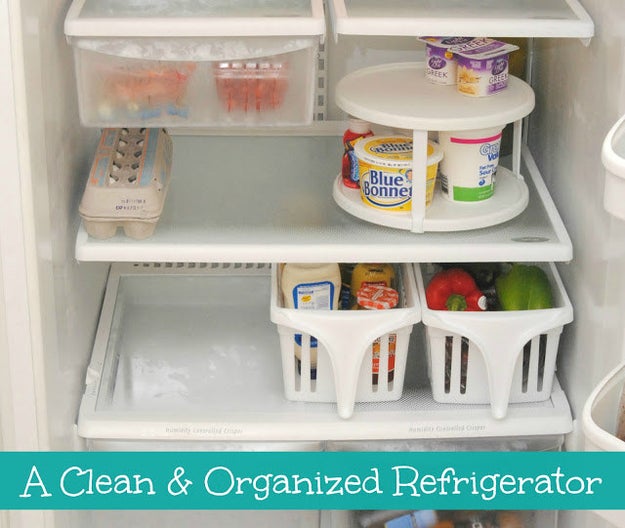 You don't have to go all out with the bins, but having one designated for, say, condiments (because let's be real, your full condiment collection is NOT going to fit in your fridge doors), another for beers, etc, can make it easy to find what you need. And it can help you spot spoiling food so quickly.
Lazy Susans are great too, although you do lose a small amount of space on the sides (I use one in my fridge for my jellies and nut butters). Read more about how this fridge is organized here.
8. Cover empty 12-pack soda boxes in pretty paper, then use them to organize your canned soups and fruit.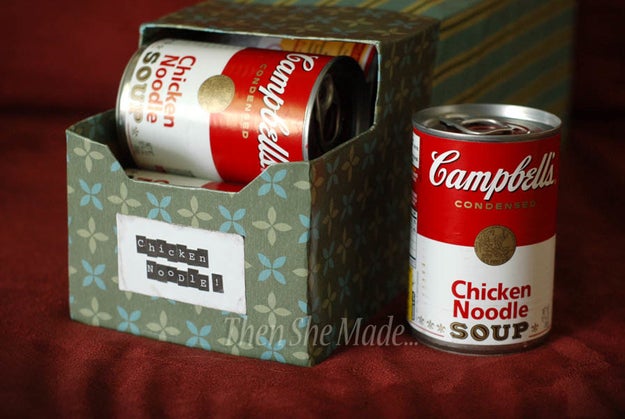 Organized pantry space, here I come. Here's the full tutorial.
Find more brilliant kitchen organizing ideas here andhere!
9. Divide the top drawer into individual toothbrush-sized spots using a silverware holder.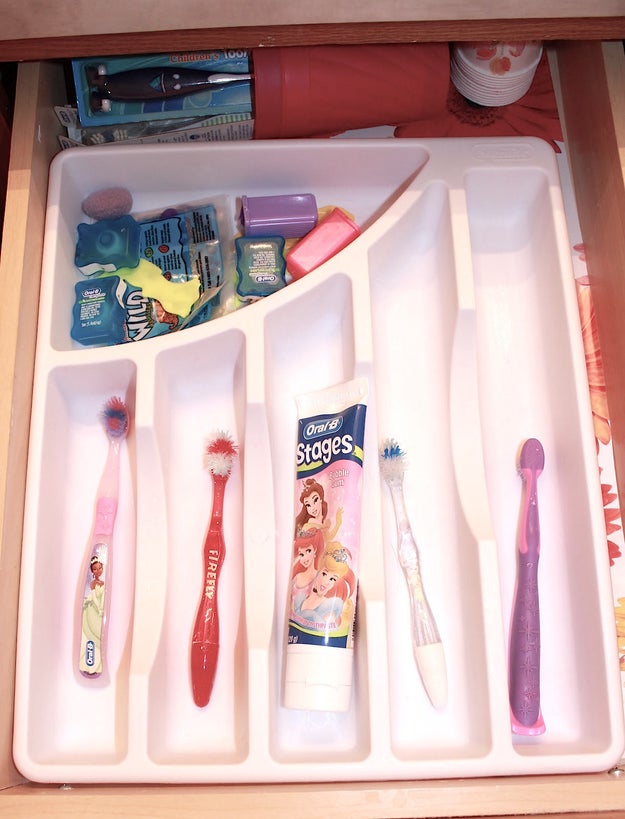 Everyone gets their own spot; everyone's happy. Read more about it here.
10. Or if you have your own drawer, repurpose a flatware organizer.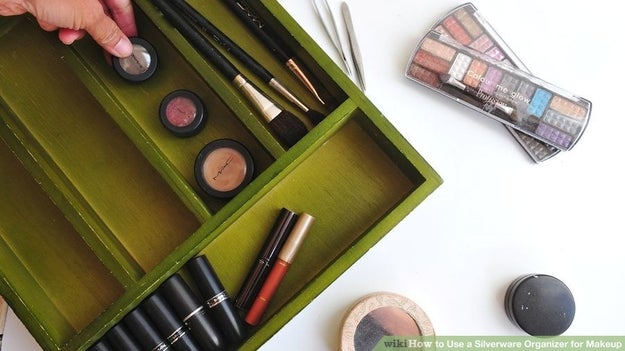 It just depends on your personal living situation. Read more here.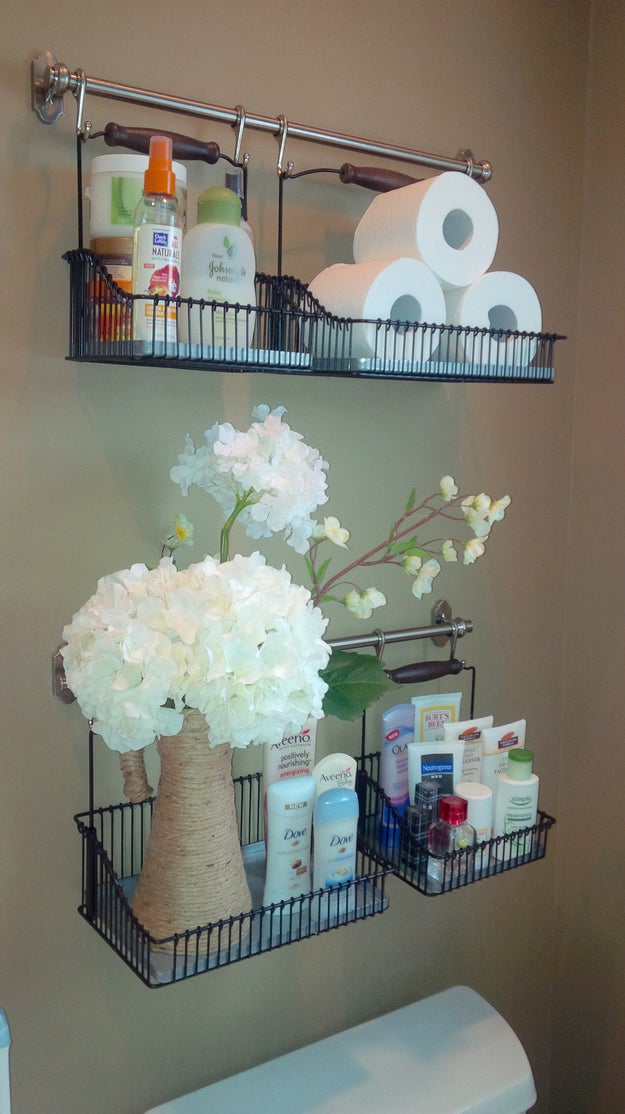 It doesn't take up any valuable floor space or require shelf installation, which makes it super easy to use. If you already have towel rods installed here, you could just buy the baskets! From here.
12. Make your shower look neat even when you buy oversized bulk bottles of shampoo, conditioner, and body wash by refilling pretty pump bottles.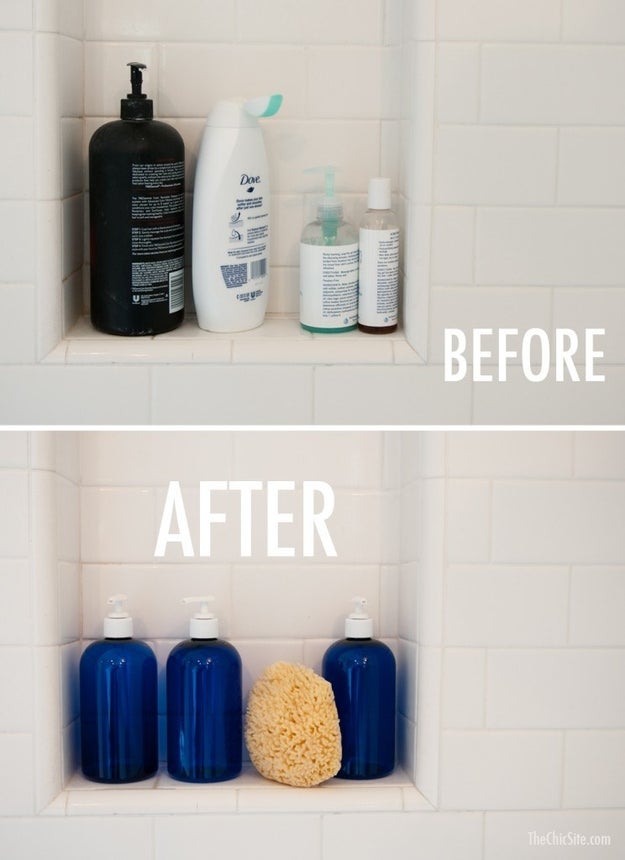 It goes beyond the aesthetic of having matching bottles — it lets you save money over time, especially if you have a small shower where those giant bulk bottles don't really fit. Read more here.
13. Instead of dealing with the shower head organizer slipping down every day, hang your shower organizer on a hook at the back side of the shower.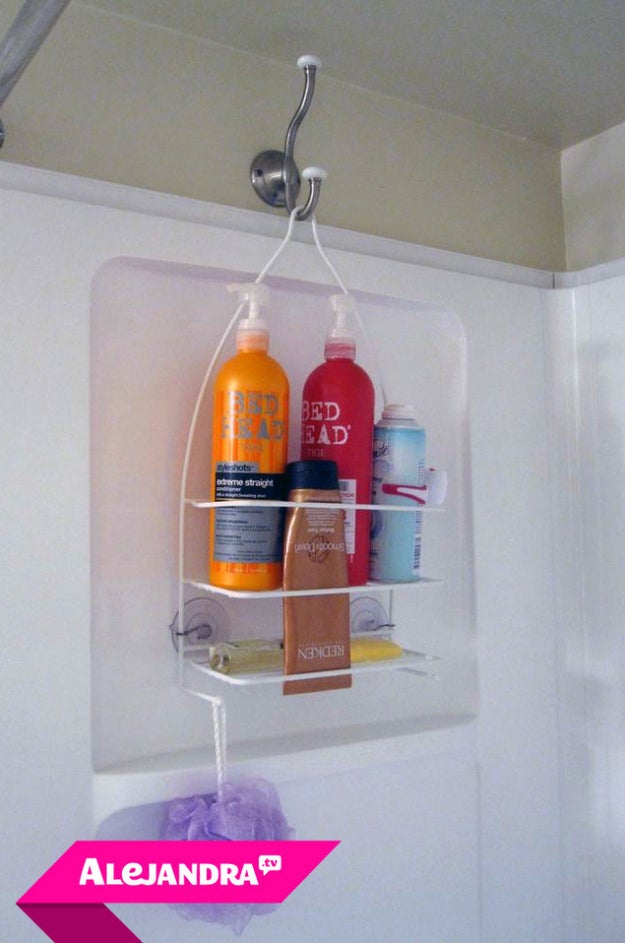 It will look neat, let your bottles and sponges last longer without growing mildew (because they'll dry out better), and stop that avalanche of bottles when you have shampoo in your eyes. If you rent, you can substitute a heavy-duty bathroom removable hook, like this one that holds 7.5 pounds for $5.78. From here.
14. If you share a bathroom with several people, assigned plastic drawers can give everyone their own space.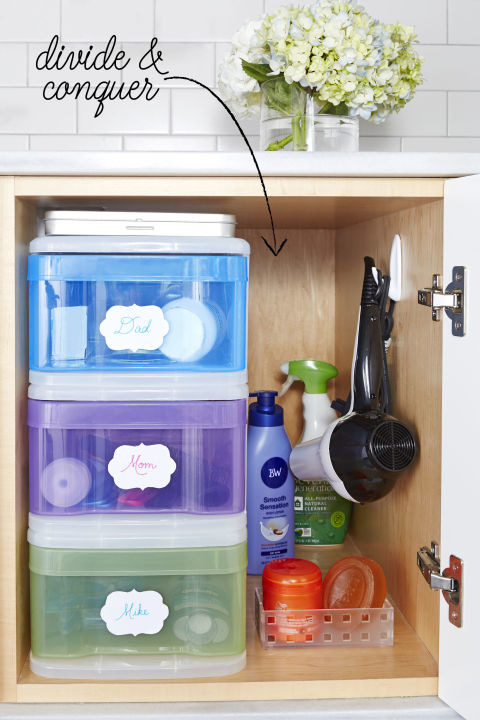 Katie Friedman / goodhousekeeping.com
And prevent the dreaded toothbrush mix-up once and for all. Read more here.
15. Put a small wine rack on your bathroom cabinet or under your bathroom cabinet to hold all of your hairstyling tools.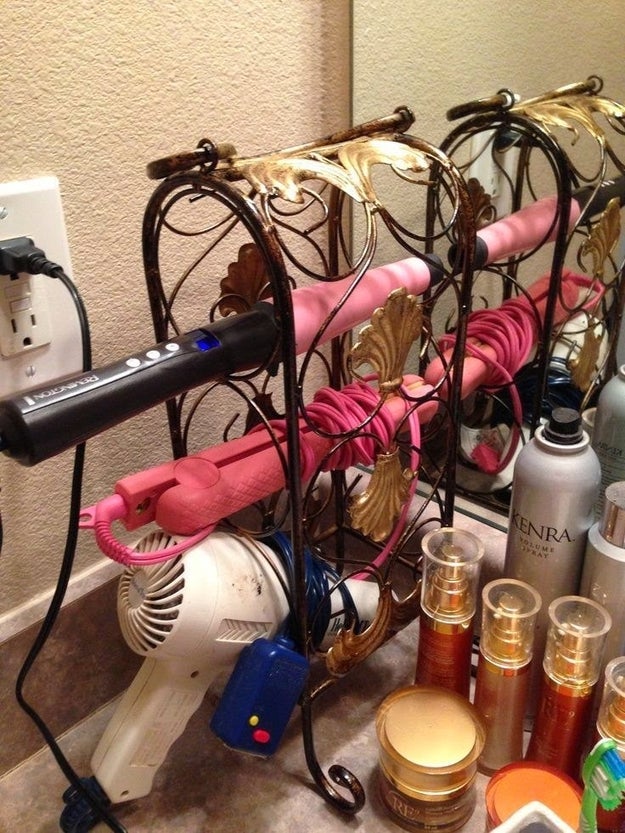 You'll never have to dig for your straightener again. Read more here.
16. Make a magnetic makeup organizer to mount on your wall to make your morning routine fast and easy.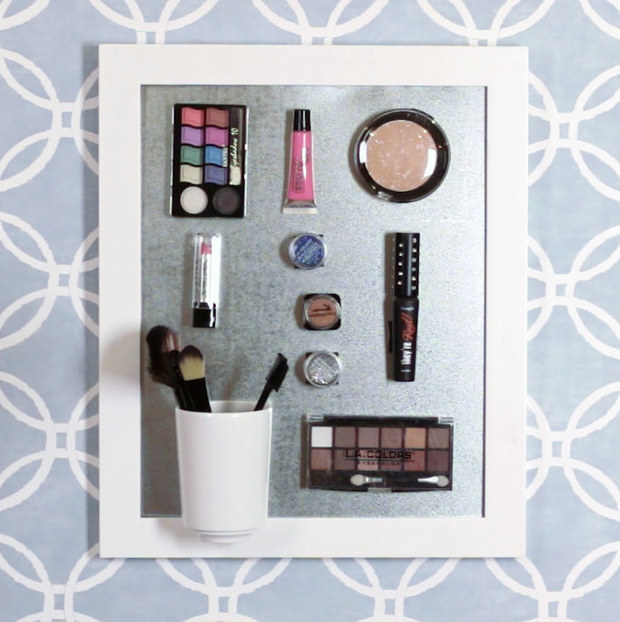 Learn how to make it here.
Discover a ton of other bathroom organizing ideashere, and makeup organizing ideas here.

17. Tame your linen closet with the help of a few bins and pretty labels.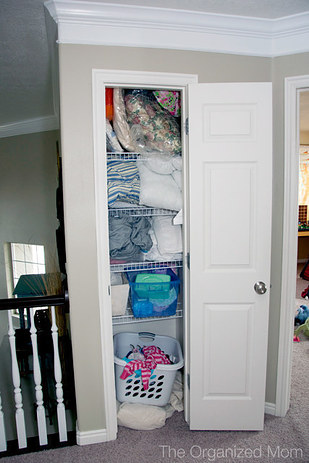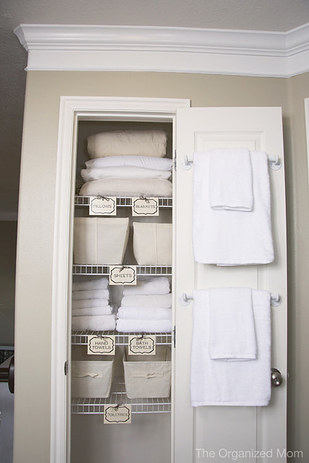 You will probably have to get rid of a few things, but matching bins that actually fit on your shelves go a long way. Read more about this transformation here.
18. Turn those builder-grade shelves into convenient storage space using S-hooks from the hardware store.
It works well in your broom closet, as shown here, or you can use it for purse and bag storage, too. Get a pack of 3 for $1.98 here.
19. Find more closet rod space with a double-hang closet rod.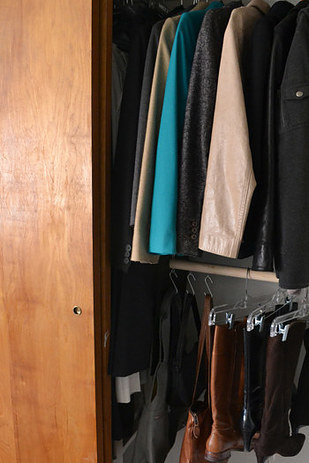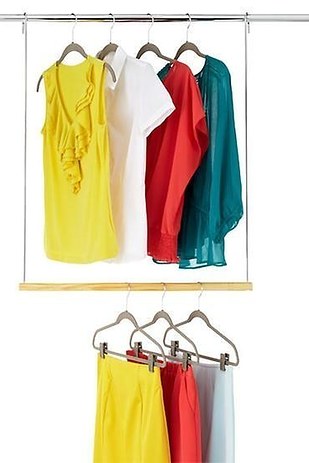 Here's how you can make one yourself, or here's one you can buy for $13.
20. If you're a major scarf collector, use shower curtain rings and an over-the-door shoe rack to organize your favorites.
From here. Get a similar towel rack for $9.99 here, and a set of 12 shower curtain rings for $4.99 here.
21. Prevent any annoying clothes hanger slippage by wrapping your hangers with pipe cleaners.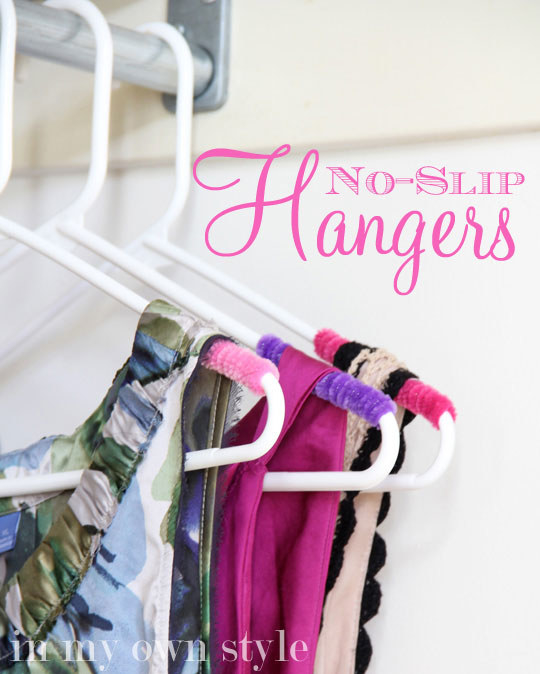 Plus, you can pick a color scheme (and MAYBE even color code them). Read more about it here.
22. Fold all of your the clothes you store in your drawers according to the KonMari method.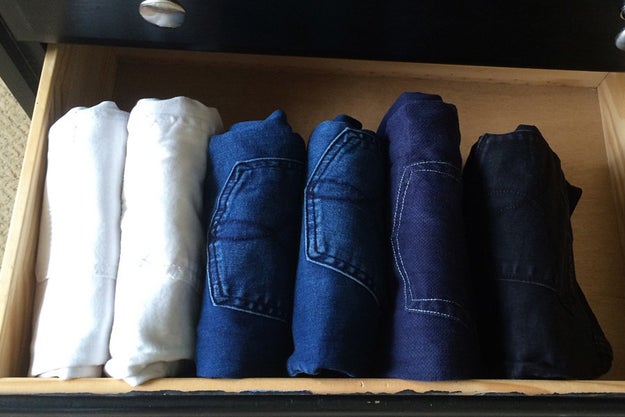 I do this and for the past year my drawers have stayed perfectly, impeccably organized. Read more about the KonMari method here, and learn exactly how Mari Kondo folds her socks (from Kondo herself!) here.
23. Cut dollar store pool noodles into quarters to keep your boots upright in the floor of your closet.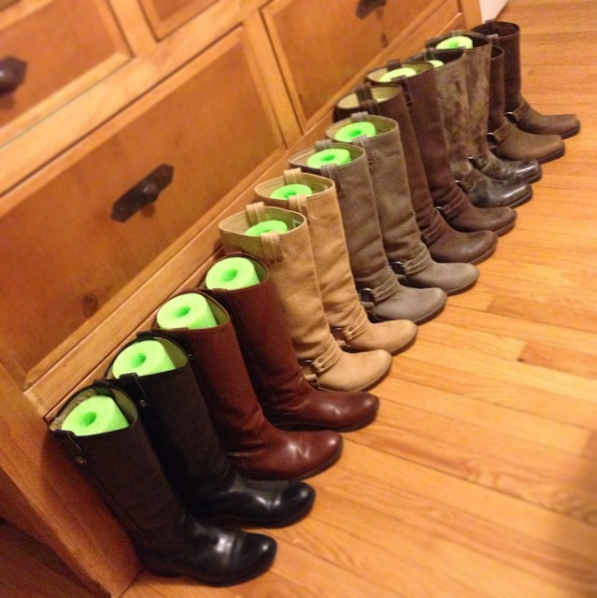 Use a serrated bread knife to cut them. From here.
24. Stack your clutches neatly using envelope and paper organizers from the office supply store.
See more of this gorgeous closet transformation here, and get a similar organizer for $5.99 here.
Find more master closet organization ideas here andhere!

25. Use your nightstand's drawer as an easy place to hide all of your charger cords.
diy, ideas, clever, organizing, home, blogs, 2016, August, South Home Realty | 0 Comments | Add a Comment Tags: