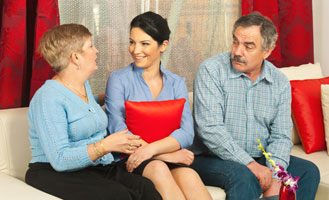 What will you tell your adult children when they ask you about mortgages? What will you say if your best friend asks if their 46 percent debt-to-income ratio is too high? Do you know how to respond when a co-worker confesses she doesn't know how much she should pay to close a mortgage?
Although most consumers rely on mortgage professionals for advice, recent reports from Fidelity Investments and TIAA-CREF estimate between 33 and 47 percent of the nation's Millennials look to their parents for financial information they can trust. A separate 2015 report on consumers' mortgage shopping experience from the Consumer Financial Protection Bureau found first-time homebuyers are, overall, as likely to rely on family, friends and co-workers for information as they are on real estate agents or homebuilders.
My Home by Freddie MacSM was created to help aspiring renters and homeowners, and their families and friends, answer those questions. My Home is a one-stop reference that anyone with a smartphone, tablet, laptop or PC can use to talk about mortgage applications, the closing process, and succeeding as a long-term homeowner. My Home also includes resources for renters, including rent calculators, information about the rental process.
Being prepared could save someone you care about from making a life changing financial mistake … and help them move their housing goals forward instead. Add My Home by Freddie MacSM to the favorites list on your device today.